LIFE+STYLE

CHANDIGARH

LUDHIANA

BATHINDA

JALANDHAR

AMRITSAR TRIBUNE

JALANDHAR TRIBUNE

BATHINDA TRIBUNE

JAMMU TRIBUNE

KASHMIR TRIBUNE

DELHI

DEHRADUN

DEHRADUN PLUS
Muzaffarnagar violence
Not the time for Prez Rule in UP: Cong
New Delhi, September 9
The Congress today condemned communal riots that have claimed over 30 lives in the Samajwadi Party-ruled Uttar Pradesh, but said there was no necessity of imposing President's Rule in the state.



BJP seeks dismissal of Akhilesh govt

Go beyond Gujarat, Badal tells 'Sardar' Modi
Ahmedabad, September 9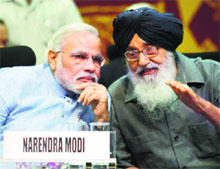 Punjab Chief Minister and NDA ally Parkash Singh Badal today praised Gujarat Chief Minister Narendra Modi as the country's "greatest leader" and asked him to go beyond Gujarat.
Gujarat CM Narendra Modi with his Punjab counterpart Parkash Singh Badal in Gandhinagar on Monday. — PTI

Haryana Lokayukta to look into CD scandal
Chandigarh, September 9
The Haryana Government today decided to refer the alleged CLU-for-cash scam involving seven Congress MLAs to the state Lokayukta. The Indian National Lok Dal (INLD) had last week released CDs containing purported clippings of Congress leaders allegedly seeking bribe for facilitating change of land use (CLU).
OTHER PAGES

J&K: Why the delay in explaining unfair compensation policy, SC asks J&K


HIMACHAL: Cabinet meets PM, seeks financial aid


CHANDIGARH: Aadhaar cards bare pension fraud


LUDHIANA: LIT fails to recover Rs 9.5 cr


DELHI: Woman's death triggers protest

BUSINESS: TRAI recommends up to 81% cut in base price of spectrum auction

OPINION: Muzaffarnagar erupts


NATION: Court verdict likely today


SPORTS: Age just a number to look at and smile for Paes

WORLD: Obama on media blitz to sell Syria attack


Lahore Log

The tribune guide to best colleges

Budget
2013-14

INDIA CHINA WAR 50 YEAR LATER

EARLIER FEATURES
Punjab financially sound, says Sukhbir
Chandigarh, September 9
That Punjab's finances are in good shape is evident from the fact that the state has never defaulted on payment of wages to its employees, held back pensions or missed out on repayment of principal amounts and interest on loans taken by the state. Deputy Chief Minister Sukhbir Singh Badal made these observations while dispelling "unfounded facts" about the state of Punjab's economy at a press conference today.
SC notice to Centre, states on policy for handling Naxalism
New Delhi, September 9
The Supreme Court today sought the response of the Centre and nine Naxal-hit states to a PIL plea for formulation of a Central policy to deal with the problem, acknowledged by Prime Minister Manmohan Singh as the "most serious internal threat to national security."


Pak top brass discusses ways to tackle terror
Prime Minister Nawaz Sharif has said Pakistan was in the grip of terrorists and his government's first priority was to initiate dialogue with them for bringing peace to the country. Opening an all-party conference, attended by the country's top political and military leadership, the Prime Minister said the nation must unite to combat terrorism and extremism.
Muzaffarnagar clashes toll 21; Army out
September 9, 2013
Happy to work under Rahul in party: PM
September 8, 2013
House passes Bill to allow those in jail to contest polls
September 7, 2013
RS okays Bill to give Executive role in judges' appointment
September 6, 2013
SC turns down Centre's review plea on convicted lawmakers
September 5, 2013
India opposes military action against Syria
September 4, 2013
Food Bill gets Parliament nod
September 3, 2013
SC pushes for swift justice in rape cases
September 2, 2013
Juvenile held guilty, to spend three years in special home
September 1, 2013
House logjam hitting investor mood: PM
August 31, 2013