BJP against raising age limit of chairman of tribunal
Dehradun, September 9
Senior BJP leader Ravinder Jugran has criticised the Uttarakhand government's proposed decision to bring an amendment, raising the age limit of chairman and vice chairman of Uttarakhand State Public Service Tribunal, during the Uttarakhand Legislative Assembly session beginning from September 18.
Ex-CM Tiwari seeks details on relief works

Dehradun, September 9
In the aftermath of the Kedarnath disaster, veteran politician and former Uttarakhand Chief Minister ND Tiwari today sought details about the relief and rehabilitation works being carried out in the state.





Former Chief Minister ND Tiwari with state Cabinet Minister Amrita Rawat in Dehradun on Monday. A Tribune photograph

500 participate in Lansdowne marathon
Dehradun, September 9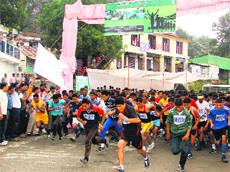 To give the message that the hill town of Lansdowne is safe for tourists, a marathon was organised by Lansdowne Cantonment Board (LCB) in which 500 enthusiasts participated. The winners of the marathon were awarded by cantonment officials at a function held on the occasion. The Garhwal Regiment Commandant assured the youths participating in the marathon that those who equalled Army persons' performance in the marathon would be given preference in recruitment.

Participants in a marathon organised by the Lansdowne Cantonment Board in Dehradun on Monday. Photo: Kamal Joshi

Ganesh Chaturthi begins with gaiety
Dehradun, September 9
The Ganesh Chaturthi festival started with fervour and gaiety in the state capital, with special prayers of Lord Ganesha being held in the temples of the city. Devotees thronged the temples to pay their obeisance to Lord Ganesha. As a ritual, people also installed idols of Lord Ganesha at their houses and will immerse them in water after nine days of prayers.
Moravian Institute victorious
Dehradun, September 9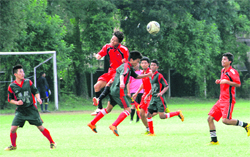 Moravian Institute thrashed Marshall School 5-0 in the ongoing Inter-School Senior Council Football Tournament being played at St Joseph's Academy here today. Thaina opened the tally by scoring the goal in the 15th minute. Renpeishang and Nawang scored back-to-back goals in the 20th and 25th minute, respectively. Namkuli and Akesh contributed a goal each.


A match in progress during a football tournament in Dehradun on Monday. Tribune photo: Vinod Pundir

Wynberg Allen, KV (IMA) enter finals
Dehradun, September 9
Wynberg Allen School and KV (IMA) today entered the finals of the 1st Asian Football Challenge Cup-2013 being played at Asian School here. In the first semifinal, Wynberg Allen thrashed Doon International 5-0. Tushar and Advait scored two goals each and Chatvanich scored one goal.
Residents felicitate DPS Principal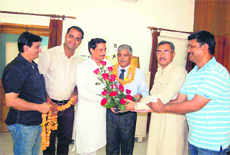 Haridwar, September 9
Kishan Chand Pandey, Principal, Delhi Public School, Ranipur, has been chosen for the prestigious President's medal for his commitment to working sincerely for more than three decades in the field of education.




Principal, Delhi Public School, Kishan Chand Pandey, being felicitated by the Citizens' Forum in Haridwar on Monday. Tribune photo: Rameshwar Gaur

Wynberg overall champions in swimming event
Mussoorie, September 9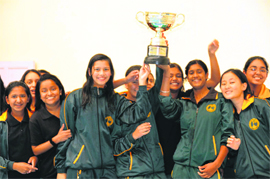 Wynberg Allen School emerged winner in the sub-junior, junior and intermediate categories of the 4th Mrs West Memorial Invitational Girls' Swimming Competition-2013 here today. Hope Town School, Dehradun, was declared champion in the senior girls' category.




Girls of Wynberg Allen School who have won the overall trophy in the 4th Mrs West Memorial Invitational Girls' Swimming Competition in Mussoorie on Monday. A Tribune photograph
Unison World adjudged 5th best school
Dehradun, September 9
In another feather in the cap of Unison World School, the school has been adjudged as the fifth best school (Girls' Residential School) in the year 2013 nationwide and third in the state by the Education World India School Rankings in the annual survey conducted by C-Fore, Delhi, among 725 schools, which were surveyed.
Wynberg Allen win basketball tourney
Mussoorie, September 9
Wynberg Allen School won the Inter-school Invitational Basketball Tournament held here today. In a closely contested final match, Wynberg Allen and Woodstock School were leading till the third quarter, but a resolute Wynberg Allen, making a comeback, took the lead in the fourth quarter.
Yamuna Football Club defeat Garhwal Star
Dehradun, September 9
The Yamuna Football Club defeated Garhwal Star by 2-0 in the ongoing Drona College 70th Nemidas Memorial District Football League here today, with Hari scoring both the goals for his team.
U-25 cricket trials from today
Dehradun, September 9
The Cricket Association of Uttarakhand will be organising cricket trials in the U-25 category from September 10 to September 12 at Maharana Pratap Sports College in Raipur, Dehradun.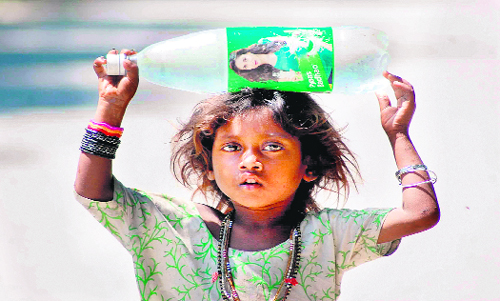 A young girl on her way to fetch drinking water from a public tap in Haridwar on Monday. Most of the colonies in the city are facing an acute water shortage. Tribune photo: Rameshwar Gaur