Elections at Shravan Nath Math Jawaharlal Nehru College in Haridwar
Aman Sharma elected chief, Soni vice-president
Haridwar, August 30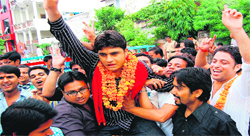 The students' union elections were held at Shravan Nath Math Jawaharlal Nehru College amid tight security here today. The results were declared in the evening.


Newly elected president of the students' council of SNMJN College Aman Sharma during a victory procession in Haridwar on Friday. Tribune photo: Rameshwar Gaur

Tripti Dhyani is students' council president in MKP College
Dehradun, August 30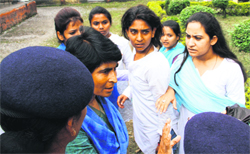 Tripti Dhyani of the Akhil Bharatiya Vidyarthi Parishad (ABVP) was elected president of the students' council in MKP PG College today. The party won all 12 posts in the election.




Policewomen and college staff pacify two warring group of girls during polling for
the students' council elections in MKP Girls' College in Dehradun on Friday. Tribune photo: Vinod Pundir

SP to support Swati for president's post
Dehradun, August 30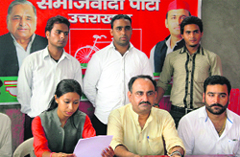 The Samajwadi Party (SP) and the Saheed Bhagat Singh Sena have announced support for the candidature of Swati Negi, who is going to contest the students' union election for the post of president from DAV PG College.




Subhash Pawar, spokesperson of the Uttarakhand Samajwadi Party, announces support for Swati Negi, an independent candidate, for the post of president in
DAV College students' elections in Dehradun on Friday.

Practice of general house meeting during poll a trend of the past
Mussoorie, August 30
The practice of general house meeting in which probable candidates contesting for the MPG College elections debated on the issues faced by the students for several hours in the past has been lost in oblivion.
Congress inaugurates communication centre in Doon
Dehradun, August 30
To ensure its widespread presence in the social media, Uttarakhand Congress today inaugurated its communication centre at Congress Bhavan, Dehradun. The centre will propagate Congress policies and programmes through social media like Facebook and Twitter.
BJP leader alleges corruption in allotment of works under PMGSY
Dehradun, August 30
Uttarakhand senior BJP leader Munna Singh Chauhan has alleged large- scale corruption in the allotment of works under Pradhan Mantri Gram Sadak Yojana in Uttarakhand and has sought a CBI probe into the matter.

Local boy Divyansh makes it big on TV
Haridwar, August 30
Divyansh Sharma, a popular face in the television industry, hails from suburban Jwalapur in Haridwar city. Though he had no godfather or any major platform to exhibit his talent, Divyansh with sheer determination, hard work and acting abilities has made a name for himself on the small screen.
Divyansh Sharma
Fylfot Public School wins quiz contest
Dehradun, August 30
An inter-school quiz contest was organised by Fylfot Public School here today.
Welham Girls (White) trounce Unison World School in basketball
Dehradun, August 30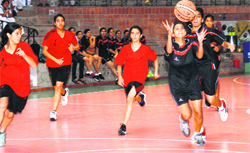 In the ongoing All-India Basketball Tournament at Welham Girls' School, the host Welham Girls (White) team defeated Unison World School with the final score of 35-13 points in its favour. Riya Jain of Welham's remained the highest scorer of the match after scoring 12 points.


A match of the All-India Basketball Tournament in progress at Welham Girls' School in Dehradun on Friday. Tribune photo: Vinod Pundir

Doon Valley Public School enters semi-finals in football
Dehradun, August 30
In the quarterfinal match played in the ongoing 12th Om Prakash Memorial Football Tourney at Carman School here today, Doon Valley Public School won its match 2-1 over Kendriya Vidyalaya, IMA, and entered the semi-finals of the tournament.
Rising Star beat DMK Football Club
Dehradun, August 30
Only one match was played between Rising Star and DMR Football Club in the ongoing Drona College 70th Nemidas Memorial District Football League here today.