City markets flooded with stylish rakhis
Dehradun, August 20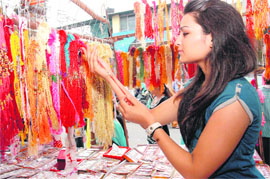 City markets are flooded with stylish rakhis on the eve of Raksha Bandhan and sisters are busy making their picks from among the best designs for their beloved brothers.








A girl buys rakhi at Paltan Bazaar in Dehrdaun on Tuesday. Tribune photo: Vinod Pundir

Guv's greetings on Raksha Bandhan
Dehradun, August 20
Governor Aziz Qureshi has greeted the people of the state on Raksha Bandhan. On the eve of the festival, symbolic of love and respect between brothers and sisters, the Governor said in his message that the emotions at the heart of this festival would be realised fully only when each one of us would reiterate our resolve to help the poor and helpless or the physically weak to lead a respectable life.
Youth told about ill-effects of drugs, alcohol
Haridwar, August 20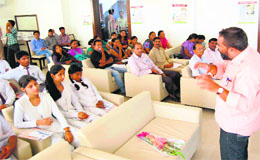 With the younger generation getting easily attracted towards using tobacco, alcohol and drugs, it is not right to only blame the young minds. Society, which fails to generate awareness among the youths about the ill effects of these drugs, is also to blame.




An awareness workshop on ill-effects of tobacco and alcohol consumption under way in Haridwar on Tuesday. Tribune photo: Rameshwar Gaur

UKD (P) seeks CBI probe into Yudhbir murder case
Dehradun, August 20
Uttarakhand Kranti Dal (P) today demanded a CBI probe into the mysterious death of Yudhbir Singh Rawat, who was found dead on August 9 on the roadside of Rajpur Road. Notably, Yudhbir was the former close aid of Cabinet Minister Harak Singh Rawat.
Pt Rajendra Gangani performs at RIMC
Dehradun, August 20
Pandit Rajendra Gangani, a renowned kathak dancer, performed at Thimayya Auditorium of Rashtriya Indian Military College (RIMC) here today.
PRD members threaten to intensify stir
Dehradun, August 20
Members of the Prantiya Rakshak Dal (PRD) from across the state today held a meeting at the Parade Ground here. They lashed out at the state government for ignoring their concerns.
2 arrested with leopard skin, bear's gall bladder
Dehradun, August 20
In a major success, Dehradun police today arrested two persons in Selaqui region of Dehradun and seized a leopard skin, a blue sheep skin and a bear's gall bladder from their possession. According to police sources, acting on a tip-off, Sahaspur police while conducting a checking campaign in the Selaqui region apprehended two suspicious persons who tried to run away, throwing away a bag.
Vikas group enters students' poll fray
Dehradun, August 20
A new student group entered the fray for the students' council election today. At a press conference held at Pandit Deendayal Upadhyaya Auditorium in DAV PG College here today, the "Vikas group" announced the names of candidates for various posts for the upcoming students' union elections in Dehradun.
Photo exhibition at Uttaranchal Grameen Bank Art Gallery
Dehradun, August 20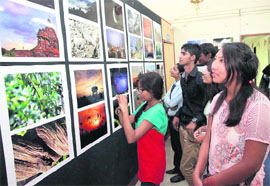 As part of World Photography Day, Coloured Leaf Photography Group organised a photo exhibition at Uttaranchal Grameen Bank Art Gallery, Dehradun, today. Inaugurating the exhibition, Uttarakhand Sports Secretary Ajay Pradhyot said photography as hobby was very popular across the globe.



Students have a look at photos on display at an exhibition in Dehradun on Tuesday. Tribune photo: Vinod Pundir

GRD Academy School win
Dehradun, August 20
GRD Academy School today won its match against Doon Presidency School in the ongoing 12th Om Prakash Memorial Football Tournament under way at Carman School here.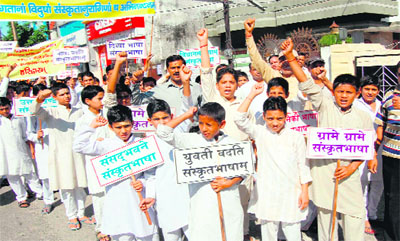 Young Sanskrit scholars take out a march to spread awareness on the conservation of the language in Haridwar on Tuesday. Tribune photo: Rameshwar Gaur