Religious fervour grips state
Tribune Reporters
Dehradun, August 28
Parbhat pheris (religious processions) marked the Krishna Janmashtami celebrations in Dehradun today.
Hanging on Faith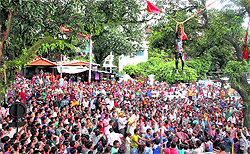 A young boy who broke a pot as part of Janmashtami ritual left hanging with the rope at Sai temple on the Rajpur road in Dehradun on Wednesday. He later jumped on cushions to safety. Tribune photo: Vinod Pundir


Devotees thronged Sanatan Dharm Mandir, Peepal Mandi, one of the oldest Krishna temples of the city, in a large number to celebrate the occasion. Long queues of devotees could be seen in the evening.

Panchayat Mandir at Darshan Lal Chowk, Shyam Sunder Temple at Patel Nagar, Prithvinath Mahadeva at the Saharanpur Chowk, Chaityana Gaudya Muth on DL Road and Krishna temple at Kisan Nagar were beautifully decorated. Special prayers were also organised on the occasion.

Girls were dressed as Radha in some of the temples. Incidents from the life of Lord Krishna were depicted in tableaux. Artistes from Vrindavan also performed Raslila.

Matki phor" competitions were also held at various places.

Meanwhile, Janmashtami programmes were organised at various schools. In The Aryan School, Mussoorie Diversion Road, dance events were held. Bhajans were also recited by children.

The festival was also celebrated at Ecole Globale International Girls' School, Horrawala.

Songs dedicated to Lord Krishna such as "Nand ghar aayo re", "Krishna nee begane baro" etc enthralled the audience.

Mussoorie: The auspicious festival of Janmashtami, the birth anniversary of Lord Krishna, was celebrated across Mussoorie with religious fervour today.

Huge rush of devotees at temples could be seen since early morning. A cultural programme was also organised at the Sanatan Dharm temple, Barlowganj.

The celebrations started with 'parbhat pheris' at various places early in the morning. Being a holiday, devotees kept thronging the Lakshmi Narayan temple at Library Bazaar, the Radha Krishan temple at Kulri Bazaar and the Sanatan Dharm temple at Landour Bazaar the entire day. Beautifully decorated cradles were kept at all temples.

Young boys were dressed as Krishna and girls Radha and gopis. Devotional songs by locals as well as professional artistes marked the day. People were also seen playing "dahi handi" at various places.

The acharya parshuram of the Radha Krishan temple said the Janamsthami celebration this time had astrological significance. He said Lord Krishna was born in rohini nakshatra on the ashtami of bhadrapada of Krishna paksh in the midnight and the same celestial combination would be observed this midnight while devotees celebrate Krishna Janmashtami.

Meanwhile, a 'matki phod' event was organised at the Sai Temple on the Rajpur road here, where Mussoorie MLA Ganesh Joshi gave away a cash award to the winners. Police personnel were deployed at all main crossings near the temple to avoid any untoward incident.

MLA Joshi also extended greetings to the people on the occasion.

HARIDWAR: Janmashtami was celebrated with enthusiasm across Haridwar on Wednesday. After taking a holy dip in the Ganga, devotees thronged temples across the city.

The Tusli Manas temple at Bhooptawala, the Radhe Krishan temple, Kankhal, Daksh Mahadev, Bilkeshwar Mahadev, Avhdoot Mandal, Shankar ashram and Sector-1 BHEL Panchayati temple were beautifully decorated.

Mata Mansa Devi temple, Mata Chandi Devi temple, Maya Devi temple, Mata Vaishno Devi temple and Mata Sureshwari Devi temple witnessed huge rush of devotees.

Various functions were also organised by religious organisations and saints.

The ISCON Haridwar Festival Committee organised 'Sankeertan, a religious procession, on the occasion.

District Magistrate Nidhi Pandey also paid obeisance at Shri Panchayati Akhada Bada Udasin.