Shiksha Acharyas for absorption in govt schools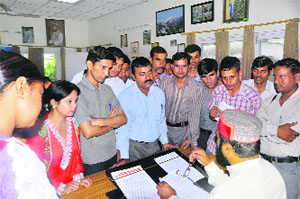 Dehradun, September 3
Shiksha Acharyas staged a protest at the Yamuna Colony residence of Education Minister Manti Prasad Naithani's here today. They were demanding absorption in the state schools as Shiksha Mitras. However, after holding talks with the minister, they went back to their old dharna site at Raipur bus stand. They also resorted to large-scale slogannering, when they were stopped by the police outside the minister's residence.


A delegation of Shiksha Acharyas meet Education Minister Mantri Prasad Naithani at his residence in Dehradun on Tuesday. A Tribune photograph

BJP opposes plan to resume prayers at Kedarnath shrine
Dehradun, September 3
President of the state unit of the BJP Teerath Singh Rawat has termed the Uttarakhand Government's plans to resume prayers at the Kedarnath temple without the active participation of saints and seers as an aim to usurp the centuries old traditional rights of saints.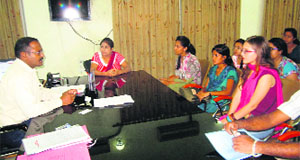 MKP college girls stage demonstration at DM's office


Dehradun, September 3
Girls belonging to the Students Federation of India (SFI) and Vikas group protested in front of the District Magistrate's office against irregularities in the election's to the student union of the MKP PG College, held on August 30. They demanded scrapping of the poll results.
A delegation of students from MKP Girls' College meets District Magistrate BVRC Purushottam in Dehradun on Tuesday. A Tribune photograph


False kidnapping alert has cops in a tizzy
Dehradun, September 3
The Dehradun police was in a tizzy following information that a few men travelling in an SUV kidnapped a person from the Patel Nagar fruit market this morning. He was reportedly selling domestic animals when he was forcibly taken away.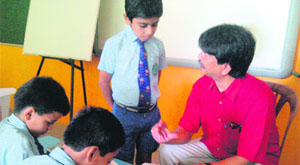 Haridwar kids get a chance at creativity with writers
Dehradun, September 3
Ghummakkad Narain, the Travelling Literature Festival, for the first time travelled to Haridwar to reach children who have never has a chance to attend reading sessions.


Atanu, a renowned illustrator and artist, helps students enhance their artistic skills during Ghummakkad Narain, a children's festival, in Haridwar on Tuesday. A Tribune photograph

Experts welcome govt decision on chakbandi
Dehradun, September 3
Experts have welcomed the state government's step to make chakbandi compulsory in the hills. They have called upon the government to hold discussions with various stake holders for making it a success in the state.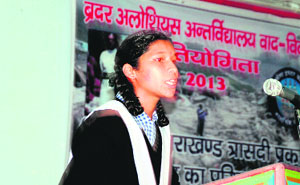 St Joseph's wins overall trophy in Hindi debate contest
Mussoorie, September 3
The St Joseph's Academy team comprising Shubhangi Mittal and Aishwarya Sethi won the overall trophy in the Bro Aloysius memorial inter-school Hindi debate competition held at Nirmala Inter-College here today.


A participant in a Hindi debate competition in Mussoorie on Tuesday. A Tribune photograph

Simran wins Hindi extempore contest
Dehradun, September 3
An Inter-House Hindi Extempore and Declamation Competition was organised at Asian School here today. While Simran Aggarwal won the declamation contest, Stuti Aggarwal and Arushi Nautiyal were the joint winners in the declamation competition.
Villagers protest govt's failure to control menace of wild animals
Pithoragarh, September 3
Hundreds of residents of Garkha Patti village of Didihat sub division demonstrated in front of the District Magistrate's office today. They were protesting against administration's failure to check the increasing menace of wild animals in their area. Villagers said in the absence of proper protection from animals, their crop was damaged every year. This was compelling them to leave their profession of agriculture.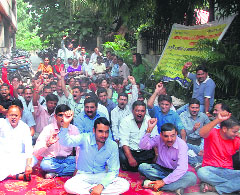 Trade tax employees launched a pen-down strike at the state headquarters here on Tuesday. They are demanding filling of vacant posts through promotions and better allowances. A Tribune photograph
28 skaters selected for CBSE nationals
Mussoorie, September 3
Twenty eight skaters were selected for the CBSE National Games after the culmination of the 44th Regional Skating Competition held in Mussoorie today. Kendriya Vidyalaya (KV), Mussoorie, won around 51 medals to figure in the top during the competition.
Eleven Stars defeat Chandrbani team
Dehradun, September 3
In a one sided encounter, Eleven Star defeated Chandrbani football team by 5-0 in the ongoing Drona College 70th Nemidas Memorial District Football League here today.
KV (IMA) lift soccer trophy
Dehradun, September 3
Kendriya Vidyalaya (KV), IMA, won the KV Regional Sports Meet Football Tournament by defeating KV, FRI, in the final match played at the KV FRI football ground here today. The KV, IMA, team started dominating the match from the beginning and invaded the defence of the other team a number of times. Suriya scored two goals while Pancham scored the third goal for KV, IMA. Kuldeep scored the lone goal for KV, FRI.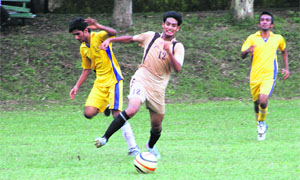 Welham Boys demolish Marshall School 7-0
Dehradun, September 3
In a one-sided encounter, Welham Boys demolished the defense of Marshall School in a 7-0 thumping victory in the ongoing RIMC Soccer Cup at RIMC Dehradun here today. Fahad remained the top scorer, hitting the net four times. Ali, Gauran and Abhimanyu chipped in with a goal each.

A match in progress during the RIMC All-India Inter-School Soccer Cup in Dehradun on Tuesday. Tribune photo: Vinod Pundir