M A I N N E W S
Muzaffarnagar clashes toll 21; Army out


Violence spreads to several rural areas

Mulayam calls meeting

Centre seeks report from UP Govt
Tribune News Service & PTI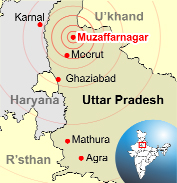 Lucknow/Muzaffarnagar, Sept 8
At least 10 more persons were killed in spiralling violence in Muzaffarnagar on Sunday, taking the toll to 21 in the western UP district where the Army staged flag marches and hundreds of anti-riot police personnel were deployed to restore law and order. The fresh incidents took place in the rural belt of the district, now being described as "highly sensitive".
An indefinite curfew continued in three police station areas of Civil Lines, Kotwali and Nai Mandi in Muzaffarnagar with the Army carrying out a flag march, violence has now spread to more rural areas. Apart from the Army, 10,000 Provincial Armed Constabulary personnel, 1,300 CRPF men and 1,200 Rapid Action Force personnel deployed, officials said.
"As it (violence) is going on in several villages, it is taking time to defuse the situation," Additional Director General of Police Arun Kumar told PTI after visiting the affected areas.
District Magistrate Kaushal Raj Sharma said 21 persons have died in the violence so far. However, in Lucknow, UP Home Secretary Kamal Saxena put the toll at 19, including 11 yesterday. Saxena said adequate force has been deployed in the affected areas and incidents of violence have been reported from Sisauli, Shahpur, Fugna, Kalapar and Dhaurakala areas of Muzaffarnagar.
In one place, the Army had to resort to firing after someone opened fire at them, he said. Asked whether shoot at site orders have been given, Saxena said directives have been issued to control the situation and for that, if necessary, firing can be done.
The Muzaffarnagar district administration requisitioned the Army late last night after which eight columns were deployed in Muzaffarnagar and two columns in neighboring Shamli district, which is also experiencing violence and tension. "We are committed to bring peace and harmony in the area. No trouble maker would be spared," Chief Secretary Javed Usmani said.
The Centre has sought a report from Uttar Pradesh government on violence in Muzaffarnagar and directed it to take strong action to curb riots. Describing the deaths as unfortunate, Chief Minister Akhilesh Yadav today raised the compensation amount for the families of the dead to Rs 10 lakh each. He appealed to citizens to remain calm and not believe the rumours doing the rounds. The family of journalist Rajesh Verma would get an additional Rs 5 lakh, Akhilesh announced.
In Kutba, where four people were killed, mobs set ablaze a religious place, several shops and vehicles. In Phugana village, cops said three members of a community had taken shelter in a police station, fearing violence. The other badly affected villages were Shahpur, Bhuvana, Basi Kala.
The Army's assistance has been sought by the UP Government in nearby Shamli and Meerut district, Army sources said. However, ADGP Arun Kumar said there was no information of riots spreading to other districts in the state including sensitive Meerut district. "These are all rumours," he said.
A high alert has been sounded in neighbouring Uttarakhand also. Chief Secretary Subhash Kumar has asked the administration and the police to be vigilant, especially in Dehradun, Haridwar and Udhamsingh Nagar districts which border the state of Uttar Pradesh.
Condemning the violence in Muzaffarnagar, Muslim clerics cautioned the people against "political conspiracies" aimed at dividing them on religious lines and appealed for peace and harmony in Uttar Pradesh.
Samajwadi Party national president Mulayam Singh Yadav called an emergency meeting at his residence to review the situation. The Chief Minister, Chief Secretary, Home Department officers and elected representatives of the area attended.
While RLD president Ajit Singh demanded imposition of President's Rule in the state, Leader of Opposition BSP Swami Prasad Maurya also demanded Governor BL Joshi's intervention and President's Rule in the state.
Curfew in many areas, Schools, Colleges closed
Curfew continued in Civil Lines, Kotwali and Nai Mandi areas of Muzaffarnagar, with the Army carrying out flag marches; it also staged a flag march in neighbouring Shamli and Kairana towns
Army's assistance sought in nearby Meerut district where primary schools and degree colleges have been closed as a precautionary measure; the police said 52 persons have been arrested
High alert in neighbouring Uttarakhand, especially in Dehradun, Haridwar and Udhamsingh Nagar districts that border Uttar Pradesh