Encroachers rob Solang valley of its beauty
Solang Nallah (Manali), September 3
Encroachers, who run stalls here on either side of the approach road of the south portal of the 8.82-km Rohtang tunnel, have ruined the face of the ski resort, a major sight-seeing and paragliding hub for tourists visiting Manali.
Board concerned over depleting tea lands in Kangra
Palampur, September 3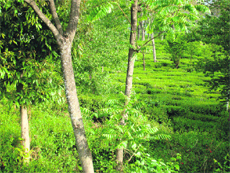 The area under tea in the Kangra valley is getting squeezed year after year following the large-scale sale of tea gardens, shortage of labour, non-availability of subsidy on fertilisers, inputs and other assistance from the state government.
The Bundla Tea Estate in Palampur. Photo by writer

Bangalore co. offers ecological solutions to state cement plants
Chamba, September 3
With an objective of providing environmental solutions to the industrial development, including the setting up of cement plants in Himachal Pradesh, the Eco Green Fuels Pvt Ltd (EGF), a company headquartered in Bangalore, is in the forefront.