Group of women scripts success story
Paonta Sahib, August 20
A group of 34 women of Amboya and Saalwala have scripted a success story by greening their environs by planting 80,000 saplings in 90 hectares. They drew inspiration from a group of 10 women who about 15 years ago had taken up a challenging task of greening a stretch of about 65 hectares of barren land in the Amboya panchayat by constituting a Woman Environment and Forest Protection Committee.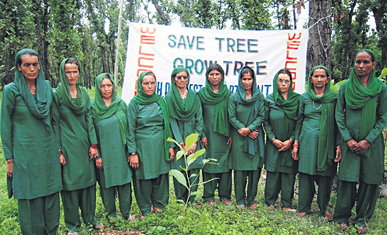 Members of the Mahila Paryavaran Avam Van Suraksha Samiti, Amboya.

Crime rate in Palampur increases, residents lose faith in police
Palampur, August 20 Palampur and its surrounding areas have witnessed an increase in the crime rate in the past few months. Over 60 cases of theft were reported from Palampur, Baijnath, Bhawarna and Lambagaon police stations. But, in most of the cases, the police failed to trace the culprits.