M A I N N E W S
SC pushes for swift justice in rape cases
Wants drastic changes in CrPC, sends notice to Centre
New Delhi, September 1
Setting up of fast-track courts to try rape cases is not sufficient to ensure speedy justice to the victims, the Supreme Court has said, favouring "drastic" amendment in the law for quick disposal of such matters.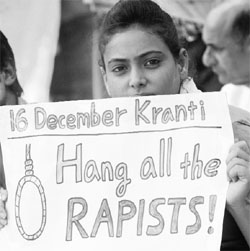 A girl during a protest at Jantar Mantar in Delhi on Sunday. Tribune photo: Manas Ranjan Bhui
"Fast-track courts no doubt are constituted for expeditious disposal of cases involving the charge of rape at the trial stage, but we are perturbed and anguished to notice that although there are fast-track courts for disposal of such cases, we do not yet have a fast-track procedure for dealing with such cases. It results in repetition of such heinous offences," a Bench headed by Justice Gyan Sudha Misra said.
"We are of the considered opinion that there is pressing need to introduce drastic amendments into the CrPC," it said. Expressing concern that the Centre was not taking any steps to amend the law to ensure fast-track procedure, the apex court sought response from the government on why statements of victims and witnesses in rape cases be not recorded by a judicial magistrate which can be treated as an evidence instead of the police recording them which is inadmissible. The Bench said it would put an end to recording of evidence of the victim and other witnesses multiple times which is the primary reason for delay of the trial.
"We feel acutely concerned as to why the Union of India should not take initiative and steps to evolve a procedure for fast-track justice to be adopted by the investigating agencies and the fast-track courts by proposing amendments into the CrPC for speedy justice to the victim," the Bench said while issuing notice to the Centre.
"We are of the view that if the evidence is recorded for the first time itself before the judicial magistrate under Section 164 of the CrPC and the same be kept in sealed cover to be treated as deposition of the witnesses and, hence admissible at the stage of trial with liberty to the defence to cross- examine them with further liberty to the accused to lead his defence witness and other evidence with a right to cross- examination by the prosecution, it can surely cut short and curtail the protracted trial if it is introduced at least for trial of rape cases which is bound to reduce the duration of trial and thus offer a speedy remedy by way of a fast-track procedure to the fast-track court to resort to," it said. The Bench said, "Considering the consistent recurrence of the heinous crime of rape across the country, including the metropolitan cities, we are of the view that it is high time such measures of reform in the CrPC be introduced after due deliberation and debate by the legal fraternity as also all concerned."
The apex court passed the order while hearing an appeal filed by the Karnataka police challenging the order of the High Court reducing the sentence of a rape convict from life imprisonment to a 10-year jail term. —PTI