LIFE+STYLE

CHANDIGARH

LUDHIANA

BATHINDA

JALANDHAR

AMRITSAR TRIBUNE

JALANDHAR TRIBUNE

BATHINDA TRIBUNE

JAMMU TRIBUNE

KASHMIR TRIBUNE

DELHI

DEHRADUN

DEHRADUN PLUS

Asaram questioned for 4 hours; sent to one-day police custody
Jodhpur, September 1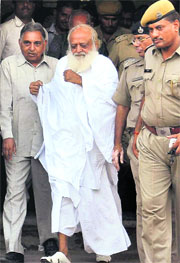 Self-styled godman Asaram Bapu, accused of sexually assaulting a 16-year-old girl at his ashram, was today remanded to police custody for a day after being grilled by Jodhpur police for about four hours. Asaram (72), who was flown from Indore where he was arrested after midnight amid high drama, cleared a potency test conducted on him at the SN Medical college here.
Asaram Bapu comes out of district sessions court in Jodhpur on Sunday. — PTI

AICC yet to discuss leadership change in Haryana
Chandigarh, September 1
Those expecting a change in the leadership of the Haryana Pradesh Congress Committee may have to wait as the Congress high command is yet to consider the issue. In fact, there may be no change in the immediate future or even in the long run.
CBI to quiz Army officers in VVIP chopper deal
New Delhi, September 1
The CBI will soon examine Army officers who were part of the selection process for the ight utility helicopter deal that came under the scanner of Italian authorities probing bribery allegations against AgustaWestland.
OTHER PAGES

HIMACHAL: Notices to 5 pvt varsities for violating admission norms


CHANDIGARH: Normal supply from tomorrow


LUDHIANA: ASI, woman constable booked


DELHI: Over 900 govt houses declared 'dangerous'


Business:

India to save $8.5 billion by importing oil from Iran: Moily

OPINION: Growth slips further


NATION: Bhatkal provided explosives for Hyderabad blasts in February


SPORTS: Tendulkar to play 200th Test at home

WORLD: Clashes in Iranian dissidents' camp near Baghdad kill 15


Lahore Log

The tribune guide to best colleges

Budget
2013-14

INDIA CHINA WAR 50 YEAR LATER

YEAREND SPECIAL: 2012

Year of survival

The tribune 130 years
a witness to history
book released by prime minister manmohan singh

Guide to best colleges

Results of Punjab Assembly Polls 2012

HIMACHAL VOTES 2012

EARLIER FEATURES
Proposal to shut petrol pumps at night
New Delhi, September 1
The government is considering various proposals, including shutting petrol pumps in the night, to taper fuel demand as it looks at ways to cut the massive oil import bill, Oil Minister M Veerappa Moily said today, drawing a sharp reaction from BJP.
10% DA hike on cards
New Delhi, September 1
Ahead of festival season, the Central Government will this month announce a hike in dearness allowance to 90 per cent from existing 80 per cent, benefiting about 50 lakh central employees and 30 lakh pensioners. According to official sources, dearness allowance hike will be 10 per cent and would be effective from July 1 this year.
Assad: Syria can confront any external aggression
Beirut, September 1
President Bashar al-Assad said on Sunday that Syria was capable of confronting any external aggression and that threats of a US strike would not discourage the country from a fight against what it described as "terrorism".
Land acquisition Bill: States will have their say
New Delhi, September 1
When Union Rural Development Minister Jairam Ramesh pushed the historic Land Acquisition Bill in Lok Sabha, which cleared it on August 29, he did a balancing act to ensure that the new law was as flexible as possible and allowed a free hand to Chief Ministers of states. He, however, did not allow any state to force its opinion on the other and was firm in rejecting demands of uniform applicability of the law or attempts to have clauses which were good for one state but may not be acceptable to others.

Juvenile held guilty, to spend three years in special home
September 1, 2013
House logjam hitting investor mood: PM
August 31, 2013
Terror mastermind Bhatkal held
August 30, 2013
Re in tailspin amid concerns over oil prices
August 29, 2013
Govt steps in to put mega projects on fast track
August 28, 2013
Food Security Bill clears LS hurdle
August 27, 2013
Monsoon bounty: Good rains, plentiful grains
August 26, 2013
Sonia rules out early polls, sure of UPA-III
August 25, 2013
12 Andhra MPs suspended in LS
August 24, 2013
12 Andhra MPs suspended in LS
August 23, 2013
Govt seeks to negate SC order on convicted lawmakers
August 23, 2013
Chinese troops intrude into Arunachal
August 22, 2013