Criminals cock a snook at Hisar police
Hisar, August 29
Criminals seem to be on the prowl in the district. This has sent shockwaves among the trader community besides instilling a sense of insecurity in the residents in general.
Sonepat police arrests gangsters
Sonepat, August 29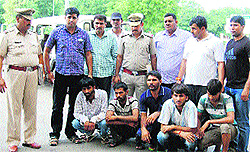 A team of the Sonepat police has arrested five armed gangsters who were planning to loot a petrol pump on GT road recently.


Arrested gangsters in police custody in Gannaur. Photo: BS Malik

Rohtak lacks efficient public transport system
Rohtak, August 29
The local transport system seems to be in a mess, thanks to lack of proper planning and execution of any project aimed at providing a swift and clean transport facility in the city which has been provided the Municipal Corporation status recently.