M A I N N E W S
Terror mastermind Bhatkal held
Indian Mujahideen co-founder arrested from Nepal border, was on the run for 5 years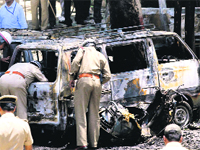 New Delhi/Patna, August 29
Yasin Bhatkal, co-founder of banned terror outfit Indian Mujahideen and wanted in around 40 blast cases and carrying a reward of Rs 35 lakh, has been arrested from the Indo-Nepal border in the second prize catch after LeT mastermind Abdul Karim Tunda in the last fortnight.
On the run for over five years in several countries, including Nepal, Bangladesh and Pakistan, 30-year-old Bhatkal was nabbed in a joint operation by intelligence agencies and Bihar police. He was arrested along with another IM leader Asadulla Akhtar, alias 'Haddi'.
Bhatkal and Akhtar will be flown to Delhi tomorrow in a special plane and formally handed over to the NIA, a senior official said.
While Delhi and the NIA had announced Rs 10 lakh each, Mumbai police had announced Rs 15 lakh to anyone giving information leading to Bhatkal's arrest. "Yasin Bhatkal was traced along the Bihar-Nepal border last night by our intelligence agencies. He is under the custody of Bihar police and his interrogation is going on," Union Home Minister Sushilkumar Shinde told reporters outside Parliament House today.


He (Bhatkal) himself was a bomb planter, organiser and he was one of the most potent terrorists in that (IM) stable. — RK Singh, Ex- Home Secretary
National Security Adviser Shivshankar Menon briefed Prime Minister Manmohan Singh on the arrest.
Bhatkal was taken to Motihari in Bihar for being produced in a court for transit remand. He hit the spotlight after the 2008 Delhi serial blasts in which 30 persons were killed. He was suspected to be the mastermind of these five blasts.
During the probe, his role was traced back to 2004 as for allegedly distributing explosive material from Karnataka. He is also suspected to have played an active role in the 2006 Mumbai serial train blasts that left 187 people dead.
Bhatkal, who hails from Bhatkal village of Udupi district in North Karnataka, is wanted in a string of terror attacks in Ahmedabad, Surat, Bangalore, Pune, Delhi and Hyderabad.
It is the second major breakthrough for Indian agencies after the arrest of Lashkar-e-Taiba (LeT) bomb expert Abdul Karim Tunda on August 16.
Bhatkal, who is also wanted in the German Bakery bomb blast in Pune on February 13, 2010, that left 17 dead, formed IM with his brother Riaz and associates Riyaz Shahbandri, Abdul Subhan Qureshi, Sadiq Israr Sheikh and gangster-turned terrorist Amir Reza Khan.
The IM, patronised by Pakistan-based LeT, was designated a terrorist group by the government under the Unlawful Activities Prevention Act in June, 2010. The banned outfit was declared by the US as a Foreign Terrorist Organisation in 2011.
Government sources said Bhatkal was planning to go to Bangladesh from Nepal to meet his contacts there.
In Patna, ADGP (Headquarters) Ravindra Kumar said that Bhatkal and his associate Asadulla Akhtar, alias Haddi, were arrested near Nahar Chowk in Raxual sub-division of Bihar's East Champaran district on the Indo-Nepal border, around 100 km from Patna. This followed inputs that they were plotting a terror strike, he said.
Bhatkal, along with three aides Tahaseen Akhtar Wasim Aktar Shaikh (23), Asadulla Akhtar (26) and Waqas, alias Ahmed (26), was allegedly behind three coordinated bomb explosions at Opera House, Zaveri Bazaar and Dadar West in Mumbai on July 13, 2011, that left 27 dead and 130 injured.
Except Tahaseen, who allegedly planted a bomb in the Dadar blast, the rest three were also suspected to have played a role in the four co-ordinated low-intensity explosions, which struck the busy arterial road in the heart of Pune city on August 1, 2012. Eight accused had been arrested in this connection. — PTI
one of india's most wanted terrorists
AN explosives expert
Zarar Ahmed Siddibapa, alias Yasin Bhatkal (30), is the co-founder of Indian Mujahideen & overall in-charge of logistics and arrangements
Yasin received education at AnjumanHami-e-Muslimeen school
He was introduced into the IM as a trained engineer and later grew as an explosives expert
Unani medicine practitioner-turned-Islamist Iqbal Bhatkal and his brother Riyaz Bhatkal are believed to be his mentors
Wanted for 40 blasts
2006: Mumbai train bombings
2008: Blasts in Delhi; Ahmedabad, Surat and Jaipur
2010: Blasts at Pune's German Bakery; Dashashwamedh Ghat in Varanasi; & Chinnaswamy stadium, Bangalore
2011: Explosion outside Delhi High Court; blast in Mumbai
2012: Jangli Maharaj road blast in Pune
2013: Suspect in twin bomb blasts at Dilshuknagar, Hyderabad
key contenders for IM boss
The Pakistan-based Bhatkal brothers, Iqbal and Riyaz, and Fayyaz Kagzi, who recently moved from Saudi Arabia to Pakistan, are the likely contenders to replace the IM chief. Kagzi had been running his operations in India from his base in Saudi Arabia