LIFE+STYLE

CHANDIGARH

LUDHIANA

BATHINDA

JALANDHAR

AMRITSAR TRIBUNE

JALANDHAR TRIBUNE

BATHINDA TRIBUNE

JAMMU TRIBUNE

KASHMIR TRIBUNE

DELHI

DEHRADUN

DEHRADUN PLUS

Domestic, global factors behind economic turmoil: PM


New Delhi, August 29
With the Opposition targeting the government over the free fall of the rupee in both Houses of Parliament, Prime Minister Manmohan Singh today acknowledged that the country was facing a difficult economic situation.


It cannot be denied that the country is faced with a difficult economic situation. There are several causes for the economic woes. I do not deny some domestic factors are also responsible…I would be happy to make a statement tomorrow.
— Manmohan Singh, PM
Trace missing coal files in 26 days or face CBI probe, SC tells Centre
New Delhi, August 29
Taking a serious view of the missing files and documents relating to coal block allocations, the Supreme Court today directed the Centre to trace these within 26 days or face a CBI probe.
OTHER PAGES

PUNJAB: Mob goes on rampage after youth's killing in Ludhiana


J&K: Cong, NC engaged in hectic efforts to form Kargil Council


HIMACHAL: Ministers, MLAs set to get pay hike


CHANDIGARH: Rain delays repair work


DELHI: DTF secures four seats


Business:

Govt's loose fiscal stance to blame for current woes, says Subbarao

OPINION: Tread with care

SPORTS: Boxing enters ring of controversy

WORLD: US, UK back down from immediate Syria strike


Lahore Log

The tribune guide to best colleges

Budget
2013-14

INDIA CHINA WAR 50 YEAR LATER

YEAREND SPECIAL: 2012

Year of survival

The tribune 130 years
a witness to history
book released by prime minister manmohan singh

Guide to best colleges

Results of Punjab Assembly Polls 2012

HIMACHAL VOTES 2012

EARLIER FEATURES

AG says Moga MLA quit as PSWC chief, but he stays on
Chandigarh, August 29
The controversial Moga MLA Joginder Pal Jain continues to hol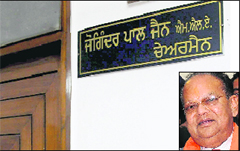 d the office of the chairman of Punjab State Warehousing Corporation (PSWC) despite the Advocate General of Punjab having informed the Punjab and Haryana High Court on August 19 that he had resigned.
As per the nameplate, MLA Joginder Pal Jain (inset) continues to be chairman of Punjab State Warehousing Corporation. Photo: Manoj Mahajan

Despite LoC tension, efforts on for Manmohan-Sharif meeting in NY
New Delhi, August 29
Pakistan is in touch with India to explore the possibility of a possible meeting between the Prime Ministers of the two countries on the margins of the UN General Assembly in New York next month.
Drop in number of Indians migrating to Britain
London, August 29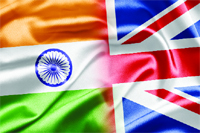 The number of Indians coming into Britain to work and study has registered a significant drop over the past year, according to official figures released today. The Indian subcontinent countries of India, Pakistan and Bangladesh led a "statistically significant" decrease in the net migration of citizens from outside the European Union (EU), according to the figures.

Re in tailspin amid concerns over oil prices
August 29, 2013
Govt steps in to put mega projects on fast track
August 28, 2013
Food Security Bill clears LS hurdle
August 27, 2013
Monsoon bounty: Good rains, plentiful grains
August 26, 2013
Sonia rules out early polls, sure of UPA-III
August 25, 2013
12 Andhra MPs suspended in LS
August 24, 2013
12 Andhra MPs suspended in LS
August 23, 2013
Govt seeks to negate SC order on convicted lawmakers
August 23, 2013
Chinese troops intrude into Arunachal
August 22, 2013