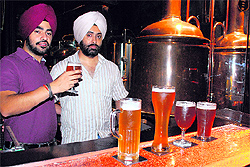 Beer hug
He was a wise man who invented beer…Plato was bang-on when he said that! At least when you look around the tricity lounges, restaurants and breweries (they are only in Panchukla as UT doesn't give permission for a brewery in Chandigarh), you so want to give a high-five to the wise man Plato!


Aaftab Singh & Suraj Pratap Singh Sidhu bring in new flavours of beer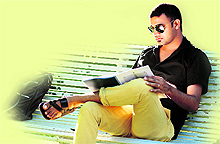 When destiny plays its part…
If your life has to take a path, no matter how many detours you take, no matter how many short cuts you slip into, destiny would eventually get you on that path. Punjabi and Bollywood script-writer Rupinder Inderjit from Tholan, Ludhiana yearned to write, but then he didn't know how. He settled with masters in Anthropolgy walking with a University gold medal.
Well versed: Rupinder Inderjit
Off beat, on track
A film reaches to a larger number of audience either when it is a commercial success or it garners praise at some international film festival. Nabar, the national award winning film, however, puts to rest those popular theories. The film stands true to its title, Nabar, which means a rebel, in several ways--from not approaching festivals to casting to the music of the film-- each aspect defies the norms of film-making.
Redeeming present through past
Of late regression has become quite a popular medium of spiritual healing. It transports one to several last births, helps in sifting bad karmas from the good ones. "And that in turns helps one to understand the flow of present life," says spiritual master and modern day yogi from the US, Leonard Orr, who is in Chandigarh to conduct a 9-day workshop. The only difference in his case is that he invented a nomenclature of the process, Rebirthing Breathwork. "If rhythm of breathing is correct, it can emotionally heal. It also brings about mental clarity and physical well-being."
Big launch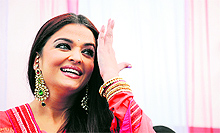 Beauty queen and actor Aishwarya Rai Bachchan at the opening of Kalyan Jewellers at Ludhiana. Photo: Himanshu Mahajan

stress buster
Start your day on a happy note
My client walks into my clinic in a huff - Oh my God, I tried all your anti-stress affirmations and, yet, I woke up this morning feeling miserably low''. Well, I had to explain to him that you can't expect your problems to magically disappear in the night.
On your finger tips
They say that there are no ugly women in the world, only lazy ones. However, beauty is only an elaborate definition of all the intricate works that go into substantiating it. And when it comes to detailing, one's biggest folly would be to skip out on nails. Sunny & Binny's Nail Bar in Sector 10, that focuses on pure nail art and care, offers an anti-aging manicure and pedicure apart from nail art and nail treatment.
star track
Getting used to stardom
It seems like Siddharth Malhotra's stardom is growing by the day and he is amassing a huge female fan base. He cannot even step out of his house without being cajoled for photographs and autographs. He happily obliges his enthusiastic fans.
chatter box

Women in action
With a big question mark looming large on the safety of the women in our country, Zee TV will subtly spread awareness through its shows. Recently, it was Qubool Hai where Zoya (Surbhi Jyoti) stood for herself and slapped a man. In the coming week, Gunjan (Roopal Tyagi) of Sapne Suhane Ladakpan Ke will question the safety and security of the women in Mumbai.