Beer hug
Beer is a beverage that can be enjoyed at any time of the day. Here's checking out some chilled-out zones in the Tricity…
Jasmine Singh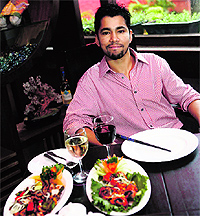 Gung ho: Vipul Dua owner, Peddlers

He was a wise man who invented beer…Plato was bang-on when he said that! At least when you look around the tricity lounges, restaurants and breweries (they are only in Panchukla as UT doesn't give permission for a brewery in Chandigarh), you so want to give a high-five to the wise man Plato!
Panchkula alone has three breweries and Chandigarh has some fine places that serve good, frothy variety of beer. Some like Peddlers in Sector-35 even promote beer drinking in the morning! The wonderful thing about the drink is that even if you gulp a lot, it won't make your body or head heavy!
Go guzzle
Vipul Dua, owner, Peddlers, has a compilation of quotes on beer. He pulls out one quickly, "Beer is a proof that god loves us. Benjamin Franklin said this," he smiles. There are a hundred other things that we can see god's love in though! Coming back to the fizzy drink, Vipul shares, "The pubbing culture is pretty much catching up in the city, for this reason we have various brands of beer coming in. This is one drink that you can have anytime of the day, which also make it an instant hit with the youngsters."
Vipul promotes beer culture at Peddlers. "To enjoy beer you need the right kind of environment and yes music too."
Suraj Pratap Singh Sidhu, managing director, Ooze-The Brauhaus Microbrewery in Panchkula and Col VPS Sekhon, partner rates beer as the most popular beverage after tea. "It is widely consumed and there is a 200 per cent increase in the consumption every year." As brewery is a new concept, Suraj gets a lot of queries from the customers and also entrepreneurs who want to take a franchise. "Just because it is not hard on one's system is not the reason why youngsters take a liking to it; it should be the taste I think," he adds.
Raise a toast
The variety in beer has definitely increased. From the regular Kingfisher to Corona and all kinds of freshly brewed ones, the pitcher is full! Have you heard about organic beer? Just kidding! "The watery beer is super-filtered with no nutrients, on the other hand the freshly brewed ones are free from any chemicals, preservatives and good for health," chips in Suraj. Russian wheat beer, American pale ales, Roasted wheat beer Dunkle are some of the different flavours that you can enjoy. No one stops at one beer, so you can always order a King Pitcher, which has 3000 ml of beer for three to four people at a cost of Rs 950 here. Kingfisher Ultra bucket for Rs 750 before 6 pm at Peddlers is the best bet. However, nobody can deny the popularity of draught beers.
Rule book
Most of us know beer is associated with the word chilled. The classic ales (coming from Belgium or England) are served at a temperature of 6-8 degree celsius. "When the beer is thicker, with lots of flavour, it should be served less cold," adds Suraj.
Brand loyalty
Says Stuti Kabir Singh, who likes Corona beer, "It is light with a tangy taste, a version of Sprite or Limca maybe; a bottled beer like Carlsberg is cheap and an interesting drink at the same time." Places like Underdoggs at Elante Mall, Blue Blazer, Hops n Grains, The Pint and Peddlers are some of the places youngsters like to hit for beer.
Makeover magic
For those who love to experiment with their drinks, beer is the best bet. Beer in different flavours is the new thing. Longshot coffee-infused dark ale to a chocolate porter and a 'Christmas beer' brewed with a mix of dried fruit and spices is something new to check out.
jasmine@tribunemail.com