M A I N N E W S
Hooda detractor & Gurgaon MP Rao Inderjit quits Cong
Tribune News Service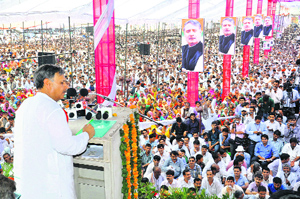 Rao Inderjit Singh at a rally in Rewari on Monday. Tribune photo

Gurgaon, September 23
Congress leader and Gurgaon MP Rao Inderjit Singh on Monday announced his resignation from the party stating he did not want to be associated with a party that had become 'Hooda private limited'.
Though Rao Inderjit didn't tender an official resignation, he said his declaration was more valid than one. He was in Rewari today for the Shaheedi Samman Diwas where he addressed a rally to commemorate the birth anniversary of Rao Tula Ram.
Ending his 35-year-old association with the Congress amid roaring applause, he said he would not contest the next elections from the Congress as he was upset with the "existing circumstances" in the party. Taking on Haryana Chief Minister BS Hooda and his policies as the key reason behind his exit, Rao challenged him to resign and fight election against him from Gurgaon.
"It's a war of ideology. I am a follower of the core principles of the Congress, which talk about serving people. Our CM (Hooda) has turned this state and party into a corporate company that works according to his whims and fancies. Development is based on personal relationships, caste and constituency. I cannot go along with this anymore," Rao said.


Had wanted Probe in Vadra case

The Gurgaon MP was in the limelight last month when he demanded a fair probe into the land deals of Robert Vadra. He had formed a new outfit, Haryana Insaf Manch (HIM), at a huge public rally organised in Pataudi March 3
---

I have been in the Congress for 35 years, but under the existing circumstances, I won't contest elections from the Congress… and I also bid goodbye to Congress politics.
— Rao Inderjit Singh, Gurgaon MP
The Gurgaon MP had constituted a non political front, the Haryana Insaaf Manch, some months back protest the CM's "indifference" towards the development of certain districts of the state. Rao's daughter Bharti Singh had recently applied for registration of Haryana Insaaf Congress as a party.
Rao's exit from the party was expected after he openly turned against his party chief and the Haryana Government by demanding "a thorough probe" into the land deals of Robert Vadra, party chief Sonia Gandhi's son-in-law, last month.
Rao, who projected himself as the change Haryana has long been waiting for, announced he would hold a bigger rally in Jhajjar, which is Hooda's bastion. He also took on leaders such as Captain Ajay Yadav and his son Daan Singh, saying they could try their hand in Gurgaon.
Rao's exit has created ripples in state political circles and has dented the Congress given his influence. A prominent Ahir leader from southern Haryana, Rao wields considerable clout in the Ahirwal constituencies.