Tanzanian delegates visit ONGC
Dehradun, September 27
Taking a step towards renewing relations between Tanzania and India, a delegation from Tanzania visited ONGC's Institutes at Dehradun yesterday and evinced a keen interest in promoting joint ventures in the energy sector.
Measures discussed to give boost to tourism in the state
Dehradun, September 27
Department of Tourism comprising Garhwal Mandal Vikas Nigam and Uttarakhand Tourism Development Board organised a discussion to celebrate World Tourism Day in Hotel Drona today. The officials of Tourism Department and the people associated with tourism activities were present on the occasion.
Govt staff stage rally in support of demands
Dehradun, September 27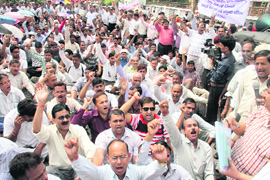 Hundreds of employees under the aegis of the State Employees Joint Council participated in a rally here today in support of their 25-point charter of demands. Prahlad Singh, president of the state unit of the council, said the employees would be forced to go on a statewide strike if the government fails to fulfil their demands.
Uttarakhand government employees stage a protest outside the Secretariat in Dehradun on Friday. Tribune Photo: Vinod Pundir

Stationery, clothes distributed among 231 students
Mussoorie, September 27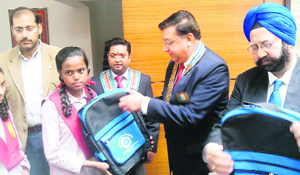 The Rotary Club of Mussoorie, in association with the Rotary foundation, distributed school uniforms, stationery items, shoes, track suits, school bags, sweaters and packets of nutritious food to around 231 students from the poor strata under the Child Welfare Project in Mussoorie, today.
The Rotary district governor distributes school bags to needy students in Mussoorie on Friday. A Tribune photograph

Birthday party at Haj House criticised
Haridwar, September 27
A birthday party hosted by Haj Committee chairperson Rao Sher Mohammed has not gone down well with the minority community members in Haridwar. Notably, the Haj Committee chairperson two days back organised a birthday party of his minor relative at the newly built Haj House at Piran Kaliyar, where it is alleged that song and dance presentations were also given.
World Tourism Day celebrated at varsity
Dehradun, September 27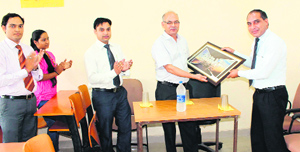 World Tourism Day was celebrated at the Himgiri Zee University, Dehradun, today. Vice-Chancellor of the University Prof SC Bagri was the chief guest on the occasion. Inaugurating the celebrations, Professor Bagri informed the students about the interdependence of environment and tourism.
Dr Subodh Chaudhary gives a memento to Prof SC Bagri, Vice-Chancellor of Himgiri Zee University, in Dehradun on Friday. A Tribune photograph

UKD opposes Tourism Day functions
Dehradun, September 27
The Uttarakhand Kranti Dal (Panwar) staged a dharna near Shahidi Sthal in the city today to protest against holding gala functions to commemorate Corbett Mahotsav and World Tourism Day. The party activists ranted slogans against the state government. Later they gave a memorandum in the office of District Magistrate which was addressed to the Governor.
CM to attend NDRF foundation day function in Delhi
Dehradun, September 27
Chief Minister Vijay Bahuguna will visit New Delhi next month to attend a function on the National Disaster Response Force (NDRF) foundation day, where he will acknowledge the crucial role played by the force in relief and rebuilding efforts in the flood-ravaged areas of the state.
Eerie silence on premises of DMC
Dehradun, September 27
An eerie silence prevailed on the premises of Dehradun Municipal Corporation today after a disturbing day. Mukhya Nagar Adhikari Ashok Kumar did not come to office today. BJP councillors, too, were not seen in the building. However, Mayor Vinod Chamoli came in the afternoon.
Camp to mark World Heart Day
Dehradun, September 27
To mark the World Heart Day on September 29, the Bharat Heart Institute, E C Road, Dheradun, is organising a free check-up camp. The patients can avail facilities like cardiac consultation, ECG, pacemaker analysis, random blood sugar and blood pressure check free of cost. The camp will be held from 10 am to 2.30 pm. The registration for the camp will start at 9 am. Senior doctors of the institute, led by Dr Chetan Sharma, executive director and chief interventional cardiologist, shall examine the patients. — TNS
Rs 50 lakh donated for relief works
Dehradun, September 27
Chennai-based India Cements Limited has donated Rs 50 lakh to the Chief Minister's Relief Fund for rebuilding activities in flood-hit Uttarakhand. The donation is a collective contribution by 8,000 employees of the company from Tamil Nadu, Andhra Pradesh, Maharashtra and Rajasthan, according to an official release. Vice-president of the company R Muralidhar met Chief Minister Vijay Bahuguna at his official residence here yesterday and handed him a cheque for Rs 50 lakh as donation in this regard. — TNS