Image makeover
After playing the brave Jhansi Ki Rani in the hit Zee TV show, now Ulka Gupta is seen as a spirited adolescent girl in Khelti Hai Zindagi Aankh Micholi. The talented Ulka talks about her role and new image.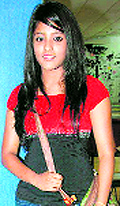 NEXT STEP: Ulka Gupta

What do you like about your character Ami?
Ami's unpredictability; she is an average student and always in trouble over something. She feels no one understands her and that is the funny part about her. She is imperfect but can handle situations to her benefit every time.
Why did you choose this show?
Due to the story and my role; I felt a connect with Ami who is a teenager like me. So I knew she was the right character for me to do at this time. Many young girls would surely connect with Ami and her flaws as well as insecurities.
Was a change of image also a reason?
Yes. Manu from Rani Laxmibai was a confident girl who knew what she wanted, but Ami is a girl of today's times. She is like any other girl. That is exciting. I hope people accept Ami just like they did Manu.
What is the USP of this show?
It's different, as the treatment is real. It is about adolescence, family and coming of age. It's about kids finding their own identity, so I think there will be lots to keep the viewers entertained.
How is it working with Gautami Kapoor?
Great; she is a wonderful actor and good person. It is fun to be working with her. Our whole cast, Farida Dadi, Suhita Thatte, Manisha Purohit, Manav Gohil, are all really lovely and helpful on the set. — HRM
Real take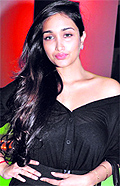 Actress Jiah Khan's suicide will be the story of an upcoming episode of Yeh Hai Aashiqui. The story is loosely based on her story and is about a film actress who is successful, but falls for a director's son and gets possessive about him. But when her career hits a lull, he dumps her and she kills herself by jumping off a building. Mihika Verma and Rithvik Dhanjani will play the lead roles in this show.



copy this: Jian Khan
Raging controversy
Politician and actor Tajinder Singh Tiwana has filed an FIR against Dolly Bindra for her derogatory defamation statement against him on a prominent news channel.
Talking about the entire episode, Tajinder said, "I was absolutely clueless about why my name had been dragged into a petty attention-seeking act by Dolly Bindra, I was absolutely nowhere in the picture. I don't know her on a personal level. She has issues with maximum number of people in her society."

in the dock: Dolly Bindra

Apparently, Dolly Bindra picked up a fight over a petty issue with the traffic police officers posted right outside her building in a bid to help a fellow lady. When contacted by a leading news channel, Dolly instead of highlighting the issue started taking names of reputed people who, according to her, were behind her life. In the interview, Dolly claimed that Tajinder was trying to get her killed.
Disgusted by Dolly's claim, Tajinder said, "Why would I want to get her killed? I have absolutely no reason to do that. She has issues with her society members and not me. Playing the blame-game and accusing people is her pastime, not mine. I filed a complaint at the Bangur Nagar Police Station. I need a public apology from her."
Festive spirit
Like every Navratri, this season too TV actors will juggle their serial shoots with visits to Navratri Pandals. Hina Khan, Karan Mehra, Dilip Joshi, Disha Vakhani, Tina Dutta, Delnaaz Irani, Karan V Grover, Mahi Vij, Hiten Tejwani, Karanvir Bohra, Giaa Manek, Rohit Roy, among others, will make a quick buck with these visits.
Making the right moves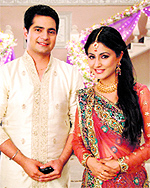 A still from Yeh Rishtaa
Great chemistry comes with great tuning and to elevate this, Naitik (Karan Mehra) and Akshara (Hina Khan) have taken to the sensual dance form, Salsa. All this effort was taken to prepare for the upcoming episode that will see one of the most popular onscreen couples from Yeh Rishtaa Kya Kehlata Hai take to dancing to add some excitement to their married life.
What is unknown to many is that apart from the shoot, both Karan and Hina have taken extra classes to add finesse to their dance moves. "Dance has become a new-found passion for me. Post my stint with Nach Baliye, I enjoy dance and believe it's a great way to unwind as well. For a few episodes, Hina and I had to take Salsa lessons as part of the ongoing track, which was great fun and energising. We have attempted to learn and showcase some good moves, now we just hope the viewers like them," says the adorable Naitik. Practice till perfection is not just a saying anymore, these two brilliant actors have made it their motto for success. Stay tuned to Yeh Rishta Kya Kehlata Hai, Monday to Friday at 9.30 pm only on Star Plus.
Sad times
Harshad Chopda of Kis Des Mein Hai Mera Dil fame recently lost his mother. She was suffering from cancer since a while and was admitted to an ICU in Mumbai. Harshad and his family were by his side.

low phase: Harshad Chopda
Food & fun
Sangeeta and Ruslaan lately indulged in a gastronomic delight on the sets of their show. The popular actors transformed their sets to a foodie's paradise and treated the cast as well as crew to a delectable meal.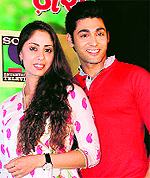 deLectable treat: Sangeeta & Ruslaan

The stars of Sony Entertainment Television's popular show Kehta Hai Dil...Jee Le Zara, Ruslaan and Sangeeta recently organised a potluck for the cast and crew on the sets.
Ruslaan brought Malwani prawns curry, dried pomfrets and sol curry. Sangeeta treated everyone to fried fish and Delnaaz got authentic Irani cuisine; Kaleji and Keema for everyone. A little birdie from the sets reveals that Ruslaan and the casting team devoured ten pomfrets at one go! A lot of gossip and secrets were also revealed during the feast. Well, someone has truly stated that 'a family that eats together stays together'!