LIFE+STYLE

CHANDIGARH

LUDHIANA

BATHINDA

JALANDHAR

AMRITSAR TRIBUNE

JALANDHAR TRIBUNE

BATHINDA TRIBUNE

JAMMU TRIBUNE

KASHMIR TRIBUNE

DELHI

DEHRADUN

DEHRADUN PLUS
Will consider issues raised by Cong V-P on return: PM
Washington, September 27
Prime Minister Manmohan Singh said Friday the issues raised by Congress vice- president Rahul Gandhi about a controversial ordinance sent to the president would be considered on his return to India.

News Analysis


Rahul's outburst may alter Cong landscape
New Delhi, September 27
Congress vice-president Rahul Gandhi's brusque remark opposing the ordinance that offers protection to convicted lawmakers shook the party and the UPA, and forced an embarrassed establishment to turn the defence of the government move on its head.

Special to the tribune
India, US seal first commercial civil nuke power deal
Washington, September 27
In the aftermath of this week's terrorist attack in India, Prime Minister Manmohan Singh on Friday lowered expectations of his meeting with his Pakistani counterpart Nawaz Sharif, saying the epicentre of terrorism remains in Pakistan.
OTHER PAGES

HARYANA: Khemka to be chargesheeted


HIMACHAL: World Bank nod for Theog-Rohru highway project


CHANDIGARH: 2 MC officials to pay Rs 4 lakh


LUDHIANA: Trees that bear crores of rupees


DELHI: Voters may get power to reject all candidates

OPINIONS: Rahul rights a wrong

BUSINESS: Govt allows unlisted firms to directly list abroad

SPORTS: Supreme Court queers Srini's pitch

WORLD: Want strong ties with India: Sharif


Lahore Log

The tribune guide to best colleges

Budget
2013-14

INDIA CHINA WAR 50 YEAR LATER

EARLIER FEATURES

Want strong ties with India: Sharif
Islamabad, September 27
Ahead of his meeting with Prime Minister Manmohan Singh, Pakistan premier Nawaz Sharif has said his government wants strong relations with India and that all issues, including "flash point" Kashmir have to be settled through dialogue. (Details on world page)

Despite dissent, JPC adopts report clearing PM, FM
New Delhi, September 27
Despite protests from the main Opposition party, the BJP, and dissenting notes from some of the members, the Joint Parliamentary Committee (JPC) today adopted its controversial draft report on the 2G spectrum allocation case which seeks to give a clean chit to Prime Minister Manmohan Singh and Finance Minister P Chidambaram.
11 die in BMC-owned building collapse
Mumbai, September 27
At least 11 persons, including a young girl, lost their lives while around 26 others have been trapped in debris after a five-storeyed Brihanmumbai Municipal Corporation (BMC) residential building collapsed at Dockyard Road near the Mumbai Harbour early this morning, the police said. (Details on Nation page)

SC gives voters right to reject candidates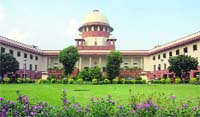 New Delhi, September 27
In a judgment that can catalyse an electoral revolution, the Supreme Court today directed the Election Commission to give the voter the right to reject all the contesting candidates if he finds none of them "worthy of his vote," thereby, forcing political parties to field only those "who are known for their integrity" and ensuring "proper governance of the country."



Modi hails SC order

Twin terror strikes in Jammu; 10 killed
September 27, 2013
Terror, LoC tension, trade to dominate PM-Sharif talks
September 26, 2013
Convicted lawmakers can contest polls
September 25, 2013
Crack down on communal elements, PM tells states
September 24, 2013
Suicide bombers kill 78 at Pak church
September 23, 2013
BCCI chief's son-in-law charged with betting, leaking team info
September 22, 2013
Home, car loans to cost more as RBI raises lending rates
September 21, 2013
Sensex rides on US stimulus, gallops to three-year high
September 20, 2013
Arrest warrants against 16 UP leaders for 'inciting' riots
September 19, 2013
Sharif presses for serious dialogue with India
September 18, 2013