A close look at Corbusier's creations
In the 125th year of Le Corbusier's birth, the Museum of Modern Art, New York, focuses on his landscape encounters
Rajnish Wattas
To mark the 125th birth anniversary year of Le Corbusier (Charles-Édouard Jeanneret, 1887–1965), the Museum Of Modern Art (MoMA), New York put together the biggest-ever exhibition of his works as an architect, interior designer, city planner, artist, writer, speaker and photographer.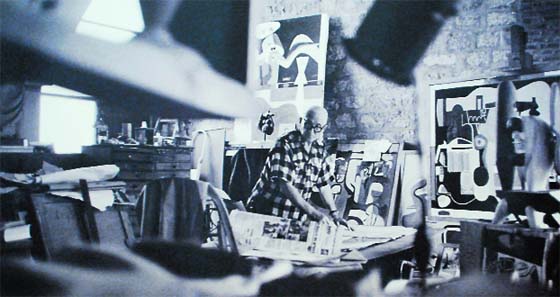 An archival photograph of Corbusier in his studio
---
'Art
music zone
Glasgow Indie rock quartet delights again
Travis — Where You Stand
(Red Telephone Box)
The band's first album since Ode To J. Smith comes after a five-year sabbatical, the longest between-record breather in Travis history. Acoustic Lullaby Mother, the album's opening track is pleasantly light and airy before it breaks into a widescreen projection of bright harmonies alongside a grandiose choral work that fits its earthly rhythm section.
---
SPORTS
New kid in the ring
Punjab pugilist Sukhdeep Singh Bhatti has infused freshness in the Indian boxing scene. After his recent bout against Vijender Singh during the selection trials for the World Wrestling Championships, the Olympics bronze medallist was all praise for the newcomer
Gagan K. Teja
Haryana boxers have been dominating the Indian boxing for some few years, but a new pugilist from Punjab, Sukhdeep Singh Bhatti (21), has brought fresh challenge to the boxing scene. Having established his credentials as regards skill, stamina and confidence, the reigning national champion in the middle-weight category Sukhdeep Singh is believed to be the emerging face of Indian boxing.
Second coming
Archer Trisha Deb has beaten many odds to find a place in the Indian compound archery squad
Gagan K. Teja
From becoming a sub-junior national champion twice in a row a few years back to almost being sidelined, Kolkata archer Trisha Deb has seen many ups and downs in her career. However, nothing could stop her from chasing her dream of playing for India.
In the select club
Amit Kumar
The trophies and medals hanging in the cabinet tell you what to expect. A plaque with stylised letters 'Golfer's Paradise' greets you. Meet Aadil Bedi, a professional golfer in the making. Just 12-years' old, he represented India at the World Junior Masters recently.
---
Society
Boundless benevolence of the bael
The bael tree is an important source of ayurvedic medicine. Its fruit adds another dimension to its multifarious qualities
Deepak Rikhye
Conservation of trees with afforestation were recommended as perhaps the only solution at the Earth Summit in Rio de Janeiro, Brazil (1992), to protect the environment. The present rate of deforestation will result in the loss of approximately one quarter of the world's plant species within 15 years (IUCN, 1990). In India, our strategy would be to select different species for different areas.
---
travel
The lure of the Alps
Tyrol in Austria is a picture-postcard region with lovely valleys, snow-covered mountains, small villages and verdant pastures covered with wildflowers. It has a rich cultural history and colourful folklore and customs
Kalpana Sunder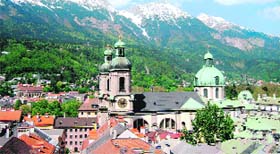 It's a boisterous show — where the sheer energy of the performers enthrals the audience seated at long tables with steins of beer in front of them. A unique orchestra with tuned cow bells, a wooden Xylophone and instruments of the Alpine region like the folk harp, zither, as well as the resonating sound of the iconic Alpenhorn- all sounds that you expect to hear echoing across valleys.
---
Entertainment
Fear factor
Director producer writer Vikram Bhatt may not nurse any delusions about being the greatest or the best. Whether mediocre or bright, he asserts nothing can deprive him of the right to make and market films in the genre he believes in
Nonika Singh
I like to sell fear...." with these words director-producer writer Vikram Bhatt not only explains his fascination for the genre of horror but also why he has been sticking to it for quite some time now. As his film Horror Story hit the screen last Friday, the maker of hits like Raaz and Raaz3 shares how occult fascinated him since childhood.
"I learnt to wield a holstered pistol"
Mandira Bedi, who began her acting career with Shanti on DD, is all set to star in the high-profile TV series 24
Surekha Kadapa-Bose
She insists on gauging her journey in show business not from her debut film Dilwale Dulhania Le Jayenge but from the days of TV serial Shanti on Doordarshan in 1994 to the yet-to-be-aired high profile serial 24 on Colors.