Residents suffer as Krishana Nagar gets no water supply
Dharmendra Joshi
Tribune News Service
Jalandhar, october 1
Hundreds of residents of the Krishana Nagar locality, falling under the Jalandhar (West) Assembly segment from where former Local Bodies Minister Bhagat Chunni Lal's was elected MLA, have been without water for over two weeks. Thanks to the faulty motor of the tubewell supplying water to their locality.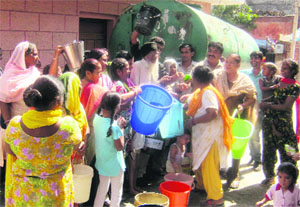 Residents of Krishana Nagar stand in a queue near a tanker for getting water in Jalandhar. A Tribune photograph
While instead of either repairing the motor or sinking a new tubewell in the area for ensuring uninterrupted water supply to the area, the Municipal Corporation (MC) has made temporary arrangement of supplying water through tankers, but that supply is inadequate and several times water thus supplied is unclean.
As a result a number of residents of the area, especially children and aged persons, have been suffering from diarrhoea for the last some days, residents told The Tribune team during its visit to the area today.
A resident of the area, Kamal, said, "My adolescent daughter Aanchal is suffering from diarrhoea and is being treated at a private hospital." Similar is the case with several other residents, including aged Nirmala and Jyoti Soni's daughter Anmol Soni.
Another resident Reeta said, "We are left with no option but to either buy mineral water bottles for drinking purposes or to fetch water from the taps set up at Adarsh Nagar and JP Nagar parks, which are located about half a km away from their locality."
The residents had to queue up and wait for several minutes to get water for non-drinking purposes from tankers provided in the locality by the MC. Sometimes they even quarrelled with one another for their turn to get water.
Physically challenged couple Dimple and his wife Suman and aged Asha Rani, who had undergone a surgery a few days ago, faced more difficulty in fetching water from tankers.
While the entire Krishana Nagar, falling under Ward 43, is facing the problem of non-supply of water, street numbers one to four and 18 are the worst affected.
As the temporary arrangement by the MC of supplying water through tankers is not sufficient, the area residents have also taken services of private water suppliers by paying them Rs 700 per tanker from their own pockets.
Normal life of the inhabitants has been thrown out of gear due to acute paucity of water as most of the residents could not even take bath regularly. Kamal said he had not taken bath for the last three days and could not even go to his work due to that.
Residents brought their problem to the notice of area councillor Pritam Singh several times, but they got mere assurances, which are yet to be given practical shape.
Fed up with the fake promises, residents also blocked traffic at Kapurthala Chowk on Saturday evening to put pressure on the administration to restore their basic need of getting proper water supply without any further delay.
A police team, led by SHO of the Division No 2 police station Manmohan Singh also assured the agitating protesters after talking to Mayor Sunil Jyoti that their problem would be resolved by Monday, said residents.
Though the residents lifted the dharna on his assurance, yet the water supply to there area has not been restored so far.
The agitated residents now again threatened to block Kapurthala Chowk.
Area councillor Pritam Singh and Mayor Sunil Jyoti could not be contacted for comments, despite repeated attempts. Even the messages sent to their official mobile numbers failed to evoke any response from them.