Municipal Corporation defies court orders on tubewell installation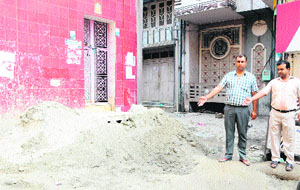 Amritsar, October 3
Defying court orders, the local civic authorities allegedly continued with the job of digging a bore to install a tubewell in front of the house of a local resident. This is despite the fact that he had obtained stay orders and the court had also directed to maintain status quo, as the resident had alleged that it would be obstructing his ingress and outgress.

Residents of the Tunda Talab area show the site where a tubewell was proposed to be installed, obstructing the way to their houses. Photo: Vishal Kumar

Illegal roadside hoardings back with a bang
Amritsar, October 3
Barely six months after the city got freedom from the illegal roadside hoardings, these have appeared again and the Municipal Corporation (MC) seems helpless, as most of these hoardings have pictures of Local Bodies Minister Anil Joshi on them.
CPI protests against regularisation of properties in illegal colonies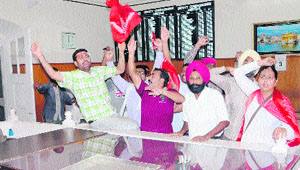 Amritsar, October 3
The Communist Party of India (CPI) here today organised a protest to show its resentment against the state government's policy for the regularisation of properties in illegal colonies. The protesting CPI workers barged into the office of the Deputy Commissioner as they demanded that they should be arrested.

CPI activists protest inside the DC's office in Amritsar on Thursday. Photo: Vishal Kumar

Two minor girls raped
Amritsar, October 3
Two minor girls, in the age group of 12 and 13 and belonging to poor families, were allegedly raped by two youths here. The police has arrested the two youths and another young girl Pooja, who was known to the girls. Pooja worked as a conduit and had sent the victims to the accused.
Raids to collect food samples intensified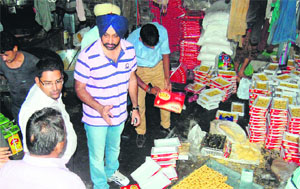 Amritsar, October 3
In view of the onset of the festive season, the District Health Department has intensified its drive to collect samples from eating joints and sweetmeat shops. The officials concerned have advised the general public to adopt a more conscious approach while buying food items, especially sweets.

A Health Department team collects samples during a raid at a sweets manufacturing unit at Batala Road in Amritsar. A Tribune Photograph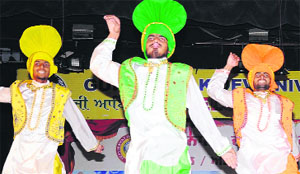 Zonal Youth Festival kicks off at GNDU
Amritsar, October 3
The four-day Zonal Youth Festival of government colleges, constituent colleges and associated institutes affiliated to Guru Nanak Dev University (GNDU) kicked off here today at the varsity with great enthusiasm.

A student performs bhangra during the Zonal Youth Festival in Amritsar on Thursday. Photo: Vishal Kumar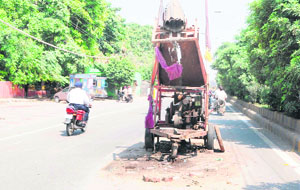 Unattended de-silting machines on city roads pose risk to commuters
Amritsar, October 3
Call it criminal negligence on the part of the Amritsar Municipal Corporation, de-silting machines for cleaning storm-water drains are left unattended in the middle of the road, which can lead to fatal road accidents.

A de-silting machine lying in the middle of the road near Khajanawala Gate in Amritsar. Photo: Vishal Kumar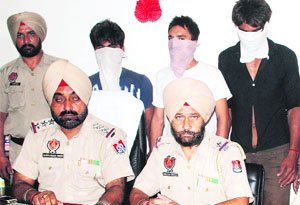 19 arrested with drugs, illicit liquor
Amritsar, October 3
In its drive against drug traffickers and bootleggers, the police has arrested 19 persons and recovered intoxicants, narcotic substances and liquor from their possession.



The police with three of the accused arrested with narcotic substances in Amritsar on Thursday. A Tribune Photograph

CBSE lawn tennis championship begins
Amritsar, October 3
The CBSE North Zone-II Lawn Tennis Championship, 2013, was today inaugurated at DAV International School here.
Basketball tourney commences with much fanfare
Amritsar, October 3
Scores of students from CBSE-affiliated schools from different parts of Punjab today participated in the opening ceremony of CBSE Cluster-XVI Basketball Tournament, 2013, at Sri Guru Harkrishan Public School, Majitha Road Bypass, here.