No end in sight to canine menace
Stray dogs continue to haunt city residents, authorities concede no solution in hand for now
GS Paul
Tribune News Service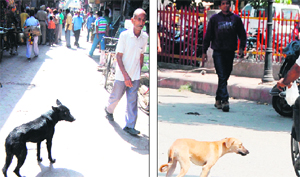 Stray dogs on the roads in Amritsar. Photos: Sameer Sehgal
Amritsar, September 20
The Wednesday's incident in which a man was reportedly mauled by stray dogs in Guru Nanak Dev Hospital (GNDH) has brought to the fore the fact that the MC has failed to find a solution to control the growing canine menace.
The issue has often been tabled and discussed in every MC House meeting. Ironically, MC officials are of the view that the number of stray dogs in the city has been on a decline.
Referring to a latest survey conducted by the Animal Husbandry Department, MC officials said the stray dog population in the holy city is 10,000, whereas the 2007 survey report had put the figure at 25,000.
On the other hand, the residents feel that the population of stray dogs in the city is more than the official figure, if the growing cases of dog attacks and bites are anything to go by.
Fund crunch, ban on dog killing, unsuccessful sterilisation programme and immunisation policy are some of the factors that have been detrimental in curbing the canine menace here.
Responsible for sterilising stray dogs, the Municipal Corporation has very few dog-catchers at its disposal. Lack of coordination between the civic body, Animal Husbandry Department and NGOs concerned such as the People for Animals (PFA) and the Society for Prevention of Cruelty for Animals (SPCA) has further added to the problem.
The issue taken up many times by the Punjab cabinet but no thought was ever spared for formulating any concrete policy except for assurances. The minimally invasive vas occlusion technique (MIVOT) programme was introduced in Amritsar for the first time around five years ago which was later discontinued as it was disapproved by the Animal Welfare Board of India.
Similarly, the ambitious Central government-funded Rs 1.26-crore animal birth control (ABC) project of the Animal Welfare Board of India to sterilise the stray dogs, too, could not be harnessed optimally. The Amritsar Municipal Corporation had devised the CNVR (catch, neuter, vaccinate and release) project in collaboration with the Animal Husbandry Department to control the canine population.
For CNVR method, five clinics were spared for the sterilisation of stray dogs at Chattiwind, Khalsa College, polyclinic, two clinics in Hathigate area. But it required to be carried by competent surgeons and under complete aseptic conditions.
Presently, there are a very few doctors (only two) in the whole district to conduct the operations. MC Health Officer Dr Yogesh Arora said, "The official figure of stray dogs now stands at 10,000 as per the survey conducted by the Animal Husbandary Department.
The constraint that we are facing is that we have to follow the directions of the Animal Welfare Board in this regard. After getting nod from the MC house, we have now decided to invite open bids from firms as per the Animal Birth Control Act. We would engage firms during the breeding period. Hopefully it would serve the purpose."
Jagdish Chander Shori, Deputy Director, Animal Husbandry Department, said, "As of now, we have no solution in hand but we are always there to assist the MC in dealing with the dog menace. We will spare our experts whenever we are approached."
Canine attacks
April 17: A group of stray dogs attacked four schoolchildren while they were on their way to the school in the morning. The incident occurred at Channanke village when the children, in the age group of four to six, were passing through a "hadda rodhi" (a place where dead animals are disposed of). The dogs badly bit the head and neck of a girl
February 12: Stray dogs bit a middle-aged man when he was on his way back home late at night in the Majitha area. The victim later died
February 8, 2012: Seven to eight stray dogs not killed a middle-aged man and ate his body. The victim, Subeg Singh (45), a resident of Pandori village, was on his way to home at night