City designers make their presence felt in fashion world
Neha Saini
Tribune News Service
Amritsar, September 19
The fashion industry might run on the whims and fancies of the metro crowd, but people from small towns are the ones running the show behind the ramp. Selling creativity and clothes on a hanger, the young designers capitalise on the limited opportunities, an outing under the arc lights, rubbing shoulders with the big names of the Indian fashion industry.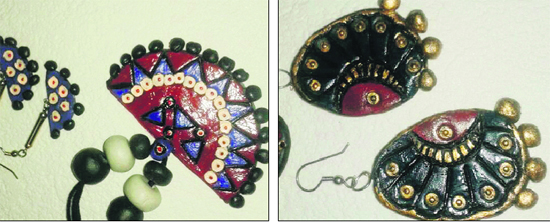 A view of 'Terra Cotta jewellery' designed by city based designers, Raman-Gureena Arora, in Amritsar on Thursday. Tribune photographs
Some from the city are a fine example.
Being featured at the Lakme Fashion Week (LFW) every year, some beginners have turned their luck and fashion abilities to maximum advantage, coming with their own fashion labels and ideas. Giving the city a taste of homegrown designer labels, these students of fashion have already made an impressionable start.
Like the designer duo of Raman-Gureena Arora, who had a sell-out at group shows and exhibitions in city with their terracotta designer pieces. Studying fashion designing from INIFD, the two got down to sell innovative statement pieces at a time when gold prices are sky high.
"We make terracotta pieces at home studio, which is a task in itself. After initial reluctance with the acceptance issues since Amritsar clientele loves its gold and diamond pieces, we decided to try out. And we sold all the pieces. Since then we have created a good clientele for our jewellery," says Gureena.
Working with colourful, delicate and beautiful statement pieces, the two designers plan to go professional with their own label once they graduate.
There are others in league, Priya Tulli, another fashion student who had her designs showcased at LFW, too is working on her own label already. Coming from humble background, the girl from Gurdaspur has taken inspiration from designers like Sabyasachi Mukerjee, who she believes were from small towns and still managed to change the face of Indian fashion.
"Like every fashion graduate in the country, I too want to become a brand in fashion industry and this could be my beginning," says Tulli. Believing that there has been a drastic change in the definition of fashion over the years, Priya is all about simplicity.
"It's not about what label you wear or how much make up or accessories you wear. A simple jeans and tee is a fashion statement today. So, I too like to keep it simple." But that doesn't mean compromise on creativity or innovation, she says.
Guncha Chopra, another young designer who was a part of LFW's GENEXT showcase, too has her own label running called Haniche. Providing Indian and Western formals at a budgeted price, she is all about fashion that doesn't come with heavy tag.
Neelu Gauri, the centre head for INIFD, Amritsar, believes that the city has become a hub of budding and innovative fashion designers.
She says, "Contrary to the common perception that the city has limited fashion sensibilities, I think that the fashion students here put in extra hard work to get their due. The big cities have a lot of exposure and opportunities, but to make things work in a small city is commendable. Most of their labels and designs have got recognised for the detailing and creative inputs. With this momentum going, I think Amritsar will soon have the best designer labels at its behest."