Man held with 2 lakh habit-forming tablets, 25,000 capsules
PK Jaiswar
Tribune News Service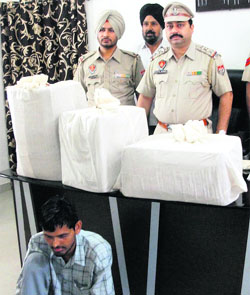 Jagdip Kumar in police net with drugs haul in Amritsar. A Tribune photograph
Amritsar, September 11
The Chheharta police has arrested Jagdip Kumar of the old Narain Garh area and recovered about 2 lakh tablets and 25,000 capsules of habit-forming drugs from him. He has been booked under the NDPS Act.
Preliminary investigations reveals that he used to work as a courier, while the man who used to supply drugs to him, identified as Vicky, is still at large.
Sushil Kumar, SHO, Chheharta police station, said initial probe revealed that Vicky used to run his business through telephone and after procuring intoxicant drugs, kept it on the premises of Jagdip Kumar.
Further, Jagdip Kumar used to supply the same to the clients in the Chheharta area, besides some other parts of the city at higher price on the instructions of Vicky.
The SHO said a hunt had been launched to arrest Vicky, a resident of Naraingarh, Chheharta. The SHO added that Jagdip Kumar did not possess any licence and mandatory documents for storing and selling the habit-forming drugs.
"Though Jagdip Kumar claimed that he had been in the illegal trade for the past two months, we are still investigating the case," said Sushil Kumar, while adding that there was no case registered against him prior to his arrest in the case.
This is one of the huge hauls recovered by the police in the recent past. The Punjab Police has launched a massive campaign against the drug abuse all over the state.
Illegal sale and easy access to habit-forming drugs have caused havoc all over Punjab, especially in the rural belt and urban slums. The Chheharta area is one of the major drug-affected area in the holy city.
Derived its name from historic Chheharta Sahib Gurudwara, the area was once an industrial hub of Punjab.
It also comprises other historic areas of Guru ki Wadali and Ghannupur Kale. With the industrial units shifting out during militancy, it fell in the vicious trap of drug addiction. The rising unemployment has increased the problem manifold. Various agencies, including the Police Department, has miserably failed to curb this menace.
Meanwhile, the city police has nabbed 12 persons, including a notorious woman, for allegedly possessing proscribed drugs and illicit liquor in the past 24 hours.
The woman drug peddler, identified as Jaswant Kaur, was nabbed with 100 gm of narcotic powder and 100 intoxicant capsules. Infamous as "Aunti", Jaswant Kaur was wanted in over half a dozen similar cases.
Among others who have been arrested are Simranjit Singh of Krishna Nagar, Inderjit Singh of Sur Singh village, Tarn Taran, Ranjit Singh of Krishna Nagar, located on Tarn Taran Road, Saaba of Nathupur village, Hardip Singh of Boparai Kalan village, Kimti Lal of Bhola village, Gurdaspur, Rajpal of Ram Singh Colony, Harprit Singh of Indira Colony, Mustfabad, Avtar Singh of Rajinder Nagar, Mehta Road, and Gurprit Singh of Guru Teg Bahadur Colony, Mehta Road.
Staff of Amritsar Central Jail also recovered 5 gm narcotic powder from an inmate, Satnam Singh, resident of Adliwal village.