M A I N N E W S
Jagan begins fast, says will move SC against AP division
Tribune News Service & PTI
Pallam Raju meets Sonia

Union Minister MM Pallam Raju, who announced his resignation over division of Andhra Pradesh, on Saturday met Congress president Sonia Gandhi who advised him "not to act in haste"

The meeting triggered speculation that the party was trying to persuade Raju and other ministers from Seemandhra region not to press their resignation

Raju, however, remained tight-lipped over his future course of action
Hyderabad/New Delhi, October 5
Tremors of a separate Telangana becoming a reality are sending shockwaves following reports of agitations against Andhra's bifurcation affecting traffic between northern and southern parts of the country, creating convulsions within the Congress and emboldening regional groups that were once parts of the ruling party.
A combative YSR Congress Party chief YS Jaganmohan Reddy (his father YS Rajashekara Reddy was a charismatic Congress leader and two-time Chief Minister who died in a helicopter crash in 2009) today launched an indefinite hunger strike against Centre's "arbitary" decision to bifurcate Andhra Pradesh and said it will be challenged in the Supreme Court. Samaikyandhra (united Andhra) protesters swarmed national highways, stopped movement of vehicles on Chennai-Kolkata, Machilipatnam-Pune, Kondapalli-Jagdalpur, Bangalore-Hyderabad, and Tirupati-Chennai highways.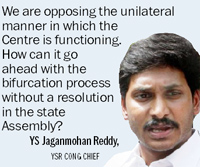 As the general strike called by pro-united groups in non-Telangana regions entered the second day today, Jagan lashed out at the "unilateral manner" in which the Union Cabinet had decided on October 3 to carve out the state of Telangana. "We will challenge the Centre's decision in the Supreme Court," he said, adding that there were "legal problems" with the proposed division.
Jagan took potshots at Congress president Sonia Gandhi and accused her of splitting the state with the sole intention of making her son Rahul Gandhi the Prime Minister after the 2014 General Election.
"The Congress has divided the state for the sake of seats and votes. Never in the country's history was an attempt made to bifurcate a state without a resolution being passed in the Assembly. This is totally wrong and treacherous," said Jagan, who was released on bail last week in connection with a disproportionate assets case.