M A I N N E W S
Tatas to invest in Punjab's infra projects
Agree to operate Bus Rapid Transit System in Amritsar, Ludhiana
Neeraj Bagga
Tribune News Service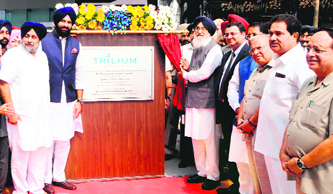 CM Parkash Singh Badal and Tata group chairman Cyrus Mistry at the inauguration of a mall in Amritsar on Saturday. Tribune photo

Amritsar, October 5
Corporate giant Tata Sons Ltd has agreed to operate the Bus Rapid Transit System (BRTS) in Amritsar and Ludhiana. The decision was taken at a breakfast meeting held under the chairmanship of Chief Minister Parkash Singh Badal and Tata Group chairman Cyrus Mistry today.
The Punjab Government had invited the group to invest in various development projects across the state. Mistry said the group would make huge infrastructure investments in projects conceived by the state government.
The government has constituted a high-level committee under the Chief Secretary to hold parleys with the group on undertaking more projects.
Expressing keenness in collaborating with the group in the fields of renewable energy, hotel industry, online citizen service delivery portal, model townships and e-learning for school education, the Chief Minister said he had asked his officials to interact with the group to ensure that the projects could materialise.
The group has for the first time been allowed concessions in VAT and CST in addition to electricity duty, stamp duty and property tax. Besides, a new hotel policy to encourage investment in the hospitality sector is on cards, said Badal.
Badal told the visiting business delegation that development projects worth Rs 1,400 crore would be launched in the state over the next four months, besides strengthening road connectivity in all major cities and towns by laying four and six lane expressways at a cost of Rs 12,000 crore.
Development projects worth Rs 10,000 crore would also be initiated in the rural areas. The two along with Deputy Chief Minister Sukhbir Badal later inaugurated a mall in the city.
Mistry unveiled a number of projects covering key sectors and evinced interest in managing the services on the lines of company's Jamshedpur model.
He said the company was already working on a number of housing projects in Chandigarh, Mohali and Ludhiana. The group is further coming up with a number of hotel projects in Amritsar, Ludhiana, Jalandhar, Mohali, etc.
Mistry said the company was working on a project to tap solar energy by installing rooftop panels on the government buildings. They were also looking to utilise municipal waste for energy production in cities.
He expressed is willingness in initiating corporate social responsibility exercises in Punjab with the development of skill centres across the state, including one in Ropar.
The group had also drawn up a plan to train 10,000 youth as part of the initiative and would conduct both short and long term courses.