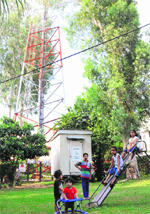 Telecom towers radiate trouble for children
Chandigarh, October 14
For want of study and research, cellphone towers in and around inhabited areas in the city continue to face flak, with residents demanding their shifting to sparsely populated areas. This issue has been hanging fire in the city for the past one year. Promila Bhateja, a social worker who has been vocal on the issue, said: "Cellphone towers are a potential health hazard. Why expose children to radiation."




A cellphone tower of the BSNL installed in the playing area of the Sector 15 crèche in Chandigarh. Tribune Photo: Manoj Mahajan

Telecom towers a silent killer, says Justice Gupta
Chandigarh, October 14
"Installing telecom towers in close proximity of inhabited areas should be banned by the Union Government since they could be acting as "silent killers", said Justice Jawahar Lal Gupta, former Chief Justice of Kerala High Court.
Decks cleared for multi-level parking
Chandigarh, October 14
After the gap of four years, the UT Administration will lay the foundation stone of the city's first multi-level parking project in Sector 17 tomorrow.


Better Chandigarh
MC needs will to find a way out of parking chaos
Chandigarh, October 14
A rock solid will on the part of the Municipal Corporation coupled with proper infrastructure and effective means to troubleshoot any problem will go a long way in checking the chaos at the various paid parking lots in the city.


Concrete blocks form the boundary of a parking lot at Sector 22-B; (top right) an iron bar holds the boundary rope, putting the vehicle owners at risk at Sector 17; and (below) yellow lines to demarcate the fire zone absent at Sector 22-B in Chandigarh. Tribune photos: Manoj Mahajan
Not happy with present paid parking system, says Mayor
Chandigarh, October 14
In a conversation with this correspondent, Mayor Subhash Chawla and MC Commissioner Vivek Pratap Singh answered some important questions regarding the problems plaguing the paid parking system.
Civic body should take tips from Sectors 22-D, 19-C markets
Chandigarh, October 14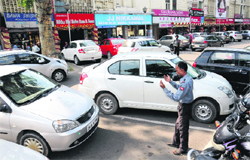 Back in 1999, when there were no paid parking lots in the city, the market welfare association of Sector 22-D decided to manage the parking area in front of the shops. Arvind Jain, who initiated this project, is the current president of the association.




A guard helps a visitor park a car at the Sector 22-D market. Tribune photo: Manoj Mahajan
Jagatpura: Temporary bridge to serve as alternative route
Mohali, October 14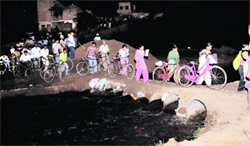 After sealing the entry points to the damaged bridge by the authorities to prevent a possible mishap in Mohali, a temporary bridge was built near Jagatpura village yesterday to serve as an alternative route to the passersby.




Commuters cross the temporary bridge at Jagatpura village in Mohali on Monday. Tribune photo: Vicky Gharu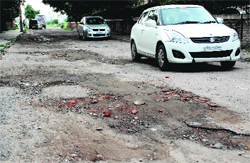 Potholes dot road in P'kula
Panchkula, October 14
A bumpy ride welcomes commuters outside the Army flats in Mansa Devi Complex (MDC), Sector 4, Panchkula.






A damaged road near the Army flats at Mansa Devi Complex in Panchkula. Tribune Photo: Nitin Mittal
MC to crack whip on violators
Chandigarh, October 14
The MC has decided to crack a whip on traders and city residents who are violating the Chandigarh Advertisement Control Order, 1954, by illegally installing hoardings and advertisement boards outside their shops and houses.
Three sweetmeat shops raided, 70-kg milk products destroyed
Chandigarh, October 14
With the festive season setting in, the UT Health Department has tightened its noose around sweetmeat shops in the city. In the first raid this season conducted today, officials destroyed 70 kg of milk products and sweets exposed to dust and flies at two shops.
Samples collected
Mohali, October 14
Samples of food items were collected from a confectionery shop in Phase V here today by the district health authorities despite resistance by its owners.
CITCO officials in quandary
Chandigarh, October 14
Officials of the Chandigarh Industrial and Tourism Corporation (CITCO) are in a quandary over regularisation of services of its employees who have joined back the service one month after retiring.
15 per cent suffer from osteoarthritis: Expert
Mohali, October 14
Arthritis is fast gripping youngsters during their most productive years. Contrary to the misconception that arthritis only affects the elderly, this disorder is being increasingly found in the age group of 40-45 years as well.
Girl Child Day celebrated
Chandigarh, October 14
United Nations Development Programme (UNDP) Girl Child Day was celebrated in collaboration with an NGO, Hara Punjab Khara Samaj, and Max Hospital, Mohali, on Friday.

Devotees immerse an idol of Goddess Durga on the final day of the five-day festivities in Panchkula on Monday (Left) and Devotees play with sindoor during Durga Puja at Sector 47 in Chandigarh on Monday. Tribune phots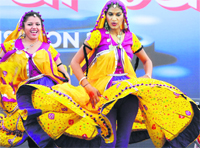 Parivartan-2k13 kicks off at CGC
Mohali, October 14
Parivartan-2k13 opened with a display of spectacular talent on the campus of the Chandigarh Group of Colleges (CGC), Landran, today.



Students perform Malwai gidha during the ongoing Parivartan-2k13 at Chandigarh Group of Colleges in Landran on Monday. Tribune photo
Collaborative research: PU dept signs MoU with centre for computing
Chandigarh, October 14
University Institute of Engineering and Technology (UIET), Panjab University (PU), and the Centre for Development of Advanced Computing (C-DAC), Mohali, have decided to collaborate for promoting the Research and Development (R&D) in the field of engineering and other emerging areas related to engineering and sciences.