HRTC to add 1,100 buses to its fleet, says Bali
Kangra, October 14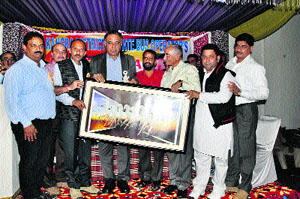 Transport Minister GS Bali said today that the recent bus fare hike was proving a succour to the transport industry in the state as it would bring the industry out of the losses it was facing. He was addressing a meeting of private transporters at Matour, which was organised to express gratitude to the minister for his fare hike decision.
Transport Minister GS Bali being honoured at a function in Kangra on Monday. Photo: Ashok Raina

CBI probe sought into seizure of 'hawala' money
Hamirpur, October 14
Former Education Minister ID Dhiman has asked the state government to conduct a CBI probe into the seizure of Rs 1 crore, alleged to be hawala money for the purchase of land, by the police at Una a few days ago.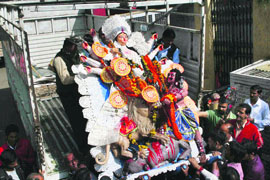 Devotees gather to immerse an idol of Goddess Durga on the final day of Durga Puja in Shimla on Sunday. Photo: Amit Kanwar

Dhumal flays Cong leaders
Shimla, October 14
Former Chief Minister PK Dhumal today demanded a CBI inquiry into a case pertaining to the 17th Karmapa, Ogyen Trinley Dorjee, so that the facts could come to light. A case is pending in a court.
Direct buses from Dalhousie to other states sought
Dalhousie, October 14
Residents of this hill station are agitated over the failure of the state transport authorities to introduce direct buses from Dalhousie to other cities of Himachal Pradesh, Punjab, Chandigarh, Delhi and Jammu and Kashmir. Presently, there is hardly any direct bus service from the town to anywhere.
Electoral rolls available for inspection
Bilaspur, October 14
Draft electoral rolls for the Lok Sabha elections for the Bilaspur Sadar and Naina Devi Assembly constituencies have been kept at all polling stations for inspection and deletion or inclusion of more deserving names in these lists. This was stated by Bilaspur Sadar District Electoral Registration Officer-cum-SDM ML Mehta here on Saturday.
Principals seek regularisation of promotions
Bilaspur, October 14
The Himachal Pradesh State School Principals and Inspection Officers Association has demanded regularisation of ad-hoc promotions of Principals from 2006 till date and also pay scales on the basis of 4, 9 and14 years' service to those who have completed the stipulated period.
Cheap Chinese ingredients worry pharma units
Solan, October 14
The Ministry of Chemicals and Fertilisers has finally woken up to seek suggestions from the pharmaceutical industry on challenges, including the import of Active Pharmaceutical Ingredients (APIs), after a majority of the bulk drug manufacturers had closed their units in the last one decade.
Man arrested for snatching bike
Bilaspur, October 14
The Suharghat police arrested Rohit Kumar (28) of Mohalla Bedi village, Una district, under Section 382 of the IPC for snatching a bike (No. HP-12C-1129) of Krishnu Ram (48), a Class IV employee of the Government Senior Secondary School, Suharghat, last evening.
Kisan Morcha Adhikar Yatra from Oct 20
Bilaspur, October 14
BJP Kisan Morcha state spokesman Roshan Thakur said the Congress government had failed on all fronts and farmers had been hit the hardest during its tenure. Talking to mediapersons at the Circuit House here on Friday in the presence of more than half a dozen leaders, Roshan said the government had neither assessed the damage to crops nor paid any compensation.
Ex-MLA flays delay in bridge completion
Bilaspur, October 14
Krishan Kumar Kaushal, former MLA and state Kisan Sabha general secretary, has expressed shock over government apathy on the completion of the state's costliest and prestigious Bagh Chhal bridge over Gobind Sagar near Jagatkhana.
HPU to act tough on student violence
Shimla, October 14
Himachal Pradesh University (HPU) has decided to act tough on the issue of student violence as the Executive Council today recommended to take strict action against those indulging in violence.
HC summons CD case record
Shimla, October 14
The Himachal Pradesh High Court (HC) today summoned records of alleged CD case from the trial court vide which it had acquitted Chief Minister Virbhadra Singh and his wife Pratibha Singh.
Pangi valley temple to have trust
Chamba, October 14
For better management and beautification of the premises of the ancient Mindhal Mata Temple in the Pangi tribal valley of Chamba, a trust will be constituted with public consensus on the analogy of the age-old Bharmour Chourasi temples.
Virbhadra visits PGI to enquire about Chief Secy's health
Shimla, October 14
Chief Minister Virbhadra Singh today visited the Post Graduate Institute of Medical Education and Research (PGIMER), Chandigarh, to enquire about the health of Chief Secretary Sudripta Roy, who has undergone a surgery following a brain haemorrhage. The Chief Minister interacted with doctors attending on Roy and also met his wife Chandna Roy and other family members. He said the government and people of the state were with them in this hour of distress. He wished Roy a speedy recovery. Dr Yogesh Kumar Chawla, Director, PGIMER, briefed the Chief Minister about the Chief Secretary's health. Roy was shifted to Chandigarh on October 10 in a critical condition. — TNS
Man found murdered in Paonta Sahib
Nahan, October 14
A man Balwant (35) was found murdered at Bangran village near Paonta Sahib around 10 pm last evening when he was returning home on foot. SHO Bhisham Thakur said Balwant was attacked with a bamboo stick and rods, and remnants of bamboo sticks had been recovered from the spot. He was working as a carpenter and was attacked near his home by some unidentified youths who fled after grievously injuring him in the head and neck. The attack proved fatal and he died on the spot. The police registered a case under Section 302 of the IPC and investigations were underway. — TNS
Five convicted for trespassing
Nurpur, October 14
Indora Additional Chief Judicial Magistrate Pankaj Gupta imprisoned five persons till the rising of the court today for house trespassing and beating its owner. He also imposed a fine of Rs 3,500 on each one of them. Vijay Rihalia, Assistant District Attorney, Indora, said Raghubir Singh of Dhamota village had lodged a complaint with Indora police station in June 2007 and a case under Sections 147,149, 323 and 451 of the IPC had been registered against three brothers Satnam Singh, Amrik Singh and Harjinder Singh of Mand Chonta in Ludhiana district and Sham Singh and his son Joginder Singh of Kuliana (Hazipur) in Punjab. — OC
BJYM holds protest
Hamirpur, October 14
Activists of the Bharatiya Janata Yuva Morcha (BJYM) held a demonstration at the Gandhi Chowk here today to expose the failure of the Congress government to give unemployment allowance. The BJYM activists also took out a procession in the market raising slogans against the state government. — TNS
Randhir takes on Cong gen secy
Bilaspur, October 14
Randhir Sharma, MLA and BJP state general secretary, has alleged that Congress state general secretary Ram Lal Thakur has no moral right to ask any question regarding the "amassing of properties" by any BJP leader and that he should have desisted from hurling baseless allegations against Anurag Thakur. Talking to mediapersons here on Saturday, Randhir Sharma said this was a futile attempt by Ram Lal to make his presence felt after being defeated by BJP leaders. Randhir said Ram Lal had amassed assets after coming to power in the Congress. — OC
e-declaration made mandatory in VAT
Shimla, October 14
The state government has made e-declaration mandatory in the Value Added Tax (VAT) Format-26 for goods costing Rs 30,000 and above sold within the state by registered dealers. This has been implemented under the Himachal Pradesh Value Added Tax Rules. A government spokesman said here today that e-declaration had been implemented for manufacturers and registered dealers of iron, steel and plywood from December 1, 2012. It had been made mandatory for dealers and manufacturers of drugs, electric items, edible oils, marble, furniture and timber from October 1, 2013. The spokesman said registered dealers, who failed to make e-declaration on the specified goods, would be fined 25 per cent extra, besides the fixed tax on goods. — TNS

MLA redresses villagers' grievances
Bilaspur, October 14
Bilaspur Sadar MLA Bambar Thakur visited Kotla village, near here, recently. He also redressed the grievances of six gram panchayats of the Ghumarwin sub-division.
A deputation of village elders led by Mahila Mandal president Sarla Devi, Sunder Singh, Mansha Ram, Asha Devi, Kamla Devi, Mahant Ram, Gajjan Ram, Naresh Kumar and Prakash Chand told the MLA that their village had become a victim of "political neglect" as nobody was there to hear their grievances. — OC