M A I N N E W S
954 patients in Punjab; Ludhiana, Patiala worst-hit
Sanjeev Singh Bariana/TNS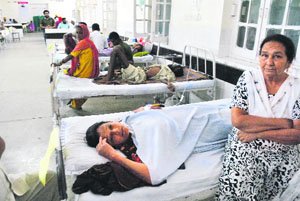 FIGHTING FEVER: Dengue patients recover in a hospital in Patiala. (File photo)

Chandigarh, October 14
Dengue is spreading its tentacles in Punjab. More than 500 cases of dengue have been confirmed by the state health department after the monsoon receded in mid-September. On an average, about 16 confirmed cases of dengue are being reported from the various parts of the state daily.
Overall, 954 confirmed cases of dengue have been reported from Punjab so far. Official figures show the total number of dengue cases at 770 (approx) in 2012 and 900 (approx) in 2011. Officials have confirmed only three deaths due to dengue. Out of three deaths, two persons have died at Fatehgarh Sahib and one in Gurdaspur. However, unconfirmed reports say six persons have died in Fatehgtarh Sahib district alone in the recent days. Deaths due to dengue have also been reported from other parts of the state as well.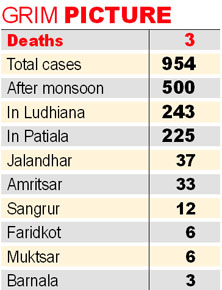 A cross-section of medical practitioners have confirmed a greater prevalence of dengue this year. Dr G S Grewal, a specialist in general medicine in Ludhiana, said "There is definitely a greater surge in dengue cases this year. Tests in an advanced laboratory gave me 10 confirmed cases during the past one week alone". Dr Gagandeep Grover, state epidemiologist, said, "Of 954 confirmed cases of dengue to date, there have been only three deaths. More than 50 per cent of the cases were reported after the monsoon. The current weather conditions are ideal for breeding of mosquitoes".
Ludhiana tops the state list with 243 confirmed cases, while Patiala is not far behind and second with 225 dengue cases. Dr Grover said, "Despite government orders and frequent advertisements, a section of the public continues to undertake fever test on 'Rapid Test Cards' available in the market to confirm dengue. These were banned because they were not 100 per cent reliable".