M A I N N E W S
710 cases put Haryana Govt in tizzy
Geetanjali Gayatri/TNS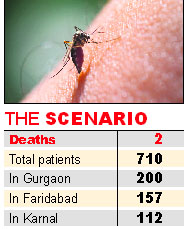 Chandigarh, October 14
Two deaths, 710 cases and still counting - dengue count is getting bigger in Haryana. Hospitals all over the state are flooded with patients reporting with fever. The recent spells of rain have compounded the problem of the Health Department in tackling mosquito-breeding while exposing poor sanitation in some of Haryana's most urbanised cities. Essentially "focused" in the three urban "very sick" districts of Gurgaon, Faridabad and Karnal which account for nearly 450 cases so far, the fast-rising numbers have sent the Health authorities in a tizzy. Barely enough beds to accommodate the increasing number of patients, pressure on the hospitals is mounting.
Though the Health Department has sent an advisory to all district hospitals on the line of treatment to be administered to the patients, intensive awareness drive has been undertaken in the three "very sick" districts. State teams comprising breeding checkers have combed the localities to find out and destroy larva.
"Since the Health Department cannot be expected to maintain cleanliness and drain out stagnant water, we have sent out a communication to Deputy Commissioners and the municipal bodies in these districts to step up efforts to keep localities free of the stagnant water," said Dr Kamla Singh, Director, Malaria. Fourteen sentinel surveillance laboratories have been set up across the state for confirmatory tests while testing facilities have been introduced at all hospitals.
Separate "fever registers" are being maintained to take note of the patients reporting with any kind of fever. These are being monitored regularly by the head office. "While we take a daily feedback on the cases coming to the hospitals, separate dengue wards have been created at the hospitals," the director said.
Advisory to dist hospitals
The Health Department has sent out an advisory to all district hospitals suggesting the line of treatment to be given to patients
Intensive awareness drives undertaken in the three "very sick" districts of the state.
The "very sick" districts of Gurgaon, Faridabad and Karnal account for a majority of the cases
State teams comprising breeding checkers have combed the localities to find out and destroy larva