Employees' strike hits work in govt departments
Pithoragarh, October 16
The working in various departments in the district remained paralysed due to the agitation of the government employees for the third consecutive day today in support of their seven-point charter of demand, sources said.
Family alleges bid to 'forcibly convert' son to another religion
Mussoorie, October 16
A family residing near Tehri bus stand in Mussoorie has alleged that three persons belonging to one church were forcibly trying to make their son change his religion and become a Christian. Sobhan Singh Gunsola, father of Pradeep Gunsola, arrived early morning yesterday at the police station and filed a complaint against three persons, Motilal, resident of village Katkhait, Tehri Garhwal,Sundar Singh, resident of Agyarna village of Thatyur block and Aman Kumar, resident of Bheel colony, Doiwala, and pastor Aashish of AG Church, Mussoorie. He alleged that the persons were trying to make Pradeep change his religion to Christianity.
Poor material used to recarpet Haridwar roads, allege residents
Haridwar, October 16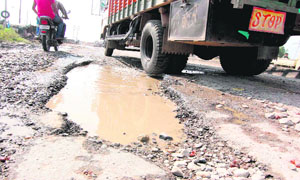 Local people have flayed the re-carpeting work being carried out by the Public Work Department in Haridwar allegedly due to low quality material being used. Residents alleged the use of sub-standard and low quality material in the laying of the city inner road. Recarpeting work is being done on the Shankar Ashram-Devpura stretch, which had been dug up for the past one year owing to laying of sewers.
A newly recarpeted road is filled with potholes in Haridwar, posing probems for commuters. Tribune photo: Rameshwar Gaur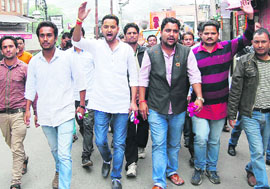 Swami Vivekananda Sandesh Yatra reaches Mussoorie
Mussoorie, October 16
The Swami Vivekananda Sandesh Yatra that began from Bawri Mazid in Dehradun reached Mussoorie today. It is being organized under the aegis of the Akhil Bharatiya Vidyarathi Parishad (ABVP) with an objective to spread the message of the great spiritual leader.
ABVP workers take part in the Vivekanand Sandesh Yatra in Mussoorie on Wednesday. Tribune photo

'Kumaon most backward from rail link point of view'
Pithoragarh, October 16
Describing the Kumaon region as the most backward from the railways transportation point of view, leaders of the Tanakpur-Bageswar Rail Path Nirman Sangharsh Samiti have demanded the construction of railway lines for the people of the region.
Rural development ministry to hold workshops
Dehradun, October 16
The Union Rural Development Ministry has decided to conduct workshops in Uttarakhand and Himachal Pradesh to discuss the adoption of right techniques for the construction of hill roads. Union Minister for Water Resources and Haridwar MP Harish Rawat had recently written to Union Rural Development Minister Jairam Ramesh expressing his concern over rampant blasting being undertaken in Uttarakhand for the speedy construction of roads.
Workable models on renewable energy displayed
Dehradun, October 16
WWF-India, a two-day fair on renewable energy, concluded here yesterday. Dr Jatinder Kaur, Coordinator, WWF-India, Dehradun programme office, said the fair was held in partnership with Uttarakhand Renewable Energy Development Authority. It was aimed at demonstrating practical renewable energy solutions for homes and institutions. Renewable energy manufacturers, who had set up stalls to showcase their products.
Mahashir angling competition from today
Pithoragarh, October 16
Anglers from different parts of the world, including four from Uttarakhand, will take part in the five-day international angling competition of endangered fish Mahashir, the cold water fish of the Himalayas, from tomorrow. It is being organised on the Pancheshwar confluence of the Saryu and the Kali rivers in Champawat district from October 17 to 21.
Singapore Information Day celebrated
Dehradun, October 16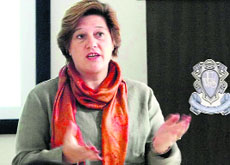 Lasalle College of the Arts, Singapore Information Day was celebrated at Unison World School, here, today. The event was the result of a joint association between Lasalle College of Arts, Singapore, and Unison World School, Dehradun. The participants were students from Grade XI and XII.
Lasalle College of Arts professor Ria Briganza addresses students at Unison World School in Dehradun on Wednesday. Tribune photo: Vinod Pundir

Bengal artistes enthral at Dev university
Haridwar, October 16
Artistes from West Bengal showcased their rich culture and tradition through theatrical presentations during a programme organised by SpicMacay at the auditorium of Dev Sanskriti University here today. The presentation of the traditional 'chhau' folk dance by the artistes held the audience spellbound. Chancellor, Dev Sanskriti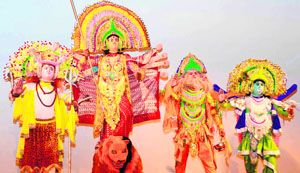 University, Dr Pranav Pandya, exhorted the students to try to learn the language, culture, customs and traditions of other states as well. Pro-Vice-Chancellor, Dev Sanskriti University, Dr Chinmaya Pandya, stressed the need to hold such cultural events on a regular basis. He said a cultural cell had also been formed in the university. — TNS
Artistes from West Bengal give a theatrical presentation to showcase the Bengali culture at Dev Sanskriti University in Haridwar on Wednesday. Tribune photo: Rameshwar Gaur

Wife booked in husband's suicide case
Dehradun, October 16
The parents of Ravi Sharma, who allegedly committed suicide on October 12 near a wedding point in Nehru Colony, have got a case registered against their daughter-in-law Simran for allegedly harassing and provoking their son to commit suicide. The police found a suicide note from Ravi's pocket in which he has allegedly pointed a finger at his wife and her parents for taking such an extreme step. The Nehru Colony police has registered a case against Simran and her parents and started investigation. Ravi Sharma allegedly consumed poison on October 12 and died in hospital. — TNS