After Oct 25, plot holders to pay 20 pc extra
Bathinda, October 19
While it is known that the unauthorised colonies carved out before the year 1995 do not need to apply for regularisation under the new policy of Punjab government, the houses or plots sold in these colonies after August 9, 1995 will have to be regularised.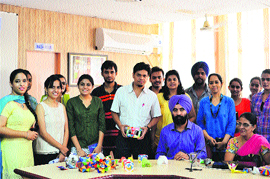 Architectural fest concludes
Bathinda, October 19
Arcadia 2013, the three-day annual fest of the Department of Architecture, Giani Zail Singh Punjab Technical University Campus, Bathinda, concluded today with a two-day workshop on building origami.



Architecture students at the workshop held at Giani Zail Singh Punjab Technical University campus to hone their creative skills through paper folding techniques. A Tribune photograph

Prof Mohan Singh Mela to be held at two places this year
Bathinda, October 19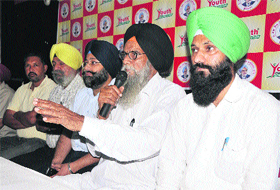 Those waiting for the 35th Prof Mohan Singh International Punjabi and Sabhyacharak Mela to begin will be disappointed to know that they may end up not attending a part of it. This year, the mela is being organised at two places – Guru Kashi University, Talwandi Sabo and Bathinda.


Head of the Youth Club Organisation Jagdev Singh Jassowal addresses mediapersons in Bathinda on Saturday. A Tribune photograph

Breast cancer screening camp begins in city
Bathinda, October 19
Max Super Speciality Hospital organised a breast cancer screening camp on the hospital premises. The camp will continue till October 31. Spokesperson of the hospital said screening camp has been organised with view to increase breast cancer awareness and enrich level of knowledge in basic breast cancer prevention.
NGO extends help to injured man
Bathinda, October 19
Volunteers of NGO Sahara Jan Sewa today helped a labourer who was thrown out of a moving train near Surat in Gujrat. The injured Bablu Ram, a resident of Bihar, was on way to Surat in search of work but was pushed out of the moving train by some unidentified persons. He received fracture on his arm after falling on the railway tracks.
Seminars to be held on iodine deficiency
Bathinda, October 19
Health officials of the district will observe October 21 as the Global Iodine Deficiency Disorders Prevention Day. On Monday, at block level, seminars will be held at the schools educating children on symptoms of disorders related to iodine, ways to overcome the deficiency and importance of consuming iodine in diet will be discussed.
City doc to attend national conference
Bathinda, October 19
Dr Vitull K Gupta, assistant professor, Adesh Institute of Medical Sciences and Research (AIMSR) will be participating in 41st annual conference of Research Society for the Study of Diabetes in India (RSSDI 2013) to be held from November 8 to November 10 at India Expo Centre, Greater Noida.
Hosts to face Amritsar in cricket final
Bathinda, October 19
Bathinda will play against Amritsar to clinch the 4th Punjab State Deaf T-20 Cricket Championship Suncity Cup. The match will be held at the Police Public School ground in Bathinda on Sunday. On Saturday, semi-final matches of the tournament were played. While Bathinda defeated Ropar in the first match, Amritsar beat Ludhiana to enter the finals.
TASTE BUDS
Baked delicacies bring alive the taste of Europe
Bathinda, October 19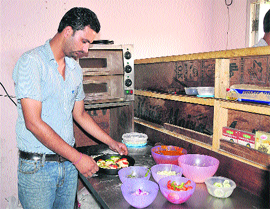 Barely, six months old and Eat Street has already made a niche for itself in Bathinda food market which is always bustling with foodies. Owner, Jaspreet Singh Kullar, takes pride in maintaining that his purpose of setting up an eating joint in the city has been served.






Jaspreet Singh Khullar has worked as a chef in Spain and Germany. Photo: Bhupinder Dhillon

Ornaments stolen from temple
Bathinda, October 19
In an appalling incident thieves have stolen gold ornaments from the idol of a goddess in a temple situated near street number 7 on Ajit Road.
SBOP workers' union holds meeting
Bathinda, October 19
A meeting of the members of the State Bank of Patiala Employees Union, Bathinda zone, was held here today. The union congratulated Naresh Gaur on being chosen as the workman director. Addressing the gathering, secretary of the union, Sushil Gautam said the union had worked hard to be recognised.