Punjab State School Sports Tournament

Player dies, ceremony called off
Tribune News Service
Bathinda, October 11
The concluding ceremony of the 59th Punjab State School Sports Tournament, which was being held in Bathinda, was cancelled after a player of the Sangrur kabaddi team died due to electric shock late on Thursday night. The games were being held under the direction of the Education Minister of Punjab, Sikander Singh Maluka and supervision of the District Education Officer (Secondary) Harkanwaljeet Kaur.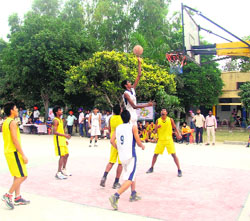 Players in action during a basketball match in Bathinda on Friday. A Tribune photograph
On the concluding day of the tournament, trophies and shields were given away to the players and the teams which won in their respective disciplines. The ceremony was conducted in a very subdued manner to condole the death of the player.
On the last day, the girls' teams showed their prowess in the finals of the basketball competition. While Amritsar Wing beat Patiala (40-26), Ludhiana beat Hoshiarpur (33-17). Amritsar Wing also defeated Ludhiana (43-14) to grab the first place while the second place went to Ludhiana and the third place was grabbed by Hoshiarpur.
Also present on the occasion were Sukhjinder Singh Manshahia, Balvir Singh, Rajinder Singh Deon, Gurinderjit Singh, Shyam Chanarthal, Neelu Khan, Sandeep, Nazar Singh, Shor Singh, Surinder Singh, Gobind Ram, Gurmandar Singh, Jasvir Singh, Angrez Singh, Kuldeep Singh, Ramesh Multania and Jasveer Singh.
Silence observed to condole player's death
To condole the death of Talwinder Singh, a student of Government Senior
Secondary School in Bhawanigarh and a circle kabaddi player of Sangrur team, a two-minute silence was observed by the players, coaches and officials on the concluding day of the tournament.
Match stopped
Meanwhile, the basketball match between Ludhiana Wing and Bathinda was stopped after half-time as the Bathinda team raised objections over the inclusion of an ineligible player in the Ludhiana Wing team.
Speaking to Bathinda Tribune, Amarjot, coach of the basketball team of Bathinda, said, "One of the boys in their team got a re-appear in his class XII examinations. How can he play in the team when he is not in the school? We raised an objection during half time and they stopped the match." The match did not resume till late in the evening.