Bronze for hosts in relay race
Tribune News Service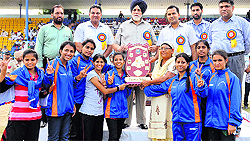 Winning teams pose for the shutterbugs with their trophies

Bathinda, October 5
The 39th Punjab State Women Games 2013-14 concluded at the Multipurpose Sports Stadium, here today. Minister for Irrigation, Punjab, Janmeja Singh Sekhon, was the chief guest and he distributed prizes to the winners. During his brief address, he praised the working of the state sports department and encouraged the students to participate in sports.
Sohan Lal Lotey, Deputy Director, Sports, Punjab, welcomed the chief guest and other distinguished guests on the occasion and informed them of the policies and achievements of the Punjab Sports Department.
In 100m, Manveer Kaur of Patiala proved herself to be the fastest runner of the state clocking 12.21 seconds, Kirandeep of Jalandhar won a silver medal in 12.47 seconds and Deepti Rani, also from Jalandhar, got a bronze medal in 12.68 seconds.
In 3000m, Harpreet Kaur of Patiala won a gold by completing the race in 10:30.03 minutes, Harpreet Kaur of Hoshiarpur got silver in 10:40.67 minutes whereas Amandeep Kaur, also from Hoshiarpur, got a bronze in 10:46.65 minutes. In 4x100m relay race, Jalandhar clinched the gold clocking 50.80 seconds, hosts Bathinda won the bronze in 51.47 seconds. and Sangrur got bronze in 54.12 seconds.
Ropar had to struggle to win the gold as it defeated Ludhiana 20-18 in a well fought final match in handball and it was do and die effort for the bronze medal also as Amritsar beat Patiala 25-24.
Ropar drubbed Jalandhar 3-1 in table tennis as Ropar defeated Ludhiana 3-2 and Jalandhar beat Amritsar 3-2 in their respective semis. Ludhiana and Amritsar were declared third jointly.
Ludhiana clinched the overall championships in swimming by getting 78 points as its single player Kawalpreet Kaur won eight gold medals alone. In the 100m freestyle, Kawalpreet Kaur won the gold clocking 1:07.03 minutes, Shubhkarman Dhaliwal, also from Ludhiana, won a silver in 1:08.83 minutes and Jasmine Sohi of Patiala got a bronze in 1:13.42 minutes. In 200m breaststroke, Harleen Kaur of Sangrur won the gold, Mani Mehtab Dhailiwal of Ludhiana got silver where as Nandini of Ferozepur got the bronze. Ludhiana won the gold in 4x100m medley relay timing 5:25.92 minutes, Sangrur got a silver while Jalandhar got the bronze.
Sangrur won the gold in badminton defeating Ludhiana 2-0 in straight sets while Ferozepur and Jalandhar were declared third jointly.
Sangrur outplayed Jalandhar in kabaddi to win the gold. Amritsar and Ferozepur were declared third jointly.
Ludhiana won the gold in lawn tennis defeating Jalandhar whereas Patiala got the bronze by outplaying hosts Bathinda. In volleyball, Sangrur won the gold defeating Jalandhar while Patiala outplayed Muktsar Sahib and won the bronze. Jalandhar defeated Bathinda 3-2 in hockey and won the gold while Patiala got the silver by outplaying Amritsar 5-1.
In basketball, Jalandhar Ludhiana 56-54 for gold whereas Amritsar got silver defeating Kapurthala 44-36.
Patiala bagged the gold in gymnastics team event, Gurdaspur won the silver whereas Bathinda got the bronze. Sangrur clinched gold in kho-kho defeating Jalandhar where as Ludhiana beat Patiala to win the bronze.