Insecure MPs stalling women quota Bill: Najma
Gurgaon, October 21
BJP MP and former Rajya Sabha Deputy Chairperson Dr Najma Heptulla has stated that insecure male MPs of the Lok Sabha were stalling the women's reservation Bill which had been passed by the Rajya Sabha in 2010.
Rs 8.22 crore distributed among owners of murrah buffalo
Jhajjar, October 21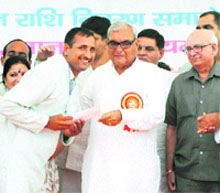 About Rs 8.22 crore were distributed among the owners of 10,985 murrah buffaloes at the State Live Stock Show organised at Government Polytechnic Institute on Sunday.
Chief Minister Bhupinder Singh Hooda gives a cheque to an owner of a murrah buffalo in Jhajjar. Photo by writer

SHORTAGE OF MIGRANT LABOUR
Farmers in many dists face shortage of migrant labour
Sirsa, October 21
Owing to multiple factors, which include a decline in the arrival of migrant labour, farmers' preference for the varieties that involve more manual labour and a haste to harvest the crop ahead of others farmers in Sirsa, Fatehabad and other districts of Haryana, farmers are finding it hard to get workers to harvest their paddy crops.