M A I N N E W S
No respite in sight from onion tears
Tribune News Service


No respite: Onion tears will keep flowing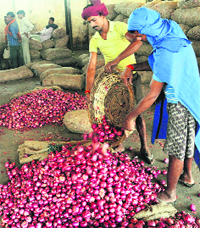 New Delhi, October 23
Onion prices continued to hover at record highs of Rs 90 per kg for the third day today with no sight of respite as Agriculture Minister Sharad Pawar said rates will remain high for two-three more weeks.
"...Next two to three weeks will be tough and ultimately we have to find a solution," he was quoted as saying in Bangalore. Pawar also asked states to invoke the Essential Commodities Act to crackdown on hoarders.
Asked whether he meant that the prices would come down in the next two to three weeks, he said: "No, no. I am not an astrologer. But I know something about crops. On my own assessment, this situation will continue for the next two to three weeks."
Meanwhile, worried over the political implications of escalating prices of the vegetable, the Centre initiated the process of importing onion from Pakistan, Iran, Egypt and China to bring down the rates.
NAFED floated a tender for import of onions and also relaxed conditions for imports to augment domestic supply. The Centre has also called a meeting of agriculture secretaries of five major onion producing states- Maharashtra, Andhra Pradesh, Rajasthan, Gujarat and Karnataka- on October 25 to review the production and marketing of the crop.
Concerned over the high prices, Pawar and Food Minister Thomas are expected to meet tomorrow to discuss the prevailing onion crisis. Finance and commerce ministers may also join the meeting to finalise measures to ward off rising onion inflation. Sheila Dikshit, the Chief Minister of Delhi which will go to polls soon, is also scheduled to meet Pawar and Thomas tomorrow to discuss the crisis continuing for the last three months.
A politically sensitive commodity, onion is responsible for the BJP government being voted out of power in Delhi in 1998 due to increase in onion prices to Rs 60 per kg. The Centre also blamed the states who have not amended the Agriculture Produce Marketing Committee (APMC) Act, thus creating a "monopoly" of wholesale traders. The amendment to the APMC Act could have encouraged more players and competition, the reports suggest.


I am not an astrologer. But I know something about crops. In my assessment, this situation will continue for the next two to three weeks.
— Sharad Pawar, Agriculture Minister