Cong shoots down EC's suggestions on poll funding
Says it is impossible to issue receipts to individuals making donations to parties during campaigns
Aditi Tandon
Tribune News Service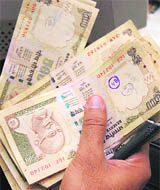 New Delhi, October 24
The ruling Congress feels it is both impractical and impossible to issue receipts to individuals making cash donations to political parties during election campaigns.
It also believes that the Election Commission (EC) should not advise parties on where (a bank or office premises) they should hold monetary donations received and this decision should be left to the wisdom of parties.
These responses (accessed by The Tribune) are part of the reply the Congress has submitted to the Election Commission which had recently forwarded 10 suggestions to political parties to rid the poll process of the misuse of money power.
Under Article 324 of the Constitution, the Election Commission is responsible for ensuring free and fair elections. Of late, money power has been found to have vitiated the election process and disturbed the level playing field in politics.
Accordingly, the Election Commission on August 30 sent its suggestions to recognised political parties seeking their opinion to enable it to frame guidelines on transparency and accountability of funds raised and spent by parties. The Congress has in its response shot down all Election Commission suggestions as either impractical or impossible.
On subjecting its funds to auditing by maintaining accounts using the methods mandated by the Institute of Chartered Accountants of India, the Congress in a response signed by Treasurer Motilal Vora has dismissively said, "Under the Companies Act, every company is required to maintain its books of accounts required for audit purposes in accordance with the standards prescribed by the ICAI. These provisions don't apply to political parties which are required to submit accounts verified by a CA under the Income Tax Act."
On the need to issue receipts to donors to enable the use of such receipts for auditing and transparency later, the ruling party said, "It is neither practical nor possible in a fluid situation in the midst of an election campaign to issue receipts to each individual making such donations."
The Congress has further rejected Election Commission's suggestion that all donations received should be deposited in the political party's bank account. "It should be left to the party to decide whether they want to deposit donations in a bank or office premises or use it directly for party purposes," Vora states.
The Congress also doesn't quite feel comfortable when the Election Commission says that the party treasurer should be responsible for ensuring that the funds raised are used only for activities enshrined in the party constitution and that no party person is allowed to carry cash during polls.
On the first suggestion, Congress says, "The responsibility that funds raised are used only for activities enshrined in the constitution being foisted on the treasurer is not acceptable. That the fund should and must be used for activities that are authorised is unexceptional. It's impossible to ensure that at all levels of election activity sums authorised are spent for purposes for which they are disbursed."
The party adds, "It is impossible for a political party to ensure that every party worker/functionary doesn't carry cash."
On Election Commission's suggestion of making election campaign payments to candidates through cheques/drafts/internet transfers, the Congress says, "It is not practical".
The party, while again rejecting Election Commission's case of submitting audited accounts to the poll body, maintains that under current laws, political parties are required to submit audited accounts to the Income Tax Department and not the EC.
At the end of its dismissals, the Congress goes on to advise the EC to evolve a consensus around its concerns and suggest to the Centre to amend the existing Representation of People's Act, 1951 which currently governs political parties and under which details of donations above Rs 20,000 alone are required to be disclosed and auditing is not prescribed.