LIFE+STYLE

CHANDIGARH

LUDHIANA

BATHINDA

JALANDHAR

AMRITSAR TRIBUNE

JALANDHAR TRIBUNE

BATHINDA TRIBUNE

JAMMU TRIBUNE

KASHMIR TRIBUNE

DELHI

DEHRADUN

DEHRADUN PLUS

Payoff remarks: J&K House gives VK Singh 20 days to file reply
Srinagar, October 24
Jammu and Kashmir Assembly Speaker Mubarak Gul has issued a notice to former Army Chief Gen VK Singh (retd), asking him to explain in 20 days "his position regarding certain revelations" made by him during an interview about the payments made to ministers in the state.



Opinion page: India needs to deal firmly with Pak on Kashmir
Manna Dey, the golden voice, goes silent at 94
Bangalore, October 24
Manna Dey, the proverbial last Mohican among the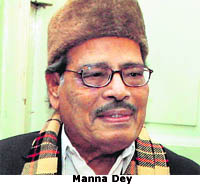 singers who lighted up the Bollywood musical scene in the sixties and seventies, passed away at a private hospital early this morning. The recipient of countless awards, including Dada Saheb Phalke Award and Padma Bhushan, was 94 and leaves behind his two daughters and scores of admirers.



His voice will resonate forever
OTHER PAGES

PUNJAB: 9 yrs on, encroachers stay put despite eviction order


J&K: 8 injured as Pakistan opens heavy fire in Jammu district


HIMACHAL: Anurag's supporters storm Vigilance Bureau office


CHANDIGARH: Girl was smothered


LUDHIANA: World Bank wings to MC plans


DELHI: Two arrested for gangrape of minor

OPINIONS: Chopper controversy


NATION: NHAI blames contractor for delay


SPORTS: Dropped catches hurting India

WORLD: Snooping row: Germany summons US envoy


Lahore Log

The tribune guide to best colleges

Budget
2013-14

INDIA CHINA WAR 50 YEAR LATER

EARLIER FEATURES
Onion prices to come down in 2-3 weeks, says govt
New Delhi, October 24
Drawing flak over spiralling onion prices, the government today said the shortage was "temporary" and the prices would register a drop in the next two to three weeks. Crop output was unlikely to drop despite damage due to excessive rain, Agriculture Minister Sharad Pawar said.

Cong shoots down EC's suggestions on poll funding
Says it is impossible to issue receipts to individuals making donations to parties during campaigns
New Delhi, October 24
The ruling Congress feels it is both impractical and impossible to issue receipts to individuals making cash donations to political parties during election campaigns. It also believes that the Election Commission (EC) should not advise parties on where (a bank or office premises) they should hold monetary donations received and this decision should be left to the wisdom of parties.


Pay Rs 6 cr for negligence, SC tells hospital
New Delhi, October 24
The Supreme Court today directed a Kolkata-based hospital and three doctors to pay a staggering Rs 6.08 crore with six per cent interest for 15 years as compensation to an Indian origin doctor settled in the United States for the death of his wife in May 1998 due to medical negligence.

India, China ink landmark border pact
October 24, 2013
Defuse border tension, Shinde to forces
October 23, 2013
Omar warns Pak on ceasefire violations
October 22, 2013
Army's claim over Keran ops under lens
October 21, 2013
PMO defends Odisha coal block allocation, says it was 'on merit'
October 20, 2013
US ship crew under arrest; arms seized
October 19, 2013
US shutdown is over
October 18, 2013
PM took final decision on allocations:
Ex-Coal Secy
October 17, 2013
Coal scam: CBI books Birla, former Secretary
October 16, 2013
Flood challenge in Phailin's wake
October 15, 2013