M A I N N E W S
Pay Rs 6 cr for negligence, SC tells hospital
Legal Correspondent


Child psychologist's death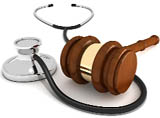 AMRI Hospital in Kolkata and three doctors have been told to pay the amount to Kunal Saha, an AIDS researcher in US, whose wife Anuradha had died in the hospital


Anuradha, a child psychologist, had developed skin rashes while visiting Kolkata in March 1998. She was advised rest by Dr Sukumar Mukherjee


After her condition worsened in May, she was prescribed a Depomedrol injection by Dr Mukherjee. But it didn't help Anuradha, who was admitted to AMRI Hospital on May 11 under Mukherjee's supervision


As her condition failed to improve, she was taken to a Mumbai hospital, where she was found to be suffering from toxic epidermal necrolysis, a deadly skin condition. She died on May 28, 1998
New Delhi, October 24
The Supreme Court today directed a Kolkata-based hospital and three doctors to pay a staggering Rs 6.08 crore with six per cent interest for 15 years as compensation to an Indian origin doctor settled in the United States for the death of his wife in May 1998 due to medical negligence.
A Bench comprising Justices CK Prasad and V Gopala Gowda asked AMRI Hospital and the three doctors to pay the amount within eight weeks to Kunal Saha, an AIDS researcher in Ohio, whose wife, Anuradha Saha, had died in the hospital. Of the Rs 5.96 crore, Dr Baidyanath Haldar and Dr Sukumar Mukherjee would have to pay Rs 10 lakh each, while Dr Balram Prasad would pick up a liability of Rs 5 lakh.
A child psychologist, Anuradha, had developed skin rashes while visiting Kolkata in March 1998, upon which Dr Mukherjee advised her to take rest. As her condition worsened in May, Dr Mukherjee prescribed Depomedrol injection 80 mg twice daily which did not give any relief and she was admitted to AMRI Hospital on May 11 under his supervision.
As her condition deteriorated, she was taken to Breach Candy Hospital in Mumbai, where she was found to be suffering from Toxic Epidermal Necrolysis, a deadly skin condition. She died on May 28, 1998.