Party will enforce one man, one post: CM
Shimla, October 26
With the Congress regime in a quandary over the one-man, one-post issue, Chief Minister Virbhadra Singh said today that it was for the party high command to enforce it. Chief Parliamentary Secretary (CPS) Inder Dutt Lakhanpal had resigned from the post of the state president of the Sewa Dal yesterday. Now it remains to be seen whether other leaders holdings posts both in the government as well as the party organisation will relinquish one post or continue holding both despite the high command directions.
Pharma firms shifting to sister concerns in incentive states
Solan, October 26
The pharmaceutical units, which dominate the industrial hub of Baddi-Barotiwala-Nalagarh (BBN), have started consolidating their operations by shifting their high-value products to their sister concerns in incentive states after the lapse of the Central industrial package.
173 new advocates administered oath
Shimla, October 26
Law is not merely an instrument of social control, but also an instrument of social change. Legal education equips students for performing multiple roles in society. Law, legal education and development have become inter-related in the modern developing societies which are struggling to develop into a social welfare state.
Dagshai school lifts debate trophy
Solan, October 26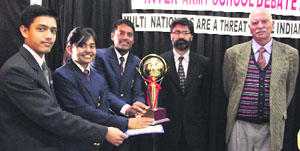 Army Public School, Dagshai, today won the 2 Corps Inter-Army Public School English debate competition wherein eight schools from the region participated. Students debated over the topic "Multinationals are a threat to the Indian Economy" where they made cogent arguments in favour and against the topic.
A team of Army Public School, Dagshai, receives the trophy from chief guest Harish Dhillon at Dagshai on Saturday. Also seen in the picture is school Principal Vijay Dutta

CM seeks inclusion of Bhoti language
Shimla, October 26
Chief Minister Virbhadra Singh has requested the Centre to include Bhoti language in the 8th Schedule of the Constitution.
26 donate blood
Bilaspur, October 26
There is no donation as pious as blood donation as it gives the supreme gift of life to a patient. This was stated by Lal Singh, District Youth Co-ordinator, Nehru Yuva Kendra, while addressing a day-long blood donation camp organised by the kendra in collaboration with the Shaheed Bhagat Singh Youth Club at Samoh, near here, yesterday.
Hamir Utsav: HPCC to take up issue of selection of artistes with CM
Hamirpur, October 26
State spokesperson of Himachal Pradesh Congress Committee (HPCC) Deepak Sharma, who had resigned from the cultural committee of Hamir Utsav a few days ago in protest against the selection of main performers for the utsav by the district administration, has decided to take up the issue with Chief Minister Virbhadra Singh. The Chief Minister will be inaugurating the Hamir Utsav here tomorrow.
Agra youth dies during trekking
Dharamsala, October 26
A youth from Agra, identified as Ashish (22), died today while he was on a trekking expedition to Triund. Sources here said Ashish had come to Dharamsala with six friends. From Dharamkot they went up to Triund where Ashish fell sick at Triund. He later died while being brought back by his friends. The police has registered a case. The cause of the accident will be known after postmortem, police officials said. The trek to Triund is about 7 km from Dharamkot where people can reach by car. — TNS
26 donate blood
Bilaspur, October 26
As many as 26 youth donated blood at a camp organised by the Nehru Yuva Kendra in collaboration with the Shaheed Bhagat Singh Youth Club at Samoh yesterday. — OC