Khushwant Singh Literary Festival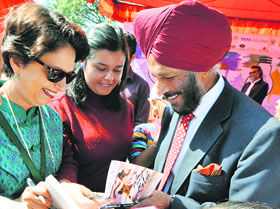 'Bhaag Milkha Bhaag' producer sees a link between literature and cinema
Kasauli, October 18
On the opening day of Khushwant Singh Literary Festival in Kasauli, filmmaker Rakeysh Omprakash Mehra might seem like an odd man out. Perhaps his presence is partly explained by the fact that he based his film 'Bhaag Milkha Bhaag' on Flying Sikh Milkha Singh's biography 'The Race of My Life'.
Flying Sikh Milkha Singh autographs a book at the Khushwant Singh Literary Festival in Kasauli on Friday. Tribune photo: Pradeep Tewari

Ghumarwin gets Rs 10 crore under job scheme
Bilaspur, October 18
Chief Parliamentary Secretary (CPS) Rajesh Dharmani said today that Rs 10 crore had been sanctioned for MGNREGA in the Ghumarwin constituency, while Rs 3 crore had already been spent on the village employment scheme. He was addressing a public meeting after inaugurating a Panchayat Bhawan at Kothi, near Ghumarwin, here.
Kullu Dasehra
Selected artistes to give final performance
Kullu, October 18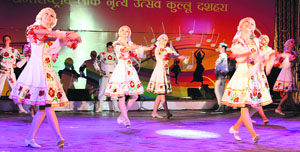 The Kullu Dasehra Committee, headed by its president-cum-DC, has organised an audition for the artistes to be selected by a panel of judges for the final cultural performance on the Kullu Dasehra this time. The first four cultural nights witnessed good performances.
A cultural troupe from Spain and Russia perform on a cultural night of Kullu Dasehra on Friday. Photo: Kuldeep Chauhan

Sukhu seeks legal action against HPCA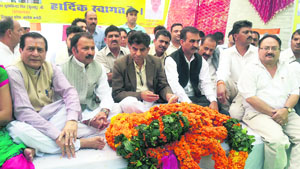 Bhareri (Hamirpur), October 18
Himachal Pradesh Congress Committee (HPCC) president Sukhwinder Singh Sukhu has demanded legal action against the Himachal Pradesh Cricket Association (HPCA) for taking land on lease for building a cricket stadium at Dharamsala without seeking permission under Section 118 of the Land Tenancy and Reforms Act.
HPCC president Sukhwinder Singh Sukhu and other leaders attend a meeting at Bhareri on Friday. A Tribune photograph

20 NCC cadets set out for cycling expedition
Manali, October 18
As many as 20 senior wing cadets of the National Cadet Corps (NCC) yesterday set out for a mountain terrain cycling expedition, "Yeh Mera India, I Love My India", from Manali to Chandigarh via Shimla. The cadets will cover a distance of 400 km, paddling their way on Himachal's steep mountains. The expedition will reach Chandigarh on October 23, after six days of Himalayan odyssey.
Adventure camp for kids ends
Manali, October 18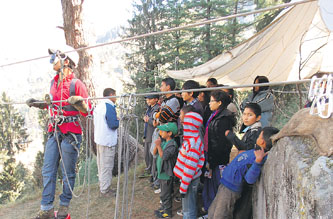 The first four-day adventure and leadership camp for 28 children, mostly poor and orphans belonging to Anand Dham Ashram, Koshla and Radha NGO, has been concluded at Prini village near here. The camp was organised by the Himachal Pradesh Everesters' Association that had arranged lodging, boarding and training for the children.
Children undergo adventure activities during a four-day adventure camp organised by the HP Everesters' Association in Manali. Photo: MC Thakur
Disaster management seminar begins
Hamirpur, October 18
A three-day national seminar on "Natural disasters: Vulnerability, preparedness and mitigation" began at NSCBM Postgraduate College here today. The seminar was inaugurated by Prof BS Marh, Director, Academic Staff College, Himachal Pradesh University, by lighting a lamp. Prof Marh, a known geographer of the region, in his keynote address shed light on various aspects of the topic focusing on the Himalayan region. He suggested certain measures for the disaster management.
Virbhadra visits Valmiki temple
Shimla, October 18
Chief Minister Virbhadra Singh said the Ramayana authored by Maharishi Valmiki was an embodiment of culture and religion and it provided an insight into the Indian thought to the world.
Teenager, man commit suicide
Kangra, October 18
Two persons, including a minor girl, committed suicide by consuming poison and died in the DRPGMC Tanda, the police said here today. The police said a 15-year-old girl of Arla village committed suicide by consuming poison at her residence yesterday. She was rushed to the Civil Hospital, Palampur, from where she was referred to DRPGMC Hospital at Tanda where she died.
Man killed in accident
Kangra, October 18
One person was killed on the spot and another injured in a hit-and-run case in the town during the last 24 hours, the Kangra police said here today. A youth Ajay Kumar (33), resident of Hamirpur, who was driving his motorcycle (HP-22D-0660) dashed against a Bolero pick-up van (HP 38B -9143) at Bhangwar, near Ranital under Haripur police station, and died on the spot. Ajay was on his way to Kangra from Hamirpur. The police has registered a case against Ajay Kumar. In another incident Joshan Kumar (17), was injured seriously in a hit-and-run case near old petrol pump at Nagrota Bagwan last night. He was rushed to Dr Rajendra Prasad Postgraduate Government Medical College and Hospital, Tanda. The vehicle involved in the accident sped away from the spot. The police has registered a case. — OC
Man dies of heart attack in bus
Nurpur, October 18
A passenger of the Himachal Road Transport Corporation (HRTC) bus bound for Manali-Chamba (HP-73-1424) died on his seat today. The deceased identified as Sunil Kumar (42) of Baduee in this subdivision, boarded the bus from Chobees Meel to Nagabari. As he did not alight from the bus on reaching his destination, a passenger, sitting near him grew suspicious. When pushed, he was found dead. Sunil was suspected to have died of a heart attack. Bus conductor Naresh Kumar reported the matter at Kandwal police chowki. A report has been registered under Section 174 of the CrPC. The deceased was a carpenter and father of three children. He had gone to his in-laws yesterday and was on his way back home today. — OC
Youth kidnaps teenaged girl in Kangra
Kangra, October 18
A 17-year-old girl and resident of Rajal village on the outskirts of this town was allegedly kidnapped by a youth of Birta village near here today, the police said. SDPO Kangra Ashok Verma said a youth from Birta was running a computer training centre at Rajal and the victim was a trainee in the centre. Verma said on a complaint of the mother of the victim, the police registered a case under Section 363 and 366, IPC, against the youth. Police parties were rushed to nab the culprit and recover the kidnapped minor girl, the DSP divulged. — OC
Biker killed in mishap
Nurpur, October 18
Amit Salotra (15), son of Rakesh Kumar of Jachh, died on the spot when his bike skidded on the Bodh-Ganoh link road this evening. Pillion rider Chander Kumar of Chhatrolli received injuries in the accident, who was rushed to the Nurpur Civil Hospital and then referred to TMC, Kangra. The police has registered a case under Sections 279,304 (A) and 337 of the IPC in this connection. The body of the victim will handed over to the family tomorrow after the postmortem examination. — OC
Five lakh visit Naina Devi shrine
Bilaspur, October 18
More than five lakh devotees from all parts of the country and even abroad visited the Mata Naina Devi shrine during the 10-day Ashwin Navratra fair. There has been an unprecedented increase of Rs 10.77 lakh in cash offerings at the shrine during these days. Shri Naina Deviji Temple Trust chairman (SDM, Bilaspur Sadar) Dr ML Mehta said here yesterday that during this Navratra, offerings were more than Rs 80.85 lakh while it were Rs 70.77 lakh in this fair of last year. — OC
Lawyers on strike today
Sundernagar, October 18
Members of the Mandi DBA have decided go on a one-day strike tomorrow in protest against the decision of the High Court to hold circuit courts in various sub division of the district. — OC