30% gross enrolment ratio our target: CM
Chandigarh, October 18
Chief Minister Bhupinder Singh Hooda has said the state government has set a target of 30 per cent gross enrolment ratio (GER) at the higher secondary level and private educational institutions have to play a vital role in realising this objective.
Cantt board serves notice on Railways
Ambala, October 18
The Ambala Cantonment Board, which is looking after the civic amenities in the area, has served a legal notice on the Indian Railways to recover pending dues worth over Rs 10 crore for using its land. Besides, the board has written a letter to the Defence Ministry to recover Rs 90 crore from the defence administration as service charge.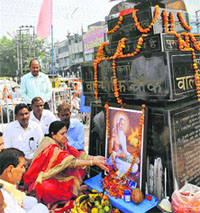 Local MLA Sunita Singh pays floral tributes to Maharishi Valmiki on the occasion of Valmiki Jayanti in Karnal on Friday. Tribune photo: Ravi Kumar

Substandard wheat seed supply
CBI registers preliminary enquiry into Khemka's complaint
New Delhi, October 18
The CBI today registered a preliminary enquiry (PE) on the basis of a complaint submitted by former Haryana Seed Development Corporation (HSDC) Managing Director Ashok Khemka for supply of substandard wheat seed to the HSDC by the National Agriculture Cooperative Marketing Federation (NAFED) and the National Cooperative Consumer's Federation (NCCF).
Man, wife get life term for murder
Fatehabad, October 18
Additional District and Sessions Judge Ashwani Goyal has sentenced a woman, her husband and two others to imprisonment for life for the murder of a property dealer. Sunita, who owed some money to the deceased Ram Singh Jakhar, had allegedly attacked him with knives with the help of her husband Raja Ram, Sunder and Virender, when he went to her house to demand his money.
Man murdered over Rs 2,000
Faridabad, October 18
A dispute over Rs 2,000 reportedly resulted in the murder of the borrower by the lender at Gothda Mohtabad village last evening. The accused, Raghuraj, invited the victim, Chander, to consume liquor with him. The former then attacked the latter with a brick.
Chain removed from Ambala victim's leg
Ambala, October 18

The court of Judicial Magistrate Ist Class (JMIC) Mohit Aggarwal today recorded the statement of Vikram, who was kept in illegal confinement at a police post a few days ago. He was an eyewitness to the death of another man, Ram Kumar, whose body was found on the railway tracks here. The court also recorded the statements of Vikram's mother Maya Devi and his brother Manoj.
Vikram comes out of the court with his mother after the removal of the chain in Ambala on Friday. Photo by writer

Deputy Jailor booked on corruption charge
Kaithal, October 18
The police has registered a case under the Prevention of Corruption Act against a Deputy Superintendent of Jail. Sources said Rakesh Kumar, whose brother Sham Sunder was lodged in the jail, had lodged a complaint with the Inspector General of Police (Jails) alleging that jail officials were providing amenities to those convicts who pay bribe to them.
Netball association members, players booked for cheating
Sonepat, October 18
The police has registered a case of cheating against Chandigarh Netball Association president Gurveer, general secretary R Saharan, joint secretary JP Pal and two players Ritender and Amit Malhotra. The case was registered on the complaint of Hari Om Kaushik, national general secretary, Indian Netball Federation, at the Rai police station.
Two arrested on rape charge
Rohtak, October 18
The police has arrested two persons, including a woman, in connection with a case of rape, forced prostitution and threat. The police is on the lookout for the main accused. The police said the incident surfaced a couple of days back when the victim, a 24-year-old widow, lodged a complaint with the police.
Man axes wife to death
Sirsa, October 18
A man axed his wife to death at Bhima village in Sirsa last night because he suspected her fidelity. Leela and his wife Jaswinder Kaur (40) were not having good relations for the past sometime and they had an altercation last evening.
Woman duped of Rs 2.5 crore, one held
Kurukshetra, October 18
The police has arrested Prem Pal, a resident of Krishan Nagar Gamri here, for allegedly duping Narender Kaur, a resident of Model Town, of Rs 2.5 crore in a land deal.
Two women die of dengue at Sonepat village
Sonepat, October 18
Two women had died of dengue at Jharonthi village in the district. Kavita (28), the mother of three children, had died during her treatment in the PGIMS, Rohtak, and Raj Rani (40), a resident of the same locality, had died at the medical college, Khanpur Kalan.
Three booked for seeking dowry
Kurukshetra, October 18
The police has registered two cases against three persons for demanding dowry. Renu, a resident of Lakhmari, was married to Harvinder Singh, a resident of Kandiyavala, district Panchkula, on Novermber 15, 2012. She alleged in her complaint that her husband had been demanding dowry since the time of her marriage. She also alleged that she was beaten up badly by her husband. In another case, Mandeep Kaur, a resident of Shahabad, was married to Bhuta Singh, a resident of Naya Gaon, Sangrur district. She alleged in her complaint to the police that since her marriage, her husband Bhuta Singh and mother-in-law had been demanding dowry. — OC
Man held with poppy husk
Fatehabad, October 18
The Crime Investigation Agency (CIA) staff of the district police today recovered 36.4 kg of poppy husk from a jeep near Mohammedpur Rohi village here and arrested one person in this connection. He has been identified as Jaswinder Singh, driver of the vehicle and a resident of Shimlapuri Colony in Ratia town of the district. A case under Sections 15, 27-A, 61 and 85 of the Narcotic Drugs and Psychotropic Substances (NDPS) Act has been registered against the accused. — TNS
Two more arrested in triple murder case
Hisar, October 18
The police today arrested two more persons in connection with the triple murder that took place three months ago in Barwala town of the district. The accused have been identified as Bijender Singh and Jaiveer Singh, both residents of Barwala town. Three persons were killed in a cross-fire when two groups clashed over a piece of land of the Wakf Board on July 15. The police had already arrested six persons, including the Barwala SHO in the case. It was alleged that the SHO took bribe to remove police personnel from the spot which led to the bloody clash. — TNS
Villager duped of Rs 4 lakh
Kurukshetra, October 18
On the complaint of Kuldeep Singh, the police has registered a case against Jasbir Singh, a resident of Kakrala Gujrain, for allegedly duping Kuldeep Singh of Dudi village, of Rs 4 lakh. The police said Kuldeep Singh had alleged that Jasbir Singh duped him of Rs 4 lakh on the pretext of getting him a job in the Haryana Police. Jasbir Singh has neither got him employed in the police nor returned the money. — OC
Banda Bahadur award for VC
Kurukshetra, October 18
Baba Banda Singh Bahadur Sikh Sampradaya (Bharat) has honoured Kurukshetra University Vice-Chancellor Lt-Gen (retd) Dr DDS Sandhu with Baba Banda Singh Bahadur Award 2013. Baba Jatinder Pal Singh Sodhi, Gaddi Nasheen, Dera Baba Banda Bahadur, Reasi, J&K, who was the chief guest at the ceremony, honoured Lt-Gen Sandhu with this award at a ceremony organised in Jind. Speaking on the occasion, Baba Jatinder Pal Singh said, "Dr Sandhu is the first recipient of this award and the 'sampradaya' is happy to bestow this honour on a person who has remarkable achievements in his life as an Army officer and as an educationist." — OC

One more held in minor rape case
Kurukshetra, October 18
After the arrest of Sanjeev alias Bucha, a resident of Rampura, the number of arrested persons in the case of abducting, raping and murdering a minor girl, has risen to three. The police said a person, in a complaint to the police at Thana Babain on July 29, 2013, had alleged that some unidentified persons had kidnapped her minor girl on the pretext of marrying her. After registering the case, a police team led by Deputy Superintendent of Police Nupur Bishnoi, succeeded in arresting the two accused, Jabbar and Narender Kumar alias Romi of Babain. During interrogation, both the arrested persons confessed their crime and were sent to jail. — OC
Ex-MLA's son killed in road mishap
Jhajjar, October 18
Satish Balmiki (40), elder son of former Congress MLA from Jhajjar Hari Ram Balmiki, was killed and two others injured when their Scorpio jeep collided head-on with a canter near Dulina village in the district last night. Injured Sumit (17) and Harish (25) were admitted to the PGIMS, Rohtak, where their condition was stated to be critical. The accident took place at 11.30 pm when Satish, his son Sumit and driver Harish were coming back to Jhajjar from Gurgaon. Satish reportedly died on the spot. After the mishap, the canter driver fled the spot. — OC