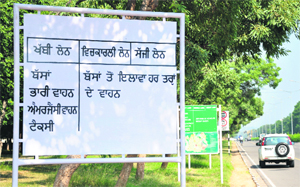 The UT Administration has started installing signboards in Hindi and Punjabi alongside roads in Chandigarh. Motorists have been advised to stick to lane driving. UT Administrator Shivraj V Patil had asked the UT officials to install signboards in Hindi and Punjabi as well. The police had recently caught hold of a person who spilt black paint over signboards. He told the police that he wanted the Administration to promote Punjabi. Tribune photo: S Chandan
Good news for nominated councillors
Chandigarh, October 18
Finally, the UT Administration has decided to increase the honorarium paid to nominated councillors and bring it on a par with that for the elected councillors of the Municipal Corporation.
Discarded as junk by UT, heritage furniture fetches Rs 1 crore at US auction
Chandigarh, October 18
Heritage furniture designed by Le Corbusier's cousin Pierre Jeanneret, which was discarded by the UT Administration and city residents in the 80s and 90s, has earned thousands of dollars for a Chicago-based auction house.
Power shocker for residents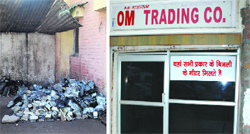 Panchkula, October 18
Veena Kaul, a resident of Mansa Devi Complex, Sector 5, Panchkula, got a shock of her life when she received an electricity bill of Rs 2.39 lakh.

Metres dumped at the office of the electricity department; and (right) A shop in Sector 16, Panchkula, where electricity metres are available. Tribune photos
MC officials penalised for deficiency in service
Chandigarh, October 18
The sub-divisional engineer, division no. 6, and the executive engineer, division no. 5, of the public health department of the Municipal Corporation have been penalised for issuing water bills on commercial rates to a resident.
Lights, sound, action
Chandigarh, October 18
Expecting a full house, the Punjab Cricket Association (PCA) has made all arrangements for the third One-Day International between India and Australia.


With Diwali round the corner, the Sector 17 market all decked up in Chandigarh. Tribune photo: S Chandan (Left) and Fans prepare to cheer for Team India during the third ODI against Australia at Mohali. Tribune photo: Manoj Mahajan
P'kula police helpless in face of fake DLs
Panchkula, October 18
Violators continue to befool the traffic police by showing fake driving licences in Panchkula.
Residents favour community celebrations
Chandigarh, October 18
Besides burning a massive hole in the residents' pockets, the Diwali celebrations are leading to an increase in the air pollution year after year.
Damaged facade poses risk
Chandigarh, October 18
Ignoring the risk the broken blocks of concrete hanging precariously off the facade of the Sector 21 post office building pose to the staff, visitors and passers-by, the postal department has not bothered to get the facade repaired for the past fortnight.
PGI: Finance panel tells accounts dept to settle audit observations on priority
Chandigarh, October 18
The standing finance committee (SFC) of the PGI has directed the accounts department of the institute to settle the audit observations on top priority.
PGI to strengthen ethics committee
Chandigarh, October 18
The PGI is all set to strengthen its ethics committee that is currently having no office to maintain records. The standing finance committee of the institute has approved the creation of four posts for handling the office of the ethics committee.
Advisory council in name only
Chandigarh, October 18
The State Advisory Council, notified by the UT education department for the effective implementation of Right to Education (RTE) Act in Chandigarh, is as good as a defunct body. Since its inception in May this year, the council has not met even once.
Govt should promote private sector: Experts
Chandigarh, October 18
A national conference on "A New Era of Industrial Development in Northern India - Role of Private Sector Educational Institutions" was organised at PHD House today. Inaugurating the conference, Haryana CM Bhupinder Singh Hooda appreciated the development of private self financing professional and vocational institutions in northern states over the past decade.
SI sent to police lines for slack approach
Chandigarh, October 18
A day after a police commando was assaulted following a quarrel with two agents at the ISBT, Sector 43, senior police officers transferred the police post in charge to the police lines as he failed to deal with the situation. The in charge of police post, ISBT-43, sub-inspector (SI) Sucha Singh has been sent to the police lines in Sector 26 on administrative grounds as he failed to do the needful.
Number of dengue cases reaches 42 in city
Chandigarh, October 18
The number of dengue cases in the city has reached 42. Aedes aegypti breeds in water stored in vessels and flower pots. The mosquito is in the form eggs or larvae in water.
Infections go viral
Chandigarh, October 18
The change in weather is resulting in viral infections. More than 75 per cent of patients at the GMSH-16 have complained of body ache, fever and infection.
I-T survey at RLCR supermarket
Chandigarh, October 18 The Income Tax Department conducted a survey at the RLCR super market in Sector 7 today.
Shopkeepers allege harassment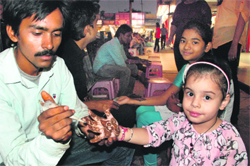 Panchkula, October 18
Shopkeepers of Sector 7 have alleged harassment at the hands of the Haryana Urban Development Authority (HUDA). They said officials were not letting them set up stalls for Diwali.



The shopkeepers in Sector 7, Panchkula, alleged that the Haryana Urban Development Authority was not letting them set up stalls. Tribune photo: Nitin Mittal
GMADA acts tough on encroacher
Mohali, October 18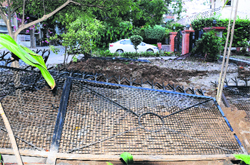 Acting tough, the enforcement wing of Greater Mohali Area Development Authority (GMADA) demolished an encroachment at Phase I here. Acting on a complaint, a GMADA team, headed by Sub-Divisional Oficer Sukhpal Singh, removed a metal fence and concrete work put up by a house owner. The team put into service a JCB vehicle and was provided security for the purpose.
A fence removed by the GMADA officials at Phase I in Mohali. Tribune photo: Vicky Gharu
Chemists seek changes in policy
Mohali, October 18
Punjab Chemists Association has sought changes to the policy regarding the issuance of drug licences.
Satire throws light on corruption
Chandigarh, October 18
A satire on corruption and unemployment, 'Mera Bharat Mahan', was staged at Kala Gram in Mani Majra. Directed by Jasveer Singh, it was a part of the weekly theatre shows being staged by the North Zone Cultural Centre.
Residents for hassle free tax payment
Panchkula, October 18
Following the issuance of a fresh notification slashing property tax by over 90 per cent, residents have urged the MC Commissioner to make arrangements for the collection of tax through banks.
PGI conducts workshop on child care
Chandigarh, October 18 Over the last one year, the PGI has organised various events to commemorate its Golden Jubilee. As a part of these celebrations and its welfare endeavours, the PGI authorities conducted a workshop for the child-care workers, aimed at providing quality care to the employees' children. With an increase in the number of working parents and nuclear families, more and more parents are seeking full-time out-of-home care for their children, starting at an age of six months, till the time they start attending school; with part-time care thereafter.
Eco-clubs in schools an eye wash
Chandigarh, October 18
Green Diwali and anti-cracker campaign has become a mere customary affair in the city. The fact that the city has 129 eco-clubs in both private and government schools, none of them had been able to spearhead the campaign against cracker menace, even as countdown to Diwali celebration has already begun.
New girls' hostel to open in Dec
Chandigarh, October 18

There is something to cheer for the girl students at Panjab University (PU) who could not get a hostel accommodation on the campus, as with the completion of a new hostel at the South campus in December around 350 students will get the hostel facility. Presently, there is a waiting of over 550 students who have applied for the hostel facility at the university.
Girls' Hostel No. 9 being built on the South Campus of Panjab University in Sector 25, Chandigarh. Tribune photo: Parvesh Chauhan
PU prof dead
Chandigarh, October 18
Dr Dharamvir, former professor, Department of Chemical Engineering, PU, passed away today. He was 83. He was the first PhD degree recipient from IIT Kharagpur. He was cremated at Sector-25 electric crematorium without any rituals today.