Govt college to offer 5 more courses from next session
Nikhila Pant Dhawan
Tribune News Service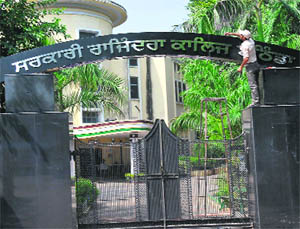 Bathinda, October 29
Government Rajindra College is all set to add five new courses to the long list of courses that it offers to the students of Bathinda and nearby areas. In all probability, the college will begin offering these courses from the next academic session.
The state government has approved the introduction of new courses and the college authorities have got the intimation through a letter sent by the DPI (Colleges), Punjab.
Speaking to Bathinda Tribune, principal of the college Vijay Kumar Goyal said, "Plan is afoot to introduce courses in MA (history), MA (philosophy), MA (mathematics), MSc (physics) and BCom (Professional). We have got the permission from the government and the DPI (Colleges). We will soon prepare a detailed plan and send it to the Punjabi University, Patiala, for approval."
Although the news augurs well for the students seeking admission in the government college and also for those who don't wish to go to other cities for pursuing post-graduate courses, the students will have to shell out more money as fees since these courses will be offered under the Higher Institute Society of the college, which is already offering a couple of professional courses like BBA and BCA.
Prof Manvinder Singh, the in-charge of the society, said, "We will send the proposal to the university in December. Only on getting the approval will we be able to fix the fee structure for these courses and the number of seats that we can offer for each course. But certainly, the fees of these courses will be lesser than what private colleges charge."
Resources crunch
Interestingly, while the college is planning to introduce five new courses, it is already going through manpower and funds crunch. The shortage of classrooms in the college is so acute that several classes are held in the open. Six rooms in the academic block will be vacated once the new library starts functioning, but the college will still need at least five more rooms to begin the new courses.
As far as faculty is concerned, while the college has as many as 84 posts for permanent teachers, it currently has only 37 permanent teachers while 30 teachers are on contract basis and eight teachers work on part-time basis.
"Once we get approval from the university for starting the courses, we will also initiate the process of recruitment of teachers for these courses under the guidance of university experts. To address the problem of space crunch, we will have to build more rooms, perhaps a post-graduate studies block," said the principal.