No plans to start LLM course, says varsity
Shimla, November 6
APG University today clarified that it had no plans to start an LLM course in the current session and that the advertisement published regarding entrance test to be held on November 10 was not meant for admission to the course.
Rural teachers seek increased salaries
Chamba, November 6
Teachers working under the Grameen Vidya Upasak Scheme in the state have urged Chief Minister Virbhadra Singh to increase their salaries on the analogy of the PTA and para teachers.
Adopt cluster approach for food processing mission, state told
Solan, November 6
In a bid to ensure speedy economic growth of the state, global consultant Grant Thornton has recommended adaptation of a cluster development approach for implementing the Centrally-sponsored National Mission on Food Processing (NMFP) in the state.
Army recruitment rally at Hamirpur
Hamirpur, November 6
An Army recruitment rally will be organised from December 3 to 11 at Polytechnic College ground, Badu, Hamirpur.
Ex-MLA organises workers' sammelan, decides to form Modi Fan Club
Nurpur, November 6
Rakesh Pathania, former MLA of Nurpur, where the BJP had lost its security deposits consecutively during the past two Assembly elections by denying party ticket to him organised his workers' sammelan at his native Lodorri village, near here, last night. He said his support to any political party's candidate in the forthcoming Lok Sabha elections would be decided by his workers who were the real BJP cadre. The sammelan was attended by a large number of Pathania's supporters from every polling booth of Nurpur Assembly segment and elected representatives of local panchayati raj institutions. He said he would launch a membership drive to form a "Narendra Modi Fans Club" from November 15 and aimed to enroll around 30,000 members within the next two months.
Protest against traffic jams on Mandi-Pathankot highway
Palampur, November 6
Hundreds of traders from Baijnath and Paprola have lodged a strong protest over traffic jams on the Mandi-Pathankot national highway passing through the town.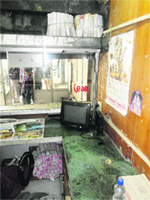 Water leak disrupts railway reservations
Hamirpur, November 6
Reservations at the Northern Railway reservation counter of the Hamirpur bus stand remained disrupted today due to an incessant water leak from the roof of the centre. The leak, which had started last night, continued throughout the day as a result of which computer and other equipment installed at the counter could not be used. The booking staff was busy cleaning water and drying up equipment.




A view of the railway reservation counter after water leak from its roof in Hamirpur on Wednesday.
Two houses catch fire, losses amount to Rs 7 lakh
Bilaspur, November 6
Losses worth Rs 7 to 8 lakh were reported as two houses of Balbir Singh and Ramesh Chand of Teehari village in the Chandpur gram panchayat area, near here, caught fire one after another late last night.
Senior citizens of Chamba, Solan to play cricket on November 10
Chamba, November 6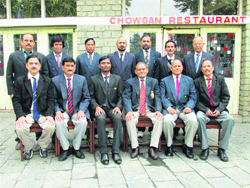 The Senior Citizens Sports Club, Chamba, will be playing a goodwill cricket match against Senior Citizens of Solan on November 10. The Chamba team will leave for Solan on November 7. Talking to mediapersons here today, Major SC Nayyar, convener of the Chamba club, said, "The aim of these cricket matches is to reinforce the bond of affection and fraternity that will rejuvenate the vanishing physical, mental and spiritual health of the elderly.

Chamba senior citizens team with Deputy Commissioner Kadam Sandeep Vasant in Chamba on Wednesday.
No-confidence motion against chairperson, deputy dropped
Solan, November 6
A no-confidence motion moved against the chairperson and vice-chairperson of the Arki Block Development Committee (BDC) by 13 members was dropped today as all the six Congress-supported members failed to turn up before the District Panchayat Officer (DPO) here.
Bali grants Rs 25 lakh for repair of Ghumarwin bus stand
Bilaspur, November 6
Himachal Transport and Civil Supplies Minister GS Bali visited the HRTC bus stand at Ghumarwin, near here, yesterday and took stock of the difficulties being experienced by passengers at this very busy station.
Stadium back with HPCA officials
Dharamsala, November 6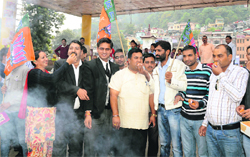 Himachal Pradesh Cricket Association (HPCA) officials got back the possession of the international cricket stadium at Dharamsala from the Kangra district administration as per the orders of the Himachal Pradesh High Court.




On the decision of the High Court in favour of the HPCA, BJYM workers distribute sweets and burst crackers in Mandi on Wednesday. Photo: Jai Kumar
Dehra students win 3 gold, 1 silver at rifle shooting competition
Kangra, November 6

Jenifer Guleria of Class X and Droan Guleria of Class VII of DAV Public School, Dehra, have participated in the 10-m open rifle,10-m open pistol and 50-m shooting range competition and bagged three gold and one silver medals, respectively, during a five-day state-level rifle shooting competition which was held at Nahan.

Principal GK Bhatnagar, staff and Jenifer Guleria and Droan Guleria with their medals won at the state-level rifle shooting competition, at DAV Public School, Dehra, on Wednesday. Photo: Ashok Raina
Rape victim commits suicide
Palampur, November 6
A married woman, who was a victim of rape hailing from a nearby village, allegedly committed suicide last night by consuming poison at her in-laws' house.
One dies as truck falls into gorge
Bilaspur, November 6
Truck driver Pramod Kumar (24) of Kothi village in Bilaspur district was seriously injured as his truck (HP64-2283) fell into a deep gorge near the Chamakadi bridge on the Bilaspur-Shimla road while it was giving way to another truck coming from the opposite side on the road, 40 km from here, today.
One killed in road accident
Dalhousie, November 6
The driver of an Indica car was killed on the spot and two others were seriously injured when their vehicle, in which they were travelling, met with an accident near Bounkhari Mor on the Chamba-Pathankot highway, 12 km from here, this morning, according to a police report. The car was on its way from Pathankot to Bharmour in Chamba district.
Woman dies of consuming 'poison'
Bilaspur, November 6
Geeta Devi (64) of Kot Tanda village, near Ghumarwin, who had consumed some poisonous substance mistaking it for medicine, died on Sunday night.
Man found dead at home
Bilaspur, November 6
Kesar Singh of Takroon-Nadaun village in Hamirpur district was found dead in the lavatory of his government quarter in Lower Nihal sector of town yesteday.
Man found dead on roadside
Bilaspur, November 6
Villagers found Suresh Kumar (50) of Badoa village under Hirapur gram panchayat, near here, lying dead on the roadside near Rapaid Hirapur this morning.