Chikni bridge may come up by March next year
Solan, November 9
The new Chikni bridge, which is being constructed after the old one had collapsed six and a half years ago, may finally be completed by March next year.
Speaker Butail for strengthening water drainage system
Palampur, November 9
Brij Behari Lal Butail, Speaker of the state Assembly, today said all villages falling in the Palampur constituency had been linked with motorable roads. The town, therefore, had become the first constituency of the state having road links to every village, he added.
Shahpur road to be completed by March: Pathania
Kangra, November 9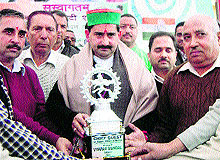 The construction of Beetul Road at Rs 91.42 lakh in the Chari panchayat of the Shahpur Assembly segment will be completed by March next year. Kewal Singh Pathania, vice-chairman, Himachal Pradesh Forest Corporation, said this last evening while addressing a public meeting at Chari after laying the foundation stone of a bhawan and a stage for the Ram Leela ground in the village.


KS Pathania, vice-chairman, HP Forest Corporation, being honoured at a function at Chari in Kangra on Friday. Photo: Ashok Raina

One held with charas
Chamba, November 9
One person, Ravinder Kumar, was arrested for carrying 800 gm charas and the car he was travelling in was also impounded by the police near zero point of Jassourgarh in an outlying area of Churah here this morning, a police report said.
Satti cautions cops, govt officials
Shimla, November 9
State BJP chief Satpal Singh Satti today cautioned the police and other government officials not to become tools in the hands of the Congress regime which was trying to settle scores with its political opponents by implicating them in false cases.
Workshop on short-term courses for faculty
Sundernagar, November 9
A workshop to finalise the annual operational plan regarding the training of faculties for government engineering colleges, pharmacy colleges and polytechnics of Himachal Pradesh was organised by the National Institute of Technical Teacher Training and Research (NITTTR), Chandigarh, at the Directorate of Technical Education, Sundernagar, yesterday.
HLP vice-chief injured
Bilaspur, November 9
Former MLA and Himachal Lokhit Party (HLP) state vice-president Karam Dev Dharmani was injured seriously when he slipped from a staircase and fell to the ground at his residence at his village near Ghumarwin near here yesterday.
3 held for attacking three youths
Bilaspur, November 9
The police at Ghumarwin near here has arrested all three accused Ashwini, Suneel and Ajay for attacking three youths under Sections 307, 326 and 506, IPC, near Baddu. An FIR was got registered four days ago by complainants Neeraj, Santosh and Ashish of Ghumarwin areas.
Man found dead in stadium drain
Bilaspur, November 9
Sultan Mohammed (33), a resident of the Gurdwara market area here, was found dead in a drain of the cricket stadium at the Luhnu grounds here yesterday.