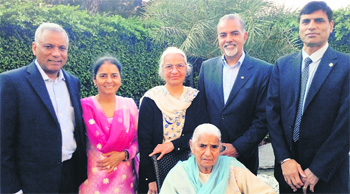 Back to basics
Sometimes a journey taken too far, comes a full circle and brings you back to the roots that made it all happen. That's the irony of success. His story as been as phenomenal as fulfilling and adds to the several exemplary cases of Indian Diaspora settled abroad.

Barj S Dhahan with his family
Photos: Pradeep Tewari

The right note
What would you do, if you knew deep down in your heart that sitting in a cubicle, from 9-7 pm, glaring into the computer, no matter how many lakhs it fetched you at the end of the month you wouldn't be happy? Lakhs…. you might start to think again, but for this singer, composer, record producer, music director Clinton Cerejo this realisation was good enough to dissuade him from doing any kind of office job. "I realised job wasn't the thing, I would be satisfied or happy doing. My creativity needed wings, it had to fly." Sure he did that, Clinton gave wings to his passion and travelled as far he could with it.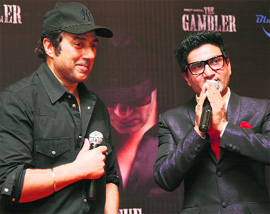 From a singer's heart
Irrespective of journeys, paths, directions we take, one fine day each one of us returns to ourselves and to our love. This could be a farfetched philosophy, but singer-actor Preet Harpal believes in every word of this. After a fairly long time, he has retuned to the love of life, music and you bet he feels every moment spent in this love is worth it. What lead to this return is a story he would come back to, as of now it is the joy of the release of his music album, The Gambler that he wants to share.
Sunny Deol & Preet Harpal

Beat it!
He hails from Mumbai and has already etched his place as number one DJ in the country. DJ Lloyd Gueizelar, who has recreated a number of Bollywood sounds, strikes a candid conversation about his music, future plans and more at Chandigarh.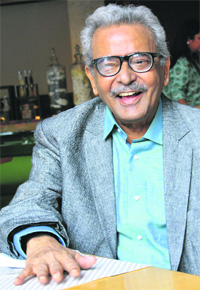 Restoring old glory
Shamsur Rahman Faruqi grew up believing that one day he would be a writer. He became one, and that too a celebrated one. Considered a canon in Urdu literature he started as a poet and novelist before taking up considerable work in criticism. Raring he goes, to restore our vibrant cultural past. In city for Chandigarh Literary Festival, Faruqi who has given works like Kai Chaand The Sar-E-Aasman, The Mirror of Beauty, Early Urdu Literary Culture and History and The Flower-Lit Road: Essays In Urdu Literary Theory And Criticism, opened up on impressions that charted his journey.




Going strong: Shamsur Rahman Faruqi Photo: Pradeep Tewari

Bold & beautiful
As she read the script on her phone, Shilpa couldn't help but fall in love with Sarika. She was bold, engrossing, scandalous, but what made Shilpa Shukla be Sarika was the end, it offered a beautiful redemption and the actor in her wanted to live that.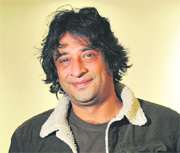 Call of creativity
Sheer audacity of the story The Railway Aunty by Mohan Sikka caught Ajay Bahl's attention. He took upon himself to direct and produce a film on it. The result, BA Pass! The film received critics appreciation, recently, completed 100 days in theaters. Director, Ajay is happy. In Chandigarh for the Chandigarh Literature Festival, he is candid and hopeful; all set to make more films that catch audiences attention. What made him go for filmmaking? "Jo kuch nahi kar pate hain, vo film bana lete hain," he opens the conversation.
Step forward: Ajay Bahl

Here he comes
Imran Khan, the man behind tracks like Amplifier and Bewafa Nikli hai tu will be touring India for a seven city concert in November 2013. The rapper-singer has quite a fan following in among the youth and Amplifier still plays at high decibel levels in most hangout places.
A healthy step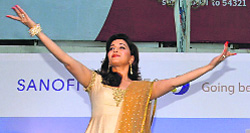 This year, Sanofi India Limited is marking World Diabetes Day (WDD) with the launch of its 'What Step Will You Take Today' campaign that encourages people to take proactive steps to effectively prevent, manage and control diabetes. Renowned actor and acclaimed dancer, Madhuri Dixit, joined this campaign as a goodwill ambassador to create a 'signature step' that will instill solidarity for patients with diabetes.
Dance on: Madhuri Dixit

star track
Varun Dhawan unplugged
It has been over a year since Student of The Year released and Varun Dhawan is being touted as the next big thing. He talks about movies and more.



B-town's spice girls


Playing the perfect granddaughter


Justin Bieber smashes car door


Together they stand


I am a procrastinator: Keira Knightley


What a start!


Crazy side of limelight


Controversial beginning
chatter box
Reaching out to fans
Telly-fraternity's most celebrated award show, Zee Rishtey Awards 2013, will soon be telecast on Zee TV. While the actors prepare themselves to put up a great show, they also visited many cities in India to shoot for a Nomination Special episode of the show.



On the funnier side!


Positive approach


Enjoying popularity


To where she belongs


Dress rehearsal