Book mark
Chandigarh Literary Society's maiden venture Literati 2013 brings four acclaimed writers to Chandigarh
Manpriya Singh
Literature rooted in reality looks down upon the popular fiction. Bestsellers ensure that publishing remains a business and literature an industry. From a young writer influenced by the likes of Dan Brown and Robert Ludlum to an experienced one who brushes aside the superfluity of crime thrillers; literary work remains both infinite and indispensable.
write note:


Meghna Pant


Jaideep Bhoosreddy

V Sudarshan
Literati 2013, the debut endeavour by Chandigarh Literary Society, tries capturing all the genres and each section. This two-day event brings along writers like Meghna Pant, Govind Mishra, V Sudarshan and Jaideep Bhoosreddy. To each his own and the more, the merrier!
Emotional encounter
Govind Mishra
Having penned down 53 books, in Hindi literary circles Govind Mishra needs no introduction. Nevertheless, a couple of critically acclaimed works could best define him. The acclaim started with Lal Peeli Zameen, a work on violence in villages and small towns of India. While Tumhari Roshni Mein reflects on the emotion called love. Phool Imartein aur Bandar captures the bureaucracy we've all dealt with. "The inspiration and ideas come from life itself. At times the emotions, your own or others' are so overwhelming that they reflect in your writing. But there has to be individual depth and experiences to bring out the emotions," shares the Bhopal-based Akademi Award Award winner.
He adds, "I started writing at the age of 14. As far as creative writing is concerned, it can only happen in your mother tongue. The language you are comfortable with."
Moving on, his novel Dhher Sameere is on Indian religious context of Mathura Vrindavan, while Paanch Angano Wala Ghar is about joint family system of Indian society.
Anatomy of a writer
V Sudarshan
It could be a good story he heard at a coffee shop in Chennai that brought him to Chandigarh. Sometimes, he dives deep down in the Islands of Andaman and Nicobar to dig a good story out. Even reporting on the insides of Ministry of External Affairs came easy. Indian journalist and author, V Sudarshan cruises through all subjects serious with research and experience. For everything else, he's got his wit along. "You get into trouble if you quote an official document, not if you dramatise it," he shares of his novel Anatomy of An Abduction. The book talked about abduction of three Indian truck drivers, namely Antaryami, Sukhdev and Tilak Raj, deployed by a company carrying units for American forces in Iraq. "That was the first book that spoke of crisis management and scenes inside the Ministry of External Affairs." The novel remains a yet to be filmed script for a Dibakar Banerjee film.
As for his latest, Adrift: A True Story Of Survival At Sea, is the story of commander Avatar Singh Baath who is a legend in Port Blair. There's nothing much happening right now, perhaps, it's a lull before the storm. "There are so many subjects to write about. How interesting it is depends on how you narrate it.' Food for thought.
Talking out loud
Meghna Pant
The financial journalist turned novelist gave into writing head long and before she knew out came the debut novel One and a Half Men in 2012, only to be followed by Happy Birthday, a collection of short stories. Currently, Meghna is dwelling on her next tentatively titled Son of Gods. "It's a tale of two families, set against a plot that China and India are at war." Anything can pave way for penning down thoughts. She laughs, "I have this habit of talking to myself. But I feel each of us has a story inside us. The changes in society always need to be captured." Like the one she's experienced after relocating from abroad. "I was sent to cover New York Stock Exchange when the global melt down happened…I've come to India after so long and I already see so many changes in Mumbai. I'd like to capture them." Coming up is a new show in Vijay Amritraj, a personality she'd like to sketch a biography on. "Now that I have been researching on him, I think I'd like to do a biography on him. This is out of all the personalities that have approached me."
Dream come true
Jaideep Bhoosreddy
For the twenty-year-old Lucknow-based author, writing was literary an accidental turn of life. Jaideep Bhoosreddy was stranded after Class XII with a road accident when weird and vivid dreams crept in. "I would feel people shooting at me, I shooting back at them like in a violent video game." That is the backgrounder for his debut work of fiction; Alec Mercer: Dead Underground and Fallen. Now it all feels, "Great. People are reading me. He juggles hectic engineering schedule with some time for writing. "My next is titled Fallen and it is on different mythologies."

Lucknawi flavours
Hometel Hotel is organising Awadhi Food Festival. The festival is being organised at Flavours restaurant for dinner. The beautiful ambience of the Flavours restaurant lends a perfect match to the multi-cuisine food offerings to its guest.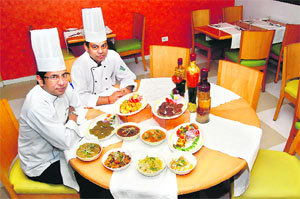 Spice route: The delicious fare at Hotel Homtel.
Awadhi cuisine is from the city of Lucknow. The cuisine consists of both vegetarian and non-vegetarian dishes. Awadh has been greatly influenced by Mughal cooking techniques and the cuisine of Lucknow bears similarities to those of Persia, Kashmir, Punjab and Hyderabad; and the city is known for Nawabi foods.
The bawarchis and rakabdars of jAwadh gave birth to the dum style of cooking or the art of cooking over a slow fire. Their spread consisted of elaborate dishes like kebabs, kormas, biryani, kaliya, nahari-kulchas, zarda, shermal, roomali rotis and warqi parathas. The richness of Awadh cuisine lies not only in the variety of cuisine but also in the ingredients. — TNS

Love is in the air
Gori Tere Pyaar Mein
Written and directed by Punit Malhotra, Gori Tere Pyaar Mein is a romantic comedy film that is produced by Karan Johar under the banner of Dharma Productions. The film features Imran Khan, Kareena Kapoor Khan and Shraddha Kapoor in pivotal roles.
Same old Imran
I like the film. It's an easy watch and there is nothing more to it than the storyline. Imran Khan is playing the same kind of love-smitten chocolate boy role, while Kareena's role is a refreshing one. It's a time-pass kind of a film.—
Vineet Malhotra, student
Nothing new
There is nothing new that the movie offers, especially when it comes to the Bollywood romantic genre. It's got the same repetitive storyline, where a man woos the woman who he loves and that's just about it. I will not recommend the movie.—
Karan Randhawa, student
Cute love
I am a hopeless romantic and this is certainly my kind of a film. Though the first half of the film is a bit drab, it gets better in the second half and I like the way the film rolls. In fact, I think it's a cute story.—
Rachna Sharma, homemaker



Singh Sahab the Great
Singh Sahab the Great is a Hindi drama film directed by Anil Sharma. The film features Sunny Deol, Amrita Rao, Urvashi Rautela and Prakash Raj in the lead roles.
Cheers for Sunny
I like the film and the only reason behind it is Sunny Deol and his character of a furious sardar. He does not just manage to pull off the role so effortlessly, but also he looks very good in the film. Three cheers for him!—
Banipreet Kaur, student
Good dialogues
I didn't like the storyline of the film, but Sunny's acting and the way the film has been presented is commendable. Also, I like the dialogues of the film. I like the first half of the film and not the second half.—
Janvi Kashyap, student
— As told to Amarjot Kaur

Happy feet
Dance offers a great workout for the mind as well as the body. There are options aplenty if you are looking to learn some moves in Chandigarh…
Mona
What if you get to have some great fun; meet and greet people, kick away monotony and still stay fit? Well, if precisely that is what you were waiting to discover before embarking on a fitness routine, it has been there all the time!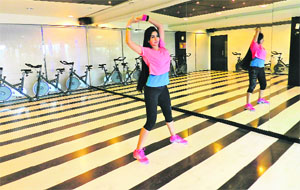 Neeti Bhatia at the gymnasium
Dance is one of the most effective forms of exercise. Not only does it give your body a workout, it boosts brain function for you need to memorise the steps and not to forget - the joy it offers. No wonder gyms in Chandigarh offer dance classes for fitness freaks. Neeti Bhatia, who runs a Zumba dance programme for Bodyzone Fitness 'n' Spa-9, puts dancing ahead of other forms of exercises, including walking and gymming, "Dance gets your different body parts moving. Especially in Zumba, both your large and small muscles are used. A better toned body is what it gives you for there is lots of waist and hip movement, which is missing in walking. Also there is a release of happy hormones while dancing." Her classes, aimed at all age groups, are catching up in the city. "I have been into the field for the last seven years. In Delhi, where I worked previously, people are crazy for dance fitness classes, but here in Chandigarh the awareness is less."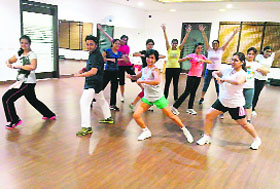 Gagan Kaur in class
What works in favour of dance as a form of exercise is the variety it offers. "A dance fitness class has a new song, new steps each day that keeps one happy for the entire day," says Varun DS Rana from Club Salsa International. Varun, who is into the field for last 16 years and recently represented Chandigarh at the Goa International Latin Festival, is happy that more and more people are waking up to dance fitness classes in the Tricity.
Jaskshan's Dance Dacha that operates from British School-44 has a large chunk of students coming for fitness purposes. In fact, their 'Danyog' is a special weight management programme for those over 40. "I find dance as the most entertaining form of exercise. We offer lots of variety right from Zumba to rhythm kickboxing to power yoga.
Gagan Kaur, who has been into dance for the last ten years, goes for dance to rejuvenate her body, mind and soul. "Dance for me is a way to gain happiness. Physical fitness and expanding vision are the obvious benefits that one gets due to sheer body movements and sharing experiences," says Gagan, who has taken aqua therapy and Zumba classes this year. "Dance nulls many lifestyle diseases; breathing and knee problems and weight issues."
mona@tribunemail.com

Comic caper
Manpriya Singh
The title often lends itself to a lot of probabilities. Nevertheless, when we are caught unaware and clueless about Lucky Kabootar, the cast and crew steps in to clear things.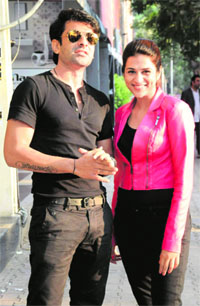 At times, it is better to give away than cover up. The upcoming Hindi movie borders on the current obsession of Punjabi cinema-romance. Lead actor Eijaz Khan, tests waters and tries his luck with the title role. "I play Lucky Singh, so he is the Lucky Kabootar in question," he shares, while in Chandigarh. "It's a very interesting character that I play. How the guy changes when suddenly he is bestowed with a lot of money. The responsibility of the title role is on my shoulders," shares the television and film actor, who has to his credit roles in Zilla Ghaziabad and Tanu Weds Manu.
Joining him is the leading lady Shraddha Das, the Indian film actress who's mainly appeared in films Down South. As for this movie, she is all set to depict a North Indian beauty. "I play a Punjabi girl in the movie. It's a very dumb blonde character that I have in the film. The entire village is crazy for the girl. She also thinks too highly of herself."
Comedy needs a couple of things right, most of all comic timing. Sometimes playing the part comes easy, at other times, it's a challenge. She laughs, "Yes, it was difficult to play this character because I'm not dumb in real life."
Playing a Punjabi girl is a perfect warm-up to more serious roles in the regional industry. "I've already done Tamil, Telugu and Malayalam films; now I've even played a Punjabi girl. I'd love to act in Punjabi films too. It's my second visit to Chandigarh. I've already been here before to shoot for the film."
There's also a three film deal to look forward to. She shares, "I have a three film deal with Anubhav Sinha's banner. One film, titled Zidd, should be releasing in coming March. In the film I play a girl from Goa. It's a very modern character." What yet remains to be explored are a couple of dream projects. "Something like Julia Roberts in Notting Hill. I'd love to play that character onscreen."
manpriya@tribunemail.com

Sonakshi Sinha: Only I can fill my space
Sonakshi Sinha has two releases back-to-back with Bullett Raja and R...Rajkumar. She talks about movies, love, co-actors and more.
Bullett Raja and R...Rajkumar
Yes, Tigmanshu sir's film and Prabhu sir's films are like the two ends of the spectrum. In Bullett Raja, I play a struggling actress. It is an interesting premise and I really wanted to work with Tigmanshu. I respect him a lot. About R…Rajkumar, it is a typical, masala film with songs and dance. It is a film where romance is given as much importance as action.
Working with everyone
At first they said I am Salman Khan's favourite and then they said I am Akshay Kumar's favourite. It is not like I haven't worked with other people. Ranveer, Saif, Shahid... I believe in keeping cordial relationship with everyone. Yes, I form a good working rapport with people and that is what takes you forward. Today, if someone has to ask why Akshay Kumar works with me again, it's because I am punctual and deliver my goods. I am doing a second film with Ajay, third with Prabhu sir. They appreciate little things when you're being professional.
Commercial films
I am absolutely unapologetic about it. Whatever people had to say about my acting prowess, their doubts were put to rest with Lootera. I act in films which I like to watch as an audience. I want to go to the theatre, hoot and clap and dance and I think that's entertainment. Commercial films also have a space for the heroine. A lot of people also say that I have created a space which only I can fill. So that's about it.
Missing the normal life
Sometimes I miss the normal life but loneliness rarely creeps in because I am surrounded by good people. I have done my bit of hanging around with friends during college days. About dating? If you have to meet you will find a way. Love always finds a way. Look at my parents. They met in a train from Patna to Poona. Mum was 15 and dad was 20. Dad was going to study at Pune Film Institute and mum was coming from a wedding. He wrote letters to her and he would go to her house and sing songs under her balcony! My mum's mother used to throw rocks at him so that he goes away. I doubt such a fairy tale will happen with me.

No comparison
For Huma Qureshi working with her idol Madhuri Dixit in upcoming film Dedh Ishqiya was a dream come true and the actress says she never once felt insecure about sharing screen space with the Bollywood diva.
The 27-year-old actress and Madhuri are the new addition to the Abhishek Chaubey directed sequel to 2010 Ishqiya.
The film will see Naseeruddin Shah and Arshad Warsi reprising their roles of Khalujaan and Babban from the original film.
Huma says right from the time she signed the film till finishing it, she was aware of her part and the makers never let her feel like a second lead in the movie.
"Madhuri is the quintessential heroine of all time. There is a lot of pressure when you are working with her. But, she made it really easy for me. When I decided to sign on the film, I knew exactly what I was doing. So there was no apprehension or insecurity.
"Even on the set, I had a great team, a great director, who never once made me feel that there is some sort of disparity or I am the second lead," Huma told in an interview.
"And most importantly I never thought that I was competing with her. I think it is a huge compliment for me that I am starring alongside her in the film. You can't compete with the sun. There can be no competition," she said.
Dedh Ishqiya will hit theatres on January 10 next year.
Huma made her acting debut with director Anurag Kashyap's magnum opus Gangs of Wasseypur last year. She followed it up with other multi-starrers like Luv Shuv Tey Chicken Khurana, Ek Thi Daayan and D-Day. — PTI

No fishy business this
Dimple Kapadia donned a whole new avatar as she presented the trailer of her latest, What The Fish. She came in wearing a cotton saree and peculiar glasses carrying a fish bowl, looking rather strict much like her character in the movie.
Co-Produced by Viacom 18 Motion Pictures the film is set to release on December 13.
What The Fish is a situational comedy that tells the tale of a grumpy woman, Sudha Mishra who has to leave her house and her beloved fish (Mishti) in the hands of her niece's fiancé who she detests. What follows is a series of hilarious incidents as the house is passed one after the other to varied colourful characters of the movie.
Dimple who doesn't make too many appearances before the media was all charged to answer questions one after the other. When prompted on why she agreed to do What The Fish, Dimple said, "I did it because it was a good role and also for the money". On being questioned on her doing an all out comedy film, Dimple said, "I loved doing a role in movie that demands such high level of humour. I hope the audiences accept and like me doing comedy for a change".
Gurmmeet Singh, the director of the movie was rather ecstatic to be presenting to the world, the first look of his next. He said, "The film has so much chaos that it made complete sense to call it What The Fish. Moreso, to have the film be associated with the younger audience". When asked about casting Dimple as Sudha Mishra he said, "When I wrote the script I never thought it would be Dimpleji I would cast."

Best rose in the world …
Hollywood star couple Brad Pitt and Angelina Jolie have now become successful wine producers with their brand getting ranked at number 84 in a list of 100 wines of the year.
The couple's Chateau Miraval Rose 2012 has been named the "best Rose in the world" by Wine Spectator.
Their wine has been called, "Refined and elegant, offering pure and concentrated flavours of dried red berry, tangerine and melon. The focused finish features flint and spice notes, with a hint of cream." In 2012, the couple partnered with the Perrin family, a fifth-generation winemaking brood located in France's Provence region, to develop their own rose wine under the Jolie-Pitt & Perrin brand.
The wine was created in Chateau Miraval.— PTI

Acting pricey
Kajol was reportedly supposed to attend the 44th International Film Festival of India. However, she backed out at the last minute. Rumour has it that she wasn't happy with the arrangements. Sources suggest that Kajol wanted the same treatment given to Hollywood actress Susan Sarandon which included a Limo and five business class tickets for her staff. The organisers politely declined.
Inflated figures?
The box-office collection figures quoted by Roshans for Krrish 3 have irked Salman and Shah Rukh Khan, as they feel that these figures are inflated. Roshans have been claiming that Krrish 3 is the highest domestic Bollywood grosser of all time. However, many don't believe it.
Friends and lovers
Supermodel Miranda Kerr was reportedly spotted enjoying a dinner with Hollywood star Leonardo DiCaprio. The 30-year-old, who recently split from her husband of three years Orlando Bloom, was spotted with the 39-year-old actor and a large group of friends at an eatery in Las Vegas. "They looked like they were having a great time. They came with a bunch of friends and were overheard talking about going out the night before," a source said. Kerr was with two girl friends and sat across from Leonardo. The pair did not appear to be flirting, despite being linked together in the past. — PTI
Getting fresh
Some times stars do the weirdest things in public. Actress Nargis Fakhri was recently spotted brushing her teeth in a studio. When asked why she is doing it in public, it was discovered that Nargis had rushed from the airport to the studio and actually needed to get fresh before she started work.
Bald call
Actor Shahid Kapoor is all set to sacrifice his hair for Vishal Bhardwaj's next film Haider. Based on the Shakespearean tragedy Hamlet, the film will be shot in the beautiful locales around Kashmir.

Aashka at the Emmy's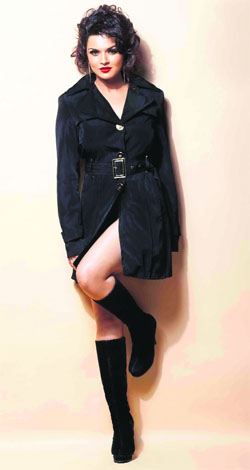 Actress Aashka Goradia is all set to fly to New York to represent India at the International Emmy Awards this year. We hear that the actress has been part of the jury for the last two years, and is said to be attending the awards as a juror this year.
At the three day event, Aashka will not only be attending the festival days but also be seen walking down the red carpet at this extremely prestigious awards ceremony. The actress is said to be wearing designer duo Riiddhi and Siddhi Maxpencar's outfits for all the days and we hear that Aashka's red carpet outfit too has been designed keeping in mind both the eastern and western cultures.
Aashka says, "While I was invited last year as well, I couldn't attend the awards as I was locked up in the Big Boss house. I am really excited, as this year we have judged global television and watching the talent across the world is a tremendous learning experience. Television worldwide is such a huge medium with so much creativity. It's a huge honor to be attending the Emmy awards and representing the Indian Television fraternity there. I am hoping to meet a lot of new people and gain new experiences and insights."

Rohit Bhardwaj admires SRK!
Rohit Bhardwaj who is seen as Yudhister in Siddharth Kumar Tewary's Mahabharat is a big Shah Rukh Khan admirer. He says, "I want to become big superstar like SRK. He is an inspiration for me. From Dilwale Dulhania Le Jayege, Kuch Kuch Hota Hai, Devdas, Om Shanti Om and Chennai Express he has done it all and still going strong. In the coming five years I also want to achieve that kind of name and fame. He is an achiever all the way. I am a Delhite like him and I am in the same profession as him. I have never met him but I surely want to meet him"

Sonu Nigam spins magic The third season of Royal Stag MTV Unplugged promises to be exclusive, intimate and personal. Presenting in a Live gig format, the first episode will see the ruling Bollywood singer Sonu Nigam make his debut on the MTV Unplugged. After making millions of girls across the world go weak in the knees with his songs, the eternal golden voice of Bollywood, Sonu Nigam will be spreading the same magic on MTV Unplugged. He will perform to some of his biggest hits like Kal Ho Na Ho, Abhi Mujh Mein Kahin, Satrangi Re and Tanhayee amongst others. So get ready for an hour of fun, music, romance and soulful singing only with Sonu Tune-in to MTV Unplugged Season 3 premiering this Saturday, November 23, 2013, at 8 pm.

Rumour has it
Mohit Sehgal will soon return to TV. He will be seen in Qubool Hai as a new entry. There was buzz that he might replace Vikrant Massey but that turned out to be a rumour. He was last seen in Mujhse Kuchh Kehti... Yeh Khamoshiyaan.

Aishwariya is back
Aishwariya Sakuja is back on Sony television with a new fiction show. It will be a thriller, which will be launched in December. Produced by Beyond Dreams and Virendra Kumar Sawhney's new production house, Dancing Water, it will be a finite series of 100 episodes also starring Vikas Manaktala.

The Year Ahead
Madan Gupta Spatu
If your birthday is November 23...
Due to the number 5 of 23, you are inclined to work well with people. You are talented and versatile, very good at presenting ideas. Someone will try to belittle your capacity, putting your work into a bad light; try to discover this person's real intentions. Don't worry if your loved one is annoying because he or she is simply doing it to attract your attention.
Complete rest is advised for those suffering from acute asthma or hypertension. Romance comes when you let go of your inhibitions, not when you are fussy or critical.
Positive colours: Forest-green, Dark-green.
Select days: Wednesday and Friday.
Favourable numbers: 3, 5, 9.
Gems recommended: Emerald, Sapphire and Ruby.
Charity on birthday: Donate household items at the marriage of a poor girl.

You share your birthday with Sajid Khan (November 23, 1971), the brother of Farah Khan. Her mother Menaka is the sister of Honey Irani and Daisy Irani, former child stars. He started his career with directing Darna Zaroori Hai and Heyy Babyy. The number 5 and Mercury make his personality charming, dynamic and magnetic.

Astro Turf
P Khurrana
ARIES: The Emperor gets you in touch with your leadership qualities. Today your best approach is not to confront people, but to go about your own tasks with great dedication.
Tarot message: Be firm in extracting a commitment.
Lucky colour: Crimson.
Magic number: 29
TAURUS: The third eye of 'Lord Shiva' opens for an infinitesimal moment to instigate a major transformation. You have a renewed sense of enthusiasm, in projects having meaning for you.
Tarot message: Do not leave things to chance.
Lucky colour: Deep-red.
Magic number: 32
GEMINI: The Moon takes you through a difficult Karmic situation today. Important issues come to light before 4 pm. You must address them even though there is a dark underside to them.
Tarot message: Be active in catching financial opportunities.
Lucky colour: Yellow.
Magic number: 47
CANCER: You draw "The Ace of Cups" which brings beauty, pleasure and happiness. You should pay attention to your motives; ensure they are positive.
Tarot message: Remember it is the thought that counts and not the price tag.
Lucky colour: Saffron.
Magic number: 45
LEO: The Lovers inspire you to climb new heights and actualise creative ideas. There are shakeups in relationships today; the challenge is to control them.
Tarot message: Get a clear perspective and balance your energy before making important decisions. Lucky colour: Peach.
Magic number: 51
VIRGO: You make an impact and shine like 'The Star'. You take the lead today; set the pace and control the emotional agenda. You are likely to work closely with children or have much to do with pets.
Tarot message: Work can pose certain minor difficulties, but don't worry. Lucky colour: Green.
Magic number: 33
LIBRA: 'The wheel of fortune' spins in some good fortune. Today you are capable of handling more than two or three situations at the same time. A partner can be a stabilising influence.
Tarot message: Involve yourself as much as possible a in new project.
Lucky colour: Burgundy.
Magic number: 58
SCORPIO: 'The Priests' usher in a pure, exalted and gracious influence, though you will be in a confused situation. You are likely to face the risk of uncertainty.
Tarot message: Try to relax in the middle of the day and put your cares to one side.
Lucky colour: Purple.
Magic number: 61
SAGITTARIUS: 'Nine Golden Cups' greet you today. After an active night, you might appreciate a peaceful, restful day. You're in a position to stir things up but be very careful.
Tarot message: Retain the fruits of your hardwork.
Lucky colour: Black.
Magic number: 27
CAPRICORN: 'The Queen of Wands' allows you to achieve professional success with calm authority. You can blend logic and intuition to come up with new, creative directions.
Tarot message: Try to accomplish long-term tasks.
Lucky colour: Rainbow pastels.
Magic number: 39
AQUARIUS: 'The Queen of Swords' brings mental clarity and perspective in a chaotic situation. You focus on what you want and let those with different ideas go their way.
Tarot message: Take care of interests and portfolios of your work. Lucky colour: Orange.
Magic number: 42
PISCES: 'Three Wands' representing the universal, that is Brahma, Vishnu, Mahesh, greet you today. You are able to establish your business and expand in new directions.
Tarot message: Do not play into the hands of a shrewd set of colleagues.
Lucky colour: Peach.
Magic number: 34